How To Get MLS Access In 6 Ways (Even Without A License)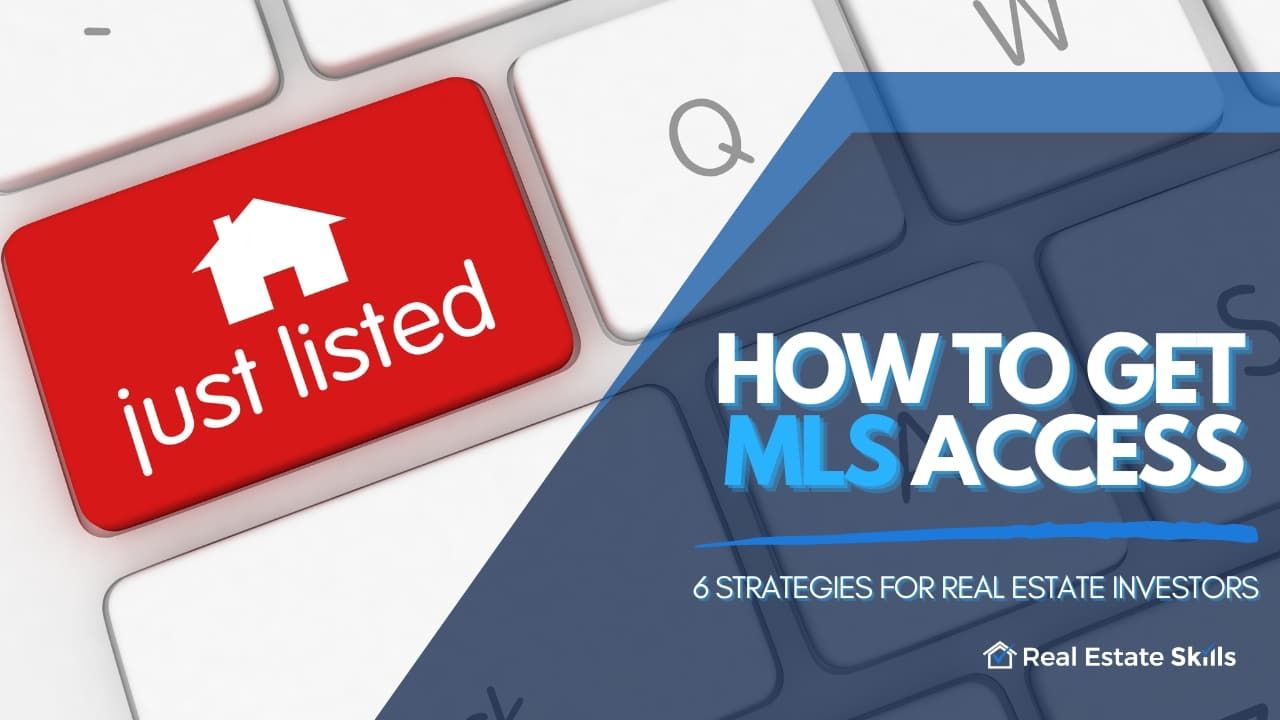 The Multiple Listing Service (MLS) is an invaluable tool, often described as the cornerstone of the traditional home-buying experience. But what about those in the real estate investment realm? How do today's investors, house flippers, or wholesalers tap into this goldmine of data?
While some believe that MLS access is reserved only for licensed real estate agents, the truth is more nuanced. Yes, securing access might seem challenging, especially for those who don't possess a real estate license, but it's not an insurmountable task.
Within the vast listings of the MLS, there lies an abundance of investment opportunities, ripe for the taking—provided you know where to look. In this comprehensive guide, we will dive deep into understanding what the MLS offers, address key queries like how to access the MLS without a license and explore the multiple avenues available to gain this crucial access.
Whether you're an established investor or just starting out, our aim is to equip you with the knowledge to harness the full power of the MLS and enhance your deal-finding capabilities.
Now, let's dive right into how to get MLS access:
---
*Intrigued by the idea of accessing the MLS without a real estate license? Dive deeper into the topic by checking out our insightful video on How To Get MLS Access Without A License. Watch below to unlock a treasure trove of knowledge that can revolutionize your real estate investing journey!
---
What Is The Multiple Listing Service (MLS)?
The MLS stands for the Multiple Listing Service. The MLS in your region is the database of all on-market houses for sale in your local market. The MLS is a private database maintained by real estate professionals to share information and help their clients buy and sell properties.
The MLS provides data such as:
Property pictures

Real estate listings
Bedroom and bathroom count

Square footage of the house

Zoning and lot square footage

Important listing information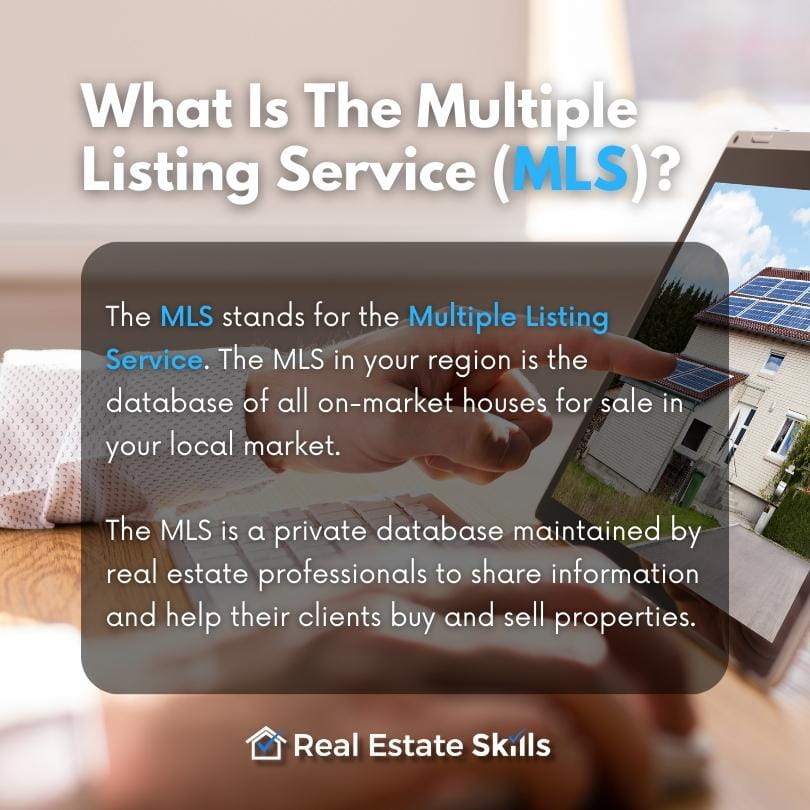 Now, there are hundreds of different types of MLS systems across the nation, because they are region-specific. For example, if you have MLS access in Atlanta, Georgia, then you would only be able to access properties in that region.
So, having MLS access in Atlanta, Georgia, would not help you if you wanted to access on-market properties in Houston, Texas. Right? So, one region's MLS is different from the MLS in another real estate market. Let's make that clear.
Now, most people use the MLS for residential property, such as single-family houses. However, the MLS also has property listings for assets such as multifamily, which are two- to four-unit buildings, land, and commercial real estate like hotels, motels, business buildings, and mobile home parks.
Read Also: How To Find Distressed Properties To Buy: The (Ultimate) Guide
Why Get Access To The MLS Database?
Now let's get into the power of MLS access. The MLS, as mentioned, is the database of all on-market property listings in your area. When a house is listed on the MLS, it's a green light that tells us a home seller is willing to sell their property.
So, technically they are a motivated seller. That's what we really need to understand here. Any house on the MLS is for sale. The MLS is the ultimate source of all the on-market property in your region.
Everyone with a property on the MLS has essentially raised their hand to sell their house and is saying "Yes, I'm willing and able to sell!" This is one of the reasons Pro Wholesalers use the MLS as a primary lead source.
There are other ways to get access to MLS real estate data, but nothing beats the actual MLS. That's why we like to call the MLS "the king database." It is where other websites pull their information from because it is the source. So, we're going to share software that has MLS data, that pulls a lot of the MLS data from different MLSs across the nation, and we're also going to show you some websites with MLS data, as well.
All of these methods of getting MLS data work. You can wholesale houses, find rental properties, and invest in real estate using the actual MLS software with MLS data, and also third-party websites with MLS data, but nothing is going to beat out the actual MLS. It is the most up-to-date resource. So, we just want to make that very clear.
Now, having access to the MLS allows us to be on the offense. Having MLS access allows us to go after the exact deals that our cash buyers, investors, clients, and financing partners want. It allows us to be on the offense because everyone on the MLS already wants to sell their property. Right?
We don't have to send out tens of thousands of dollars in marketing, direct mailers, cold calls, or bandit signs, to then have people come to us and tell us, "Yes, I want to sell" or "No, I don't."
We already have all of the listings, all of the leads that people want to sell, and every single day there are new properties coming up on the market here. So, that's why we're able to be on the offense. We can be on the attack, and that's how we grow our businesses as Pro Wholesalers. That's how we get deals consistently every week and every month!
Read Also: Real Estate Marketing Ideas: The 10 Best Campaign Strategies in 2023
How Much Does MLS Access Cost?
The cost of getting MLS access is extremely nominal. We'll show you some free resources and some that range from $25 per quarter to $97 a month. Very inexpensive. You get one deal, and it more than pays for itself for years.
For licensed real estate agents and brokers, the MLS access fee typically costs around $50 to $100 per month. They will normally pay a quarterly fee of around $150-$300, or they may pay a similar rate annually. The local MLS is typically administered by the Association of Realtors in that area, so they will require you to become a member. The local Realtors Association will provide you with login credentials and manage MLS user access for their subscribers.
You may also be required to become a member of the National Association of Realtors (NAR) and your state's Association of Realtors.
Other users of the MLS, such as unlicensed MLS assistants and appraisers, normally come with lower costs to access the MLS database. Fees can be as low as $0 to $75 per month. The key here is to work with a licensed agent to obtain this type of access, which we'll cover in more detail later in this guide.
Now, once again, the MLS gives you direct access to the database of all houses on the market in your area. It is the most data-rich source of properties in your area, and every day there are new houses being uploaded to the MLS in your area. So, you literally log in to the MLS, and new properties will be populated. It's pretty amazing! It doesn't get easier than finding these new types of deals, new deals that you can wholesale each and every day.
How To Get MLS Access With 6 Strategies
Navigating the real estate market requires access to the right tools and resources, and the Multiple Listing Service (MLS) stands as a vital tool for anyone in the industry, offering comprehensive property listings and valuable insights.
If you're wondering, "How can I gain access to the MLS?", you're in the right place. Here are 6 effective strategies to tap into this extensive database, each catering to varying needs and preferences:
Get A Real Estate License

Using a Real Estate Agent's or Broker's Personal MLS Login

Leverage Free Online MLS Listings

IDX Websites

PropStream

Unlicensed Assistant Access
1. Get A Real Estate License
You're able to have your own MLS access for your area when you become a licensed real estate agent, broker, or appraiser. You'll also be able to access the lockbox on houses for sale, so you can get inside homes with ease.
However, getting your real estate license can be time-consuming and expensive. Acquiring your real estate license also entails purchasing and taking the necessary pre-licensing real estate classes, taking the state exam, and getting a license. Then, there are ongoing fees and exams to maintain your license.
Now, how long does it take to get access as a licensed professional? Well, if you had to become licensed, it's going to be four to six months, and really that's when you're on top of everything because the process of getting your real estate license can really take up to six months if you're not.
You have to complete all pre-licensing coursework and complete all of the correct paperwork. In some states, you need to get a fingerprint, send it in, and take the state exam -- all of which takes alot of time.
The cost of all the courses, with the state exam fee, licensing fee, and the MLS fee on top of that can really be anywhere from $400-$1000 depending on the state you are in.
2. Using A Real Estate Agent's Or Broker's Personal MLS Login
Gaining MLS access without having a real estate license can be a complex endeavor, but a fruitful one if approached correctly. One of the most effective ways is to form a collaborative partnership with an investor-friendly real estate agent who is willing to share their MLS login. This method isn't just about borrowing credentials; it's about building mutual trust and understanding the shared benefits.
To make this strategy work, be transparent about what you bring to the table. Offerings might range from a finder's fee percentage on successful property deals, a flat fee, a combination of both, or even the manual effort of sifting through MLS listings, essentially acting as a valuable assistant. Emphasize the advantages to the agent: the prospect of saving time, potentially earning more, and the possibility of increased commissions. Clarify that this partnership is a professional relationship, one which the agent can decide to terminate if it doesn't align with their interests.
Locating an agent amenable to this setup can pose challenges. To improve your chances, consider leveraging platforms such as Craigslist, LinkedIn groups, Facebook communities, and agent-specific forums, or tapping into your existing real estate network and connecting with investor-friendly brokers.
3. Leverage Free Online MLS Listings
The digital age has empowered real estate investors with myriad platforms that, while not direct replacements, act as valuable alternatives to the MLS. For those questioning how to obtain MLS listings without directly accessing the platform or partnering with a realtor, these online databases offer a significant degree of versatility and information.
All these platforms, with their unique offerings and wide-reaching data, democratize access to real estate listings, making the quest for valuable leads more accessible and dynamic.
Read Also: Top 15 Best Real Estate Wholesaling Software (2023 Edition)
4. IDX Websites
An IDX website is a syndication of the local MLS feed that a real estate agent hosts on their own website. Most real estate broker's websites can instantly search properties in your area. This is free, quick, and simple.
However, this is NOT the same as getting MLS access. This is comparable to looking at properties on Zillow or Redfin, without a lot of the user-friendly features.
How long does this take to get access? This is instant. You can go to any of these websites and access IDX feeds in seconds. While everyday home buyers will see most of the same properties that are on the market, you will not be able to see all of the crucial information needed to run a successful real estate business.
5. PropStream
PropStream is a real estate software that pulls MLS data from across the nation, as well as data from other records, such as tax, lien, and mortgage information providers.
PropStream offers instant access to the majority of MLS listings in the nation. It helps with comping properties to get an accurate ARV, which is an after-repair value. However, if you're serious about real estate investing, you should learn how to calculate the ARV on your own.
It's important to note that PropStream doesn't contain about 5% of the MLS listings in the nation and there's usually a seven to ten-day delay for new listings to be populated.
Read Also: PropStream Review (2023): Pricing, Features, & Is It Worth It?
6. Unlicensed MLS Assistant Access
Unlicensed MLS Assistant Access is affordable, fast, and you don't need a real estate license. However, you do need to find a real estate agent or broker to partner with who will vouch for you as their assistant. Most real estate professionals don't know about this option, so they may have some resistance to giving just anyone unlicensed MLS assistant access.
How long does this take to get access? It depends on how fast you can link up with an agent who vouches for you. You should expect this to take at least several business days to process once you submit the application for MLS assistant access. We'll cover more on this in the next section.
Read Also: Real Estate Jobs Without License Requirements (2023 Guide)
What Is MLS Assistant Access?
MLS Assistant Access is designed for an Office/Personal Assistant, and is aimed at "preserving the integrity of the MLS database." This type of access aids Brokers, Agents, and Appraisers in their real estate activities by giving their assistants the data they need to perform day-to-day tasks that require real estate information.
These assistants are professionals who, under the guidance of a Broker, Agent, or Appraiser, focus solely on administrative and clerical duties involving the MLS database. Notably, these tasks do not require a real estate license as per the latest Department of Real Estate guidelines.
The core of what you want here is "unlicensed assistant access" to the MLS. But, as you read in our definition above, this has other names such as office assistant access, personal assistant access, unlicensed access, clerical access, administrative access, etc.
How To Get MLS Assistant Access (Without A License)
With unlicensed assistant access to the MLS, you typically have the exact same MLS functionality as a licensed agent or broker except that you cannot list properties, which means you cannot put properties for sale on the MLS, which is fine, because we do not need to do this as wholesalers.
Now that you know exactly what assistant access is, let's dive into the steps to getting it. This strategy is used by a wide number of our students and has proven time and time again to find them the best real estate deals in their area. Please keep in mind that the exact process for getting MLS assistant access can slightly vary in different locations but is generally the same nationwide:
Search For Your Local MLS
Contact A Real Estate Agent Or Broker To Work With
Fill Out Your MLS Assistant Access Application
Pay The Cost & Get MLS Access!
1. Search For Your Local MLS
After a quick Google search, you should be able to find the local MLS in your area, the local association of Realtors in your market, their contact information, as well as the form needed to request MLS assistant access.
2. Contact A Real Estate Agent Or Broker To Work With
It's easier to get access from agents and brokers who work for smaller boutique brokerages rather than national brokerages because smaller, local brokerages are less corporate, have fewer rules, and are more flexible.
Many of our students have been able to get MLS assistant access within a few days. For some, it takes longer, such as a couple of weeks. It really depends on how many agents and brokers you approach and speak with.
First, try to connect with investor-friendly agents on social media, at Real Estate Investor Association Meetings (REIA Meetings), and through referrals.
*You can do a simple Google search to find the closest REIA to you. Here are some examples below.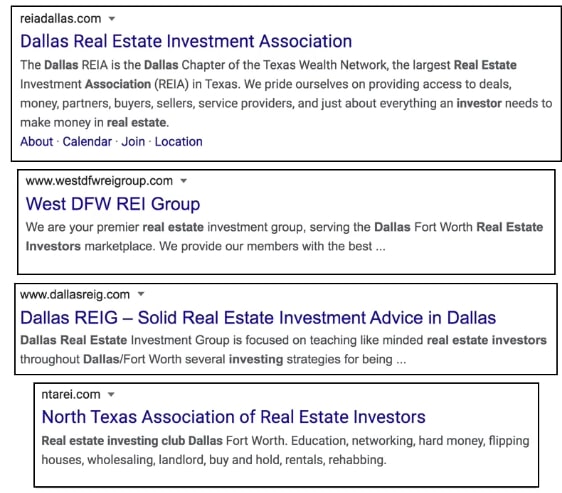 On your journey to acquire access in your state, keep these best practices in mind:
Don't expect every real estate agent or broker to already understand what MLS Assistant Access is. In fact, many agents and real estate brokers are unaware it exists! In these situations, educate them on what MLS Assistant Access is.
Begin to position yourself as a potential unofficial member of their team so that in their eyes you are an assistant.
Don't expect that the first agent or broker that you speak with will give you MLS Assistant Access. Expect to speak with multiple agents and brokers. Don't expect to get a "yes" on your first try.
Do not just get on an Agents' or Brokers' email distribution list. This is NOT MLS Assistant Access.
Seek out small, boutique local brokerages rather than National Brokerages.
Avoid asking National Brokerages for MLS Assistant Access, such as: Compass, RE MAX, Coldwell Banker, Keller Williams, Berkshire Hathaway, Century 21, Sotheby's, etc.
Always remember, "Every 'no' you get, you are closer to a YES!"
You want to work with agents and brokers that want to work with you!
3. Fill Out Your MLS Assistant Access Application
Once you have found the right real estate professional to work with, the application process begins. This is something that you would fill out with your assistant information, the information of the agent, and then the broker. After it is filled out, you will have it signed by the agent and the broker in charge.
*Here is an example of an MLS assistant access application: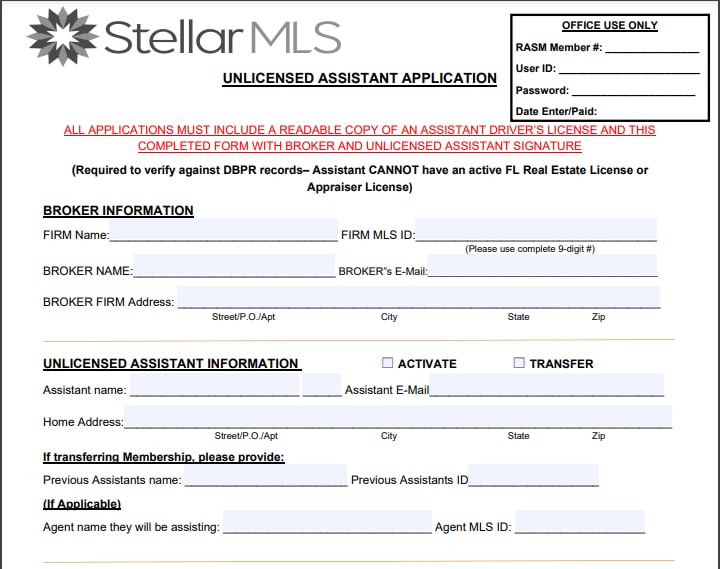 *Here is another example of an application for a different region. As you can see, it's not that much different.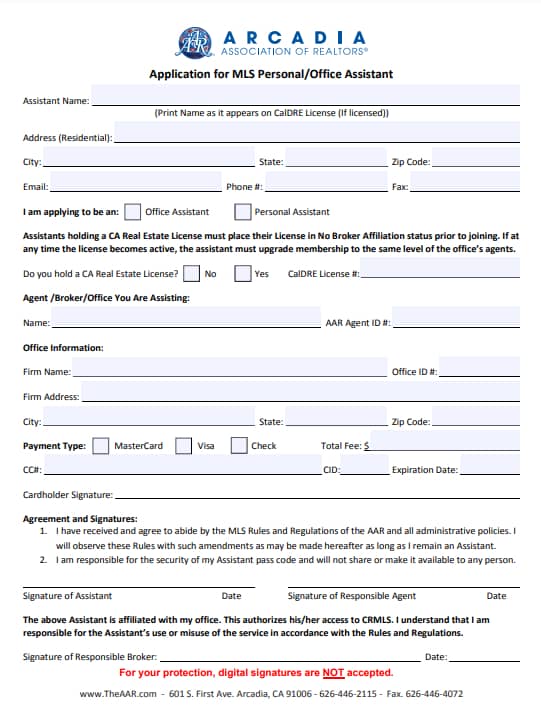 4. Pay The Cost & Get MLS Access!
MLS Assistant Access is the quickest, easiest, and least expensive way to get full access to the MLS; you can acquire access to the MLS in a couple of days for $25 to $75 per quarter on average, however, prices can vary to be even less expensive.
*For example, view the chart below which states the annual fees for unlicensed assistant access to Stellar MLS, a Multiple Listing Service database in Florida.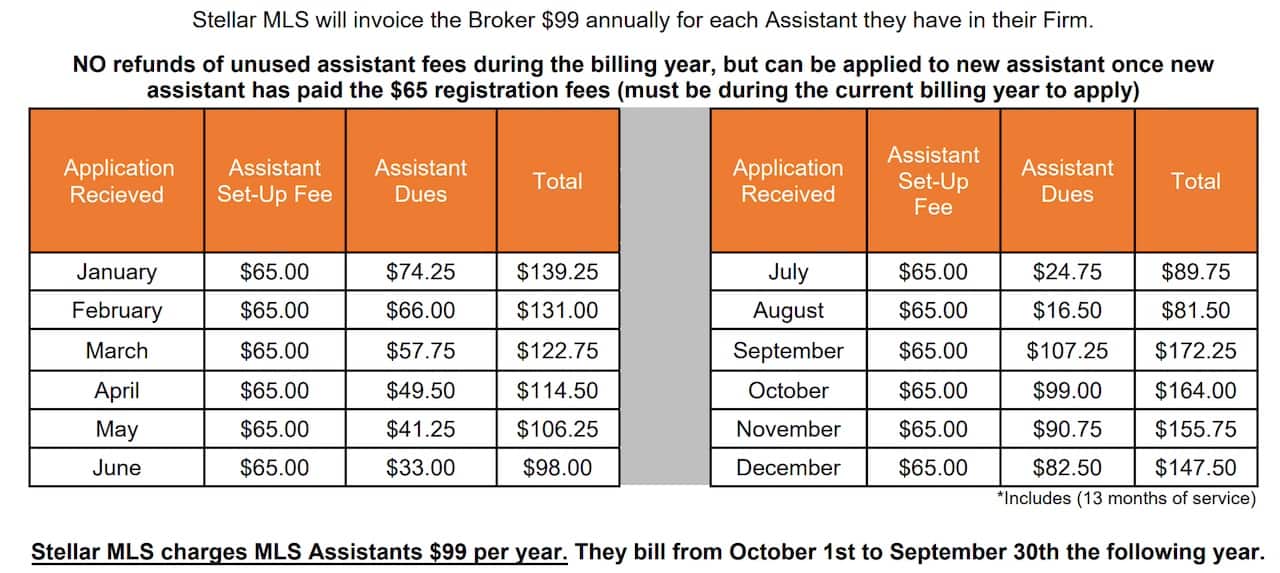 How To Get MLS Assistant Access For Free
Getting unlicensed MLS assistant access can be one of the best ways to obtain free access to the MLS. In some cases, there will be a nominal fee for an agent's assistant to access the MLS. In other markets, it's completely free for an agent to add an assistant to access the MLS.
What this does require is for the unlicensed person to form an assistant relationship with a licensee, along with having both the licensee and their managing broker sign off on the unlicensed individual.
*Let's take a quick look at one example of what the MLS would look like. Here is the dashboard of one of the local MLS systems in Southern California.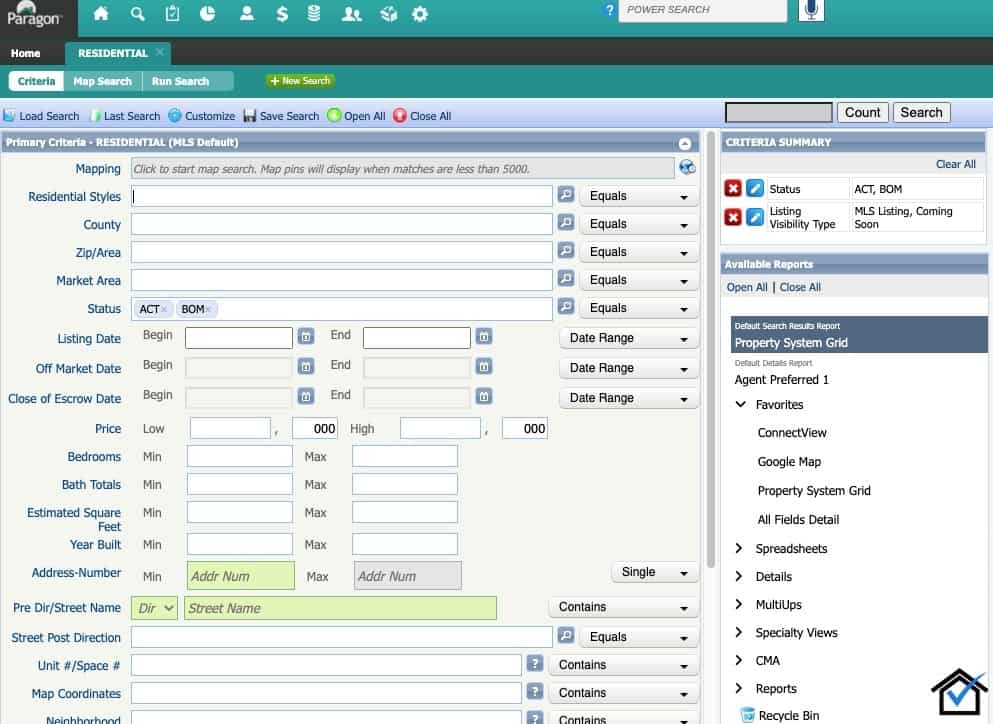 Another strategy to obtain free MLS access is to partner with a real estate broker and receive a drip feed of listings that match your home search criteria. All brokers and agents are able to provide this. However, this is not actually getting access to the MLS. This is simply getting selected listings sent to your inbox.
Some brokers may share login information with other agents and even unlicensed individuals, although we do not advise this as it's generally not allowed by the MLS rules and regulations.
We'd prefer to proactively access the MLS through free listing sites, such as Redfin, Zillow, and Realtor.com over these automated email notifications set up by Realtors. These listing sites often have better real estate information than the drip email campaigns from your agent.

In reality, these sites have more than 90% of the same information that the Multiple Listing Services contain. While you will not have access to all of the information, such as agent confidential remarks and showing instructions, and in some markets, closed sales prices, it's an excellent way to get MLS access for free.
Final Thoughts On Getting MLS Access
In our eyes, learning how to get MLS access is a no-brainer for any real estate professional who is serious about either real estate brokerage, real estate investing, real estate wholesaling, flipping houses, or all of the above.
Sure, you can burn tens of thousands of dollars per month in postcards, yellow letters, newspaper ads, and other marketing channels to generate leads. However, finding leads and submitting an offer on a property listed on the MLS will not cost you a dime.
To learn how to use the multiple listing service to acquire deals for investment purposes or wholesale them to hungry cash buyers, check out our new training video that covers how we help people invest in real estate all over the country, without spending a dollar on marketing! See you there!
Stay connected with news and updates!
Join our mailing list to receive the latest news and updates from our team.
Don't worry, your information will not be shared.
Subscribe