How To Find Distressed Properties: 10 Best Strategies For Real Estate Investors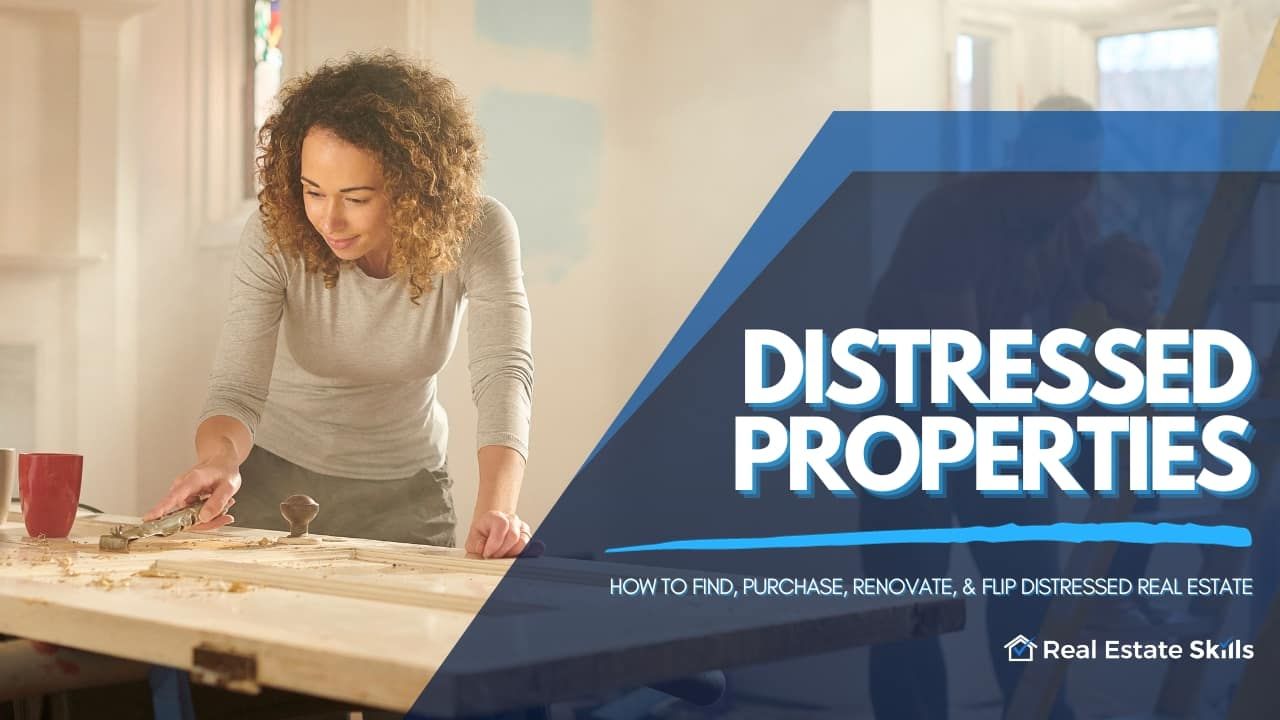 For newcomers stepping into real estate investing, pinpointing the right property to kick-start their journey often proves challenging. Veterans and novices alike are on a relentless quest for the best deal, whether they're hunting for their inaugural house or their hundredth.
One strategy that remains timeless in this pursuit is targeting distressed properties.
The core idea for many investors is to procure property in need, refurbish it, and then either rent it out or flip it for a substantial return on investment (ROI).
The latest data from ATTOM's first-quarter 2023 U.S. Home Flipping Report provides illuminating insights into the flipping landscape.
The report highlighted that 72,960 single-family homes and condominiums were flipped just in the first quarter of 2023.
This figure, though marginally lower than the 9.4% of 2022's first quarter, outpaces the 8% recorded in the last quarter of 2022, marking the second-highest level in this century.
Despite the rising flipping activity, the trends concerning profits and profit margins showcased mixed outcomes.
Profits and returns witnessed a subtle climb from Q4 2022 to Q1 2023, but they lingered near decade lows. However, there was a silver lining: a quarterly surge of 22% in typical profit margin, signaling a potential turnaround for investors after a prolonged phase of declining margins.
These trends in the house flipping market underline the lucrative potential and inherent risks of this sector. This brings us back to the allure of distressed real estate, which, when approached with the right strategies and diligence, can offer the most substantial returns!
So, let's dive into what distressed homes are, the strategies used to find them, how to buy them once found, and the pros and cons of these investments:
---
Thinking about investing in real estate? Join Alex Martinez at his FREE training to learn how to get started with house flipping and wholesaling!
---
What Are DIstressed Properties?
A distressed property is defined as real estate that's either physically neglected, financially burdened, or both. These properties often reflect signs of wear and tear such as peeling paint, plumbing problems, and roof leaks, indicative of an owner's inability or disinterest in its upkeep.
However, the term "distressed" doesn't exclusively point to the physical state of the property. Financial challenges can also tag a property as distressed.
This typically arises when owners grapple with their mortgage payments, property taxes, utility bills, or any other financial commitments tied to the property. When these obligations aren't met, the property might inch closer to a pre-foreclosure status, where the owner is at risk of foreclosure but isn't actively undergoing the process yet.
Factors that can contribute to a property's distressed status include:
Pre-foreclosure or risk of foreclosure

Already in the foreclosure process

Ownership by banks or government agencies

Accumulation of unpaid property tax liens

Requirement of extensive repairs, updates, or renovations, sometimes due to stalled or incomplete renovations

An unexpected deal collapse led the owner to necessitate a rapid sale
Despite the challenges attached to distressed homes, they're more than just problematic assets. For keen-eyed investors, they represent a substantial investment opportunity.
Many owners of such properties might be eager to sell, often at prices below the market value. While some may be in urgent need of a buyer, others could still be weighing their options.
For real estate investors, the key lies in effective communication and crafting a deal that appeals to distressed property owners. By doing so, they can step closer to expanding their portfolios and potentially realizing greater financial success.
Understanding The Types Of Distressed Properties
A distressed home is not confined to one definition. The reasons why a property becomes distressed vary from owner to owner. Let's dive a little deeper into why the following are common circumstances that result in a distressed property:
Delinquent Taxes & Mortgage Payments
When a homeowner fails to pay their property taxes or the amount owed from mortgage payments on time, penalties and fees arise. Most people prioritize these bills, so if a homeowner is delinquent on mortgage or taxes, they usually have underlying financial problems.
As the homeowner accumulates more debt and stress while the foreclosure process begins, he or she will seek out ways to be relieved of their problems. Selling the property is often the best solution to avoid foreclosure or an eventual tax sale.
Bankrupt & Divorce Settlements
Distressed real estate due to bankruptcy and divorce settlements stems from homeowners being unable to manage the cost of their homes due to a difficult life event.
Especially for individuals who are divorced, it is hard for them to agree on how much one should pay and the property management aspect of it all. Rather than make life more difficult, divorced couples will choose to sell their home and divide the proceeds.
Probate Properties
When a property owner dies without a living trust, the real estate must pass through an expensive and time-consuming process called probate.
The beneficiaries who are entitled to those assets have the choice to keep, rent, or sell the property. The choice that most beneficiaries make is to list the house with a Realtor and sell it on the Multiple Listing Service (MLS).
REO Bank Owned Properties
Real-estate-owned homes, also known as REO or bank-owned properties are homes that are reclaimed by a bank or mortgage lender. Instead of holding the property, banks and mortgage lenders prefer to sell the property to get it off their hands.
Keeping a large list of real estate inventory results in losses for both banks and mortgage lenders because inventory goes hand in hand with no profits generated. This means they would rather sell these distressed properties and get them off of their balance sheets.
How To Identify A Distressed Property
Distressed properties are not hard to distinguish as they stand out from real estate in the same neighborhood that is well-maintained.
Focusing on the physical attributes, there are key features that can help you easily identify if a property is distressed or not:
Peeling paint

Overgrown grass

Notices on the front door

Boarded-up windows or doors

Unkept lawns and landscaping

Mass amounts of uncollected mail

Tarps or cardboard over the windows

Caution tape on certain areas of the property
While these attributes of a distressed property are not hard to find, it's best to confirm with the owner by skip tracing their contact information and getting in touch with them.
10 Proven Strategies To Find Distressed Properties
Distressed properties have cemented themselves as lucrative goldmines in the world of real estate investing. They not only open the door to substantial profit margins but also offer an avenue with potentially reduced competition.
While many investors recognize the value these properties bring, the challenge often lies in pinpointing them. With numerous strategies to uncover these hidden gems, it's essential to identify the most effective ones.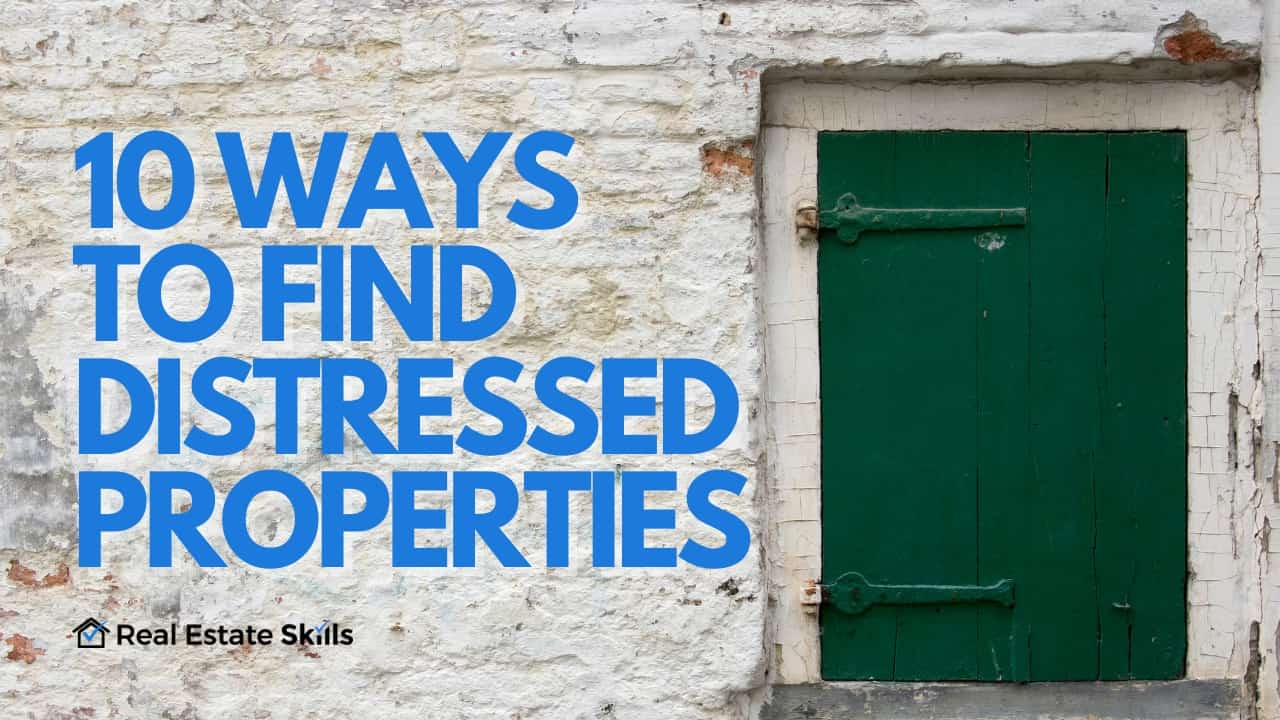 Whether you're a seasoned investor or just dipping your toes into distressed real estate, here are 10 tried-and-true ways to discover these invaluable opportunities:
Multiple Listing Service (MLS)

Driving For Dollars

Zillow & Redfin

Direct Marketing

Digital Marketing

Property Tax Assessors

Distressed Property Leads

Foreclosure Auctions

Craigslist

Networking
Multiple Listing Service (MLS)
The Multiple Listing Service (MLS) is an extensive digital database of properties meticulously maintained by licensed real estate professionals across varying markets. With over 800 such databases scattered across the U.S., the MLS has proven to be a formidable resource.
According to the National Association of Realtors, "86% of sellers were assisted by a real estate agent when selling their home." Thus, nearly 9 out of every 10 properties changing hands do so through the powerful MLS conduit.
The advantage of the MLS is its intricate categorization. Investors can keep an eye out for properties that have languished in the market for over 90 days. Such an extended period is often a red flag indicating the seller's escalating motivation, paving the way for potentially favorable deals.
Additionally, keen investors can filter out properties by their listing codes, such as "short sales" or "real-estate owned," which are common indicators of distressed properties.
Direct access to the MLS comes with a caveat: one requires a real estate license. That said, it isn't a dead-end for those without a license. By partnering with a licensed real estate agent or establishing connections within the industry, you can gain invaluable insights and even set up alerts for fresh listings matching your criteria.
Embracing the MLS, especially if you're in collaboration with agents adept in foreclosures and short sales, can prove to be a game-changer in your finding a distressed property.
---
*Want to learn how you can access MLS data without a real estate license? Host and CEO of Real Estate Skills, Alex Martinez, breaks down how you can start finding deals on the MLS today in our comprehensive video guide below!
---
Driving For Dollars
Driving for dollars is a traditional approach that has remained relevant through the changing tides of real estate. By actively exploring targeted neighborhoods, investors immerse themselves in the local environment, spotting the hidden signs of distressed properties that might elude a passive observer.
Driving for dollars allows you to witness firsthand the subtle indicators of distress, such as unkempt lawns, damaged windows, deteriorating paint, and accumulating junk mail.
As you venture out, you can also engage with locals, getting insider information about the area and potentially uncovering hidden gems that aren't visible at first glance. Once you've identified potential properties, simply note down the addresses and initiate your research process.
For those engaged in remote real estate investing, this method isn't completely off the table either. Consider collaborating with a trusted local team member or contact who can explore the area on your behalf.
Just ensure that their efforts are well-compensated, turning their local expertise into your advantage.
Zillow & Redfin
Online real estate database companies like Zillow and Redfin are great sources to find distressed properties. This is especially useful for real estate investors who are not licensed real estate brokers or agents. Let's take a look at how you would find distressed properties through these two online real estate listing platforms.
For Zillow, decide on a targeted neighborhood and keep your eye out for listings that are labeled as fixers, cash-only sales, short sales, and properties showing signs of deferred maintenance in the photos.
Although Zillow and Redfin mostly pull data from the MLS, they have features that set them apart from the MLS.
Zillow has a for-sale-by-owner filter, which allows buyers to shop for houses listed by the property owner. And Redfin allows you to filter out all the listings in one area to only show you properties that are "Fixer-Uppers Only."
Enter your neighborhood of choice in the search bar, then click on "More Filters" on the right side of the page. Then, scroll down to check off "Fixer-Uppers Only".
Filtering out the listings to show "Fixer-Uppers Only" means it's labeled as a distressed property. While not all investment opportunities will be filtered, it's a quick way to find potential deals in your favorite real estate market!
Direct Marketing
Direct marketing offers a personalized approach in the hunt for distressed properties, allowing you to directly engage potential sellers. Whether it's through cold calls or direct mail, this strategy aims to cast a wide net.
The logic is simple: the larger your reach, the higher the probability of landing a favorable response.
One method to amplify the success rate of direct marketing is by integrating it with other tactics. For instance, insights gathered from driving for dollars can provide a list of properties, which can then be approached via direct mail or cold calling.
Similarly, sourcing tax delinquencies or expired MLS listings, courtesy of real estate agents, can also supply a roster of prospects for your marketing campaigns.
To make the process seamless, utilizing industry-specific tools, like DealMachine, seamlessly blend various prospecting techniques with direct marketing efforts, providing a one-stop solution for real estate investors.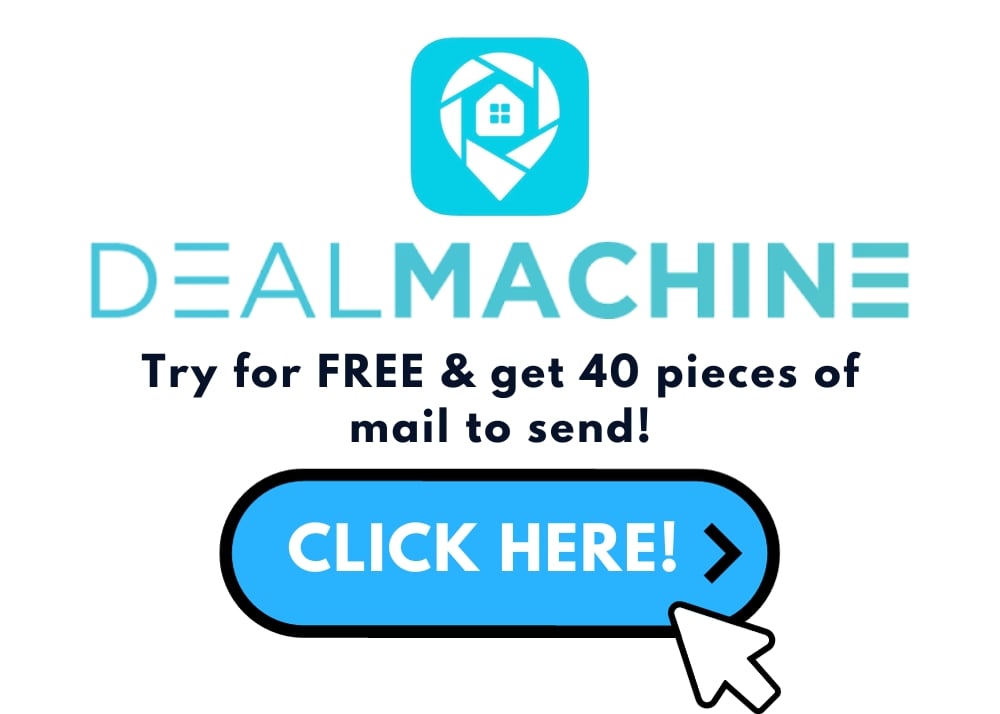 Read Also: DealMachine Review: Is It Worth It?
Digital Marketing
In today's digital age, it's not enough to just have traditional methods in your toolkit. Embracing digital marketing can significantly amplify your reach and turn the tables, making distressed homeowners come to you instead of the other way around.
To effectively integrate digital marketing into your real estate business, here are 5 expert tips for you to follow:
Craft an Informative Website: Before anything else, you need a dedicated space online that elucidates who you are, what you offer, and how you can assist distressed property owners. Platforms like Squarespace make it straightforward to set up a sleek, functional website. Even if you're not tech-savvy, their real estate-centric templates can get you started.

Diversify Traffic Sources: Your website is your digital storefront. But just like any shop, you need customers to walk in. Drive traffic through varied channels like social media. Platforms like Facebook and Google offer paid advertising options that can be hyper-targeted towards specific demographics or geographical regions.

Engage with Content: A regularly updated blog can serve as a magnet for potential leads. By creating content that addresses the needs, concerns, or interests of distressed homeowners, you not only position yourself as a credible expert but also improve your website's visibility on search engines.

Leverage Geotargeted Landing Pages: If you're keen on investing in specific regions, create dedicated landing pages for those areas. This not only boosts your real estate SEO but also offers a personalized touch to visitors from that locale.

Seek Expert Help: If the digital realm feels overwhelming, it might be worthwhile to bring in the experts. A digital marketing agency can provide an end-to-end solution, from website creation and content management to running and optimizing ad campaigns. Also, consulting a real estate mentor can be vastly beneficial for beginners who don't have ample knowledge in the digital space.
Remember, the digital space offers a vast ocean of opportunities. With the right strategies in place, you can sail smoothly towards securing valuable distressed property leads.
Read Also: Real Estate Marketing Ideas: The 10 Best Campaign Strategies
Property Tax Assessors
Finding out who's delinquent on taxes is only one search button away. Using a search engine like Google, you can check with local tax assessors to see who hasn't paid their property taxes.
Since tax records are public information, anyone can research which properties are delinquent and even in pre-foreclosure or foreclosure status. Additionally, some tax assessors have their own website where they publicly post properties with tax delinquencies.
Distressed Property Leads
If you'd like to save the time of having to research and go out looking for distressed properties, an easy route is to buy a list of leads.
The kinds of distressed property lists you can buy are information on out-of-state owners (absentee owners), high-equity homeowners, vacant property lists, and code violation lists.
Another alternative is to buy a list of leads from real estate lead generation companies such as ListSource. With a distressed property list, you can skip trace the owner's contact information, and then reach them through direct mail, cold calling, or other means.
Foreclosure Auctions
Some websites allow you to view foreclosed homes about to be put up for auction. You can be the new owner of the property if you are able to outbid other home buyers.
You can find foreclosed homes on websites such as Foreclosure.com, Xome.com, and Auction.com.
Another strategy is to gather a list of homes that are in pre-foreclosure on the auction site and using direct outreach to communicate and persuade the owner to sell the property to you.
Craigslist
While Craigslist may seem like an odd way to find distressed properties to buy, this method has worked for many real estate investors. Look at rental listings to see if the pictures and descriptions match the characteristics of a distressed property.
Call the landlord or property management company directly, since their phone number will be on the rental advertisement. Since they have an upcoming vacancy, the owner may be interested in selling their rental property.
Networking
By networking with real estate professionals, you're not just expanding your reach but also enhancing the depth of insights and opportunities available to you.
Brokers and lenders often have firsthand information about properties going under distress or on the verge of a sale. By cultivating relationships with them, you tap into a valuable reservoir of insights and leads.
Asset managers often oversee portfolios that include Real Estate Owned (REO) properties - homes that have reverted to the lender after a foreclosure auction. Building connections here can get you direct intel on properties even before they hit the market.
House flippers have ample experience in finding distressed properties and can be an invaluable resource for beginners to reference.
Finally, actively participate in real estate conferences, seminars, and local networking groups. Such events are often goldmines of information, contacts, and potential leads.
Read Also: 11 Best Platforms For Your Real Estate Social Network
How To Find Distressed Properties On MLS
Using the MLS is one of the most common and efficient ways of looking for distressed properties. When combing through the new listings, here are three things to look for when identifying properties in distress:
Property Photos: Every listing will have a photo of the property. As you scroll through the listings, there will be pictures that will obviously show that the property is in poor condition. If you come across listings with one photo or photos that are poorly taken, this is another sign that the property could potentially be in distress.

Listing Descriptions: Read the listing description and agent remarks of the properties that are on the MLS. The description can give you a better idea of the condition of the house or if the owner is in any type of financial distress. Phrases to look for in listing descriptions include: "Seller is motivated," "reviewing all offers," "calling all investors," "so much potential," "bring your imagination," "property sold 'as is,'" and "requires work"

Keywords: Certain phrases like "cash only," "fixer," "TLC," "needs work," "investors delight", "handyman special," and "bring your contractors" are keywords to keep an eye out for as you go through the listings. The keywords in the description may be a hint that the property is distressed. You can conduct a keyword search in the MLS for any of these phrases, and then look through the results.
How To Find Distressed Commercial Properties
In light of recent events, particularly the impact of the Coronavirus pandemic on the retail sector, distressed commercial properties have become an area rife with potential for savvy investors.
As many businesses grapple with the harsh realities of lost revenue and shuttered doors, commercial real estate landlords face their own set of challenges, including missed rents and mounting lease delinquencies. For some property owners, the financial strain becomes too much, pushing them to sell. This presents a unique window of opportunity for real estate investors to step in, not only as potential buyers but also as problem solvers.
Navigating this market, however, requires a strategic approach. Whether it's a consequence of the pandemic or other circumstances, finding distressed commercial properties can be more challenging than their residential counterparts. But, with the right methods, these opportunities are well within reach. Here are some potent strategies to uncover these hidden gems:
Leverage Commercial Listing Platforms: Websites dedicated to commercial property listings like LoopNet and CoStar can be goldmines. Utilize their search filters to narrow down to distressed properties or those up for auction.

Engage with Brokers: Commercial real estate brokers, with their extensive networks and insights, can be invaluable. Their licensure and professional connections often mean they have the inside track on distressed assets before they hit mainstream channels.

Connect with Lenders: Just as with residential real estate, many commercial deals are financed through traditional or creative means. Browsing lender websites can sometimes reveal real-estate-owned listings ripe for investment.

Harness the Power of Networking: Building and maintaining relationships with industry professionals, including both brokers and lenders, can significantly boost your chances of discovering prime investment opportunities. Remember, in real estate, your network often determines your net worth.

Direct Outreach: Direct mail campaigns remain a cornerstone in the real estate investor's toolkit. Sending tailored offers or 'yellow letters' directly to property owners can yield promising leads.

Drive and Observe: Sometimes, the old-fashioned way can be surprisingly effective. Driving around commercial hubs can reveal signs of distress or potential sales that might not yet be listed.

Cold Calling: While it requires tenacity, reaching out directly to commercial property owners can sometimes unearth opportunities others might miss.
By weaving these strategies into your investment approach, you can position yourself at the forefront of distressed commercial real estate opportunities, capitalizing on current market conditions and helping landlords in need along the way.
What To Do Before Buying A Distressed Property
Purchasing a property is a decision that should not be taken lightly, especially if it's distressed. It's important to note that a distressed property comes with a lot of risks that should carefully be evaluated before taking any steps toward buying the distressed property.
Due to such high risks, you need to make sure to determine the after-repair value (ARV) of the property, the repairs budget, and your maximum allowable offer (MAO).
To lay the groundwork for calculating these key numbers, here are 5 steps to take before buying a distressed property:
Get pre-approved for a mortgage or secure enough cash: Before you find a distressed property that you'd like to buy, secure your source of funding and determine your buying power. A lot of distressed properties sell quickly, especially the best investment opportunities. Take note that most distressed properties will only sell for cash since they don't qualify for bank financing due to their poor condition.

Get proof of funds: Have an official document from your bank or lender that shows you have the cash to close, the ability to borrow money, and/or that you have the necessary down payment. A proof of funds letter will verify to the owner and real estate agent that you're able to fund the property purchase and is often a requirement to submit with your offer.

Inspection contingency in your offer contract: As expected, a distressed house will likely need repairs externally and internally. Having an inspection contingency in the contract will allow you to inspect the home within the given time frame so you can determine what is the best step moving forward. If the inspector happens to find something that you may not want to take responsibility for, the inspection contingency contract will protect you, the buyer, from being penalized if you choose to cancel the contract.

Property inspection: Make sure to hire a professional home inspector to see if they uncover any hidden damages to the property that will need to be repaired.

Get a quote from a general contractor: Hiring a general contractor will help you determine if the costs to repair the damages are worth investing in if the property were to be bought. While you do have to pay for their service, spending the money to have an estimate for repairs gives you an idea of how much is needed to be spent to have the property back in good condition. This will help in constructing the deal and give you a rough estimate of if the overall cost after repairs is something you'd feel comfortable choosing to do.
How To Buy Distressed Properties In 9 Steps
The steps to searching for distressed properties, communicating with homeowners, and having the skills to construct and finalize the deal may sound nerve-racking.
Fortunately, we have developed a 9-step guide for you to successfully buy distressed properties:
Explore & Secure Funding

Pick A Specific Location

Decide On The Type Of Property

Find Distressed Properties For Sale

Contact The Owner or Listing Agent

Make An Offer

Inspect The Property

Obtain A Contractor Quote
Close On The Property
1. Explore & Secure Funding
Will you be buying the property with cash, private money, or a hard money loan? Determining your funding source and purchasing power will dictate what you can afford to buy.
Get a proof of funds letter to show the seller or listing agent you are capable of performing on the offer you will submit. Otherwise, they will not take you seriously.
2. Pick A Specific Location
Find the area in which you would like to purchase the distressed property. This will help you save time and target properties you'd actually want to purchase from, due to your own choice of neighborhood, city, zip code, etc.
Once you determine your buying capabilities and budget, explore what your options are. For example, distressed property in a neighborhood with less crime and a high-quality school system will cost more than a neighborhood known for crime and low-rated schools.
3. Decide On The Type Of Property
Decide on the type of properties you'd like to purchase if you prefer a specific one. The main types of residential properties are:
Single-family

Multifamily

Condo

Detached

Attached
4. Find Distressed Properties For Sale
Refer back to the section "Seven Ways To Find Distressed Properties For Sale" and choose one or more of the methods that are listed.
Make a list of distressed properties you find, then contact and negotiate with the property owners. If you choose to find houses on the MLS, you'll be working with the listing agent instead of the seller.
5. Contact The Owner or Listing Agent
Use a skip tracing service to dig up the contact information of an owner, then get in touch. If you're getting leads from the MLS, you'll contact the listing agent who is representing the seller.
Build rapport, demonstrate professionalism, and ask questions about the property, such as:
What is the reason for the sale?

What improvements or upgrades have been completed on the property?

What mechanical or structural issues are present?

When would the seller like to close? Would the seller consider a cash offer?
6. Make An Offer
As you propose your offer to the owner, be sure to include an inspection contingency in your offer contract. Calculate the after-repair value (ARV), estimate your repairs budget, and determine what the property is worth as-is. From here, you can make an educated offer.
7. Inspect The Property
Complete your due diligence by inspecting the property. A home inspector can help you identify any existing or potentially risky conditions that you might've missed when looking at the property yourself. Make sure your numbers are realistic and that the deal is still feasible after your findings.
8. Obtain A Contractor Quote
Obtain three written general contractor bids on the property and make sure the quotes align with your initial estimates. If not, you may need to renegotiate.
9. Close On The Property
Close the house and execute your business plan. Congratulations, you just purchased a distressed property!
Read Also: How To Flip Houses With No Money: 10 Proven Methods
The Pros & Cons Of Buying Distressed Real Estate
When considering investing in distressed properties, it's imperative to strike a balance between the potential rewards and inherent risks. Always consult with professionals experienced in this niche to guide you through the intricacies of buying and renovating such properties.
As an overview, here are the general advantages and disadvantages of investing in distressed real estate:
Pros of Investing in Distressed Properties
Below Market Value: The primary attraction is the potential to purchase these properties at prices significantly below market value.
High-Profit Potential: With the right approach and repairs, these properties can offer a substantial return on investment.
Equity Creation: Once renovated, you're creating equity in the property, which means a better return without solely relying on market appreciation.
Easier Financing: Bank-owned homes can sometimes offer more accessible financing options.
Upgraded Living: It may provide an opportunity to buy in a more desirable neighborhood than one might typically afford.
Assistance to Sellers: By investing, you're potentially helping a distressed seller navigate out of a challenging situation.
Cons of Investing in Distressed Properties
Property Condition: Distressed homes often come in poor states, necessitating unexpected repairs and renovations.
Unanticipated Costs: The initial allure of low prices can be offset by high renovation expenses. Budgets often expand as new issues surface post-purchase.
Competition: The appealing prices attract many buyers, leading to increased competition, especially during auctions. This can sometimes drive up the price or result in missed opportunities.
Lengthy Purchase Process: Buying a foreclosed home differs from a traditional sale. It may involve bidding at auctions (online or in-person) and longer closing times, sometimes stretching between 6 to 12 months compared to the typical 6-8 weeks.
Management Overhead: Investors are responsible for overseeing and coordinating not just the repairs, but also potentially difficult interactions with contractors.
Final Thoughts On Distressed Properties
Securing a distressed property presents a blend of potential rewards and challenges. These properties have emerged as some of the most lucrative investments. The high return on investment experienced by many underscores the value of diving into this segment of the real estate market.
If you're eager to make the most of these opportunities, it's essential to be well-prepared and informed. Adhering to the strategies outlined in this guide and undertaking thorough due diligence is the key to unlocking the best deals.
And if you're looking to elevate your knowledge further, don't miss out on our brand new FREE training on house flipping and wholesaling real estate!
It's tailored to equip you with advanced insights and tools to excel in the distressed property market. Claim your spot today and move one step closer to your dream investment!
Stay connected with news and updates!
Join our mailing list to receive the latest news and updates from our team.
Don't worry, your information will not be shared.
Subscribe