The 10 Best Real Estate Apps In 2023 & 2024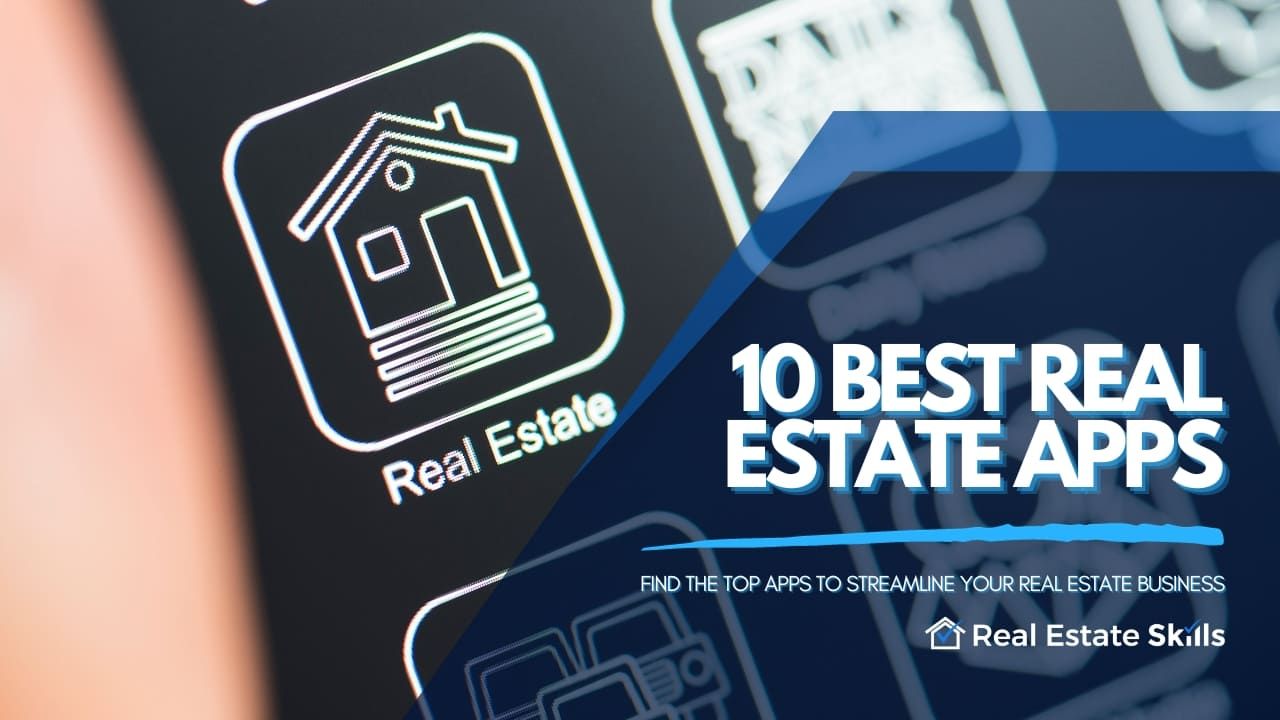 In the ever-evolving field of real estate investing, staying ahead of competition and embracing technology can make all the difference between success and failure. In today's fast-paced market, where opportunities come and go in the blink of an eye, savvy investors recognize the need for cutting-edge tools to help them make better choices, streamline business operations, and maximize profits.
That's where the world of real estate apps comes into play. These digital companions are designed to empower investors with invaluable insights, efficient solutions, and data-driven strategies. Whether you're a seasoned pro or just wading into the real estate waters, having the right apps at your disposal can be a game-changer.
This comprehensive guide will examine the top 10 best real estate apps for investors in 2023 and 2024 that have been meticulously curated to cater to the diverse needs of investors across the spectrum. Here are the apps that this guide will cover and more:
Whether you are using an Android or Apple iOS, there are a number of apps to choose from. To maximize efficiency and streamline their investment endeavors, smart investors should bypass the less effective options and hone in on the cream of the crop. From transaction management and customizable templates to up-to-date real estate listings and seamless push notifications, the best apps offer invaluable features for property hunters.
Everything from new listings, property tax info, the number of bedrooms in a home, listing services, and tools for renters can be found on the various apps in today's mobile landscape. With easy access to property details, home value estimates, and even floor plans, these apps are an investor's ultimate companion in the competitive world of real estate. Say goodbye to mediocre apps and dive into the pool of top-tier solutions listed below to supercharge your investment journey.
Zillow
The Zillow app earns its place among the top real estate apps for investors primarily because of its extensive inventory, surpassing 130 million homes, and ranking as one of the best real estate apps available. It offers investors a user-friendly experience, providing virtual tours and comprehensive property data. Combined with its paid lead generation service Premier Agent, the Zillow app is hard to beat.
However, it's worth noting that the Zestimate feature, for which Zillow is known, can sometimes provide inaccurate property valuations, potentially leading to misconceptions. Additionally, identifying listing agents may prove challenging for inexperienced users, which could benefit from further improvements to enhance user experience.
Nonetheless, Zillow's enormous database and user-friendly interface make it a top choice for investors exploring real estate opportunities through mobile applications.
Redfin
The Redfin app is a powerful tool for real estate investors seeking to boost their business efficiency, primarily lauded for its ability to facilitate home purchases. Redfin's innovative approach seamlessly blends the latest technology with the invaluable human touch of Redfin agents at legitimate real estate brokerages to promote a more efficient buying process.
Among its standout features is the ability to customize searches to cater to individual preferences, ensuring users access the most pertinent listings. Furthermore, the app can provide highly accurate value estimates, equipping investors with the information to make well-informed decisions.
However, it's important to note that Redfin's availability is limited, with some areas, particularly rural regions, needing to be covered. This limitation is a drawback for those interested in investing in specific locations not serviced by the app.
Despite missing from some markets, it is one of the top real estate apps for investors, offering a reliable and up-to-date resource for home buying and investment endeavors.
Trulia
Trulia is undeniably one of the best real estate apps, offering a comprehensive array of features that have made it a go-to choice for homebuyers and real estate investors. Its standout feature lies in its vast wealth of information about homes, providing some of the most accurate property values available in today's competitive market. This depth of knowledge is invaluable to investors, equipping them with unique insights into potential investment properties.
Moreover, Trulia offers complementary data on neighborhoods, schools, shopping, and more, allowing investors to make well-informed decisions based on comprehensive local knowledge. The app facilitates accessible communication with real estate agents, streamlining the buying process.
While Trulia's functionality closely resembles Zillow, its slightly less original approach doesn't detract from its appeal. Some users might find its mobile app navigation somewhat challenging. Still, this minor inconvenience doesn't diminish its status as one of the best Realtor apps for property searches and investment endeavors.
Attend our FREE training at Real Estate Skills. Gain insider knowledge, expert strategies, and essential skills to make the most of every real estate opportunity that comes your way.
Realtor.com
For several compelling reasons, Realtor.com has solidified its position as one of the best real estate apps. Its standout feature is its commitment to delivering the most up-to-date information on available properties. With daily updates, users can trust that they are accessing the latest listings on the market.
Furthermore, Realtor.com boasts a close partnership with the National Association of Realtors (NAR), granting it access to valuable MLS data. This partnership pays off exceptionally well for those interested in rental properties, as Realtor.com offers one of the best rental apps, helping users easily find their ideal living spaces.
However, the app does have some limitations. Contacting listing agents or scheduling in-person open houses or home tours over social media may not be as seamless as other apps. Additionally, Realtor.com does not feature FSBO (For Sale By Owner) listings. Its extensive database and daily updates make it an indispensable resource for house hunters and real estate investors.
REsimpli
Developed by investors for investors, REsimpli is one of the top real estate apps for investors looking to streamline their business operations. What sets REsimpli apart is its focus on catering to the specific needs of real estate professionals. This app is designed to simplify complex tasks, offering investors a suite of tools to manage properties, analyze deals, and build a thriving real estate portfolio.
REsimpli's capabilities extend to deal analysis, allowing investors to assess potential properties quickly and accurately. It offers robust financial analysis tools, helping users make informed investment decisions. Property management features make it easier to oversee multiple real estate assets efficiently.
While REsimpli excels in catering to investors, it may not provide the comprehensive listing database found in some consumer-focused apps. However, its specialized tools and functionalities make it an invaluable resource for investors looking to run their real estate business effectively and profitably.
Read Also: REsimpli Review
PropStream
PropStream made our list because of its comprehensive data and analytical capabilities. Investors appreciate PropStream's robust property search and analysis tools, which help them identify lucrative opportunities in the market.
One of PropStream's standout features is its vast database, containing detailed property information, including ownership records, market trends, and property history. This data empowers investors to make the best decisions when evaluating potential deals.
Moreover, PropStream offers powerful analytics and visualization tools that allow investors to assess market conditions, estimate property values, and identify potential risks. Its easy-to-use operating system and in-depth reports make it a favorite among real estate professionals.
However, it's important to note that PropStream's premium features may come at a cost, which could be a drawback for some users. Despite the cost, which is more than justifiable, its data-rich platform remains valuable for investors looking to thrive in the real estate industry.
Read Also: PropStream Review: Pricing, Features, & Is It Worth It?
DealMachine
DealMachine has won over investors with its unique and innovative features streamlining property acquisition. More importantly, however, investors appreciate DealMachine's ability to simplify finding and reaching out to potential sellers.
One of DealMachine's standout features is its driving-for-dollars functionality. Investors can use the app to identify and track distressed or off-market properties while on the go. Its built-in camera allows users to snap pictures of properties, automatically generating postcards. This feature facilitates direct and personalized communication with potential sellers, saving investors valuable time.
Additionally, DealMachine provides investors with detailed property data, including owner information, property history, and market trends, allowing for more informed investment decisions. The app's user-friendly interface and integrations with various property data sources make it a powerful tool for real estate professionals.
Read Also: DealMachine Review: Is It Worth It?
Launch Control
Launch Control offers a comprehensive suite of tools to streamline real estate investing. That said, investors find Launch Control valuable for its ability to enhance efficiency throughout the investment process.
One of Launch Control's best features is its robust project management capabilities. Investors can manage various aspects of their real estate projects, from acquisitions to renovations and sales, all within a single platform. This feature helps investors maintain apparent oversight of their investments, track expenses, and monitor project timelines.
The app also offers tools for lead generation and property analysis, helping investors identify potential investment opportunities quickly. With its built-in CRM (Customer Relationship Management) system, users can manage and nurture leads effectively, ensuring they get all the possible deals.
Furthermore, Launch Control's user-friendly interface and cloud-based accessibility make it a convenient choice for investors looking to stay organized and productive. While the app requires a subscription, investors appreciate the return on investment it offers by streamlining their real estate operations and driving better results.
Read Also: Launch Control Review: SMS Marketing for Real Estate
Xome Auctions
Investors highly regard Xome Auctions for its specialized focus on real estate auctions. Investors find this app invaluable due to its unique capabilities tailored to the auction niche.
The app provides comprehensive listings of foreclosures, bank-owned properties, and distressed properties available for auction. This vast inventory allows investors to explore various investment opportunities, from fix-and-flip projects to long-term rental investments.
Xome Auctions also offers powerful auction bidding tools, enabling investors to participate in auctions easily. Users can place bids directly through the app, track auction progress, and receive real-time notifications, ensuring they get all the potential deals.
Apartments.com

One of the key reasons why investors appreciate Apartments.com is its vast database of rental listings. The app provides an extensive selection of apartments, condos, townhomes, and multifamily properties available for rent. This diverse range of rental options enables investors to explore various income-generating opportunities in the real estate market.
Investors also value the app's user-friendly interface, simplifying the property search process. Apartments.com offers robust search filters, allowing users to narrow their options based on location, sale price range, property type, and amenities. This functionality streamlines the property identification process, helping investors find suitable rental investments quickly.
Moreover, the app offers detailed property information, high-quality photos, and virtual tours, facilitating in-depth property analysis. Investors can assess rental property potential and make well-informed investment decisions.
How To Choose The Best Real Estate App For You
Selecting the right real estate apps can make a big difference for investors, but with too many options available, it's essential to choose wisely. Not all real estate apps are created equal, and investors should approach their selection discerningly.
Here's a guide on navigating this crucial decision and finding the perfect apps to propel your real estate business to the next level:
Identify Your Needs: Start by assessing your specific needs and business objectives. Are you primarily focused on property search, market analysis, or deal management? Knowing your priorities will help you narrow down your choices.
Research Extensively: Once you've identified your needs, research the apps that cater to those requirements. Explore app stores, read user reviews, and seek recommendations from fellow investors or real estate professionals.
Consider User-Friendliness: An app's usability can significantly impact your daily workflow. Opt for apps with intuitive interfaces and features that align with your level of tech-savviness. Look for tools that streamline your tasks rather than adding complexity.
Evaluate Data Accuracy: In real estate, accurate data is paramount. Ensure that the apps you're considering provide reliable and up-to-date information on property listings, market trends, and investment insights.
Test For Integration: Compatibility and integration capabilities are vital if you already use other software or tools in your real estate operations. Choose apps that can seamlessly integrate with your existing tech stack.
Budget Consideration: While some apps are free, many offer premium features for a subscription fee. Assess your budget and determine whether the investment in a paid app aligns with the value it provides to your business.
Seek User Feedback: Real-world user experiences can offer valuable insights. Look for apps with positive user feedback and testimonials from investors who have achieved success with them.
Trial Periods: Many apps offer trial periods or free versions with limited features. Take advantage of these opportunities to test apps before committing to a subscription.
Support & Updates: Ensure that the app's developer offers reliable customer support and regular updates to address any issues and keep the app current.
Scalability: Consider your long-term goals. Will the app accommodate your business's growth, or will you outgrow its capabilities? Choose an app that can scale with your ambitions.
While the steps outlined above can help investors identify real estate apps that align with their needs, it's essential to acknowledge that the process can be time-consuming and overwhelming, given the sheer volume of available options. Consider prioritizing the best-in-class investing apps mentioned in this article to save valuable time and expedite your success.
Final Thoughts
Staying ahead of the curve is crucial for real estate investors. As our mobile devices continue to reshape the industry, investors who harness the power of the best real estate apps gain a significant advantage over their competition. These apps are not merely tools but also provide valuable insights and unlock opportunities that may otherwise go unnoticed. By choosing wisely and embracing the top apps available, investors position themselves to navigate the complexities of the market with confidence and efficiency.
Ready to take your real estate investment business to the next level and gain an unbeatable edge over the competition? Look no further. Contact Real Estate Skills today, and unlock a world of expertise, strategies, and opportunities that will propel your success in the dynamic world of real estate investing. Whether you're a seasoned pro or just starting out, our dedicated team is here to provide you with the knowledge, tools, and support you need to achieve your investment goals.
Stay connected with news and updates!
Join our mailing list to receive the latest news and updates from our team.
Don't worry, your information will not be shared.
Subscribe