What Is FSBO In Real Estate? An Investor's Guide To FSBO Homes
"For Sale By Owner" (FSBO) is a term used in the real estate world that is the epitome of independence in the process of selling a home. Why? This is due to the fact that 86% of buyers recently purchased their homes through a real estate agent or broker.
What if we told you that it doesn't take an expert to sell your house?
That's right! Selling your home "for sale by owner" can put more money in your pocket, rather than hiring someone else to do it for you. We're talking about thousands of dollars potentially saved on the sale of your home. Who doesn't like saving money? But, you need to know what you're doing.
Now that we have your attention, we'd like to present the Ultimate Guide to selling FSBO real estate! Use the menu below to view different sections within the article:
What Is FSBO?
In the real estate industry, FSBO (pronounced "fiz-bo") stands for "For Sale By Owner." This FSBO definition means that the homeowner has not hired a real estate agent or real estate broker to help sell their house.
Is this a bad thing? Absolutely not.
The main reason why homeowners decide to go the FSBO route is because they want to save money. Homeowners save thousands of dollars by not having to pay a commission to a real estate agent for helping them sell their own house.
A typical real estate agent's sales commission runs at around 5 to 6% of the home's final sales price. So, let's say that you sell your house for $600,000 with the help of an agent. They'd be earning roughly $36,000 for their commission, which comes out of your bottom line.
If this sounds excessive or if you're in a hot real estate market, then maybe it's time to start considering listing your house for sale by owner.
---
Thinking about investing in real estate? Join Alex Martinez at his FREE training to learn how to get started with house flipping and wholesaling!
---
How Does For Sale By Owner (FSBO) Work In Real Estate?
When a property owner chooses to pursue a "For Sale by Owner" or FSBO approach, they assume several responsibilities typically handled by real estate agents. These include:
Establishing an asking price for the property. This is usually determined by researching comparable properties, also known as 'comps', within the neighborhood. The comparisons consider factors such as the size of the house (in square footage) and the number of bedrooms.
Preparing the house for sale, which could involve home staging, repairs, and general maintenance to ensure the property is appealing to potential buyers.
Overseeing all marketing efforts. This could include advertising through various mediums, creating online listings, distributing brochures and flyers, and ensuring the property is listed on the Multiple Listing Service (MLS).
Coordinating and hosting property showings and meetings with prospective buyers.
Engaging in negotiations concerning the sale price and other relevant terms once an offer is received.
Drafting all required legal paperwork. This encompasses the sales contract, residential property disclosure form, mineral and oil rights form, occupancy agreement, and a lead-based paint disclosure for homes built before 1978. Sellers may also need to secure additional documents such as the property survey, permits, certificates of occupancy (COs), loan documents, utility bills, property tax bills, homeowner association rules, and agreements, and the property title.
Lastly, preparing the deed - which could be a quitclaim deed, a warranty deed, or another form of deed, ensuring it is signed, witnessed, and notarized properly.
How To Sell A House "For Sale By Owner" In 8 Steps
Selling a house for sale by owner is an effective way that a savvy seller can maximize profits when offloading a property. In order to do so, sellers should be prepared to spend some money upfront to inflate the sale price while attempting to minimize other expenses.
That being said, let's dive into the 8 Steps To Sell A House For Sale By Owner:
Decide If FSBO Is Right For You
Consider An iBuyer
Price Your Property Right
Prepare To Show Your Home
Get Serious About Your Listing
Be Flexible & Responsive To Buyers
Negotiate The Price
Close The Transaction
1. Decide If FSBO Is Right For You
First and foremost, you need to figure out if selling FSBO is something that makes sense for your situation. Are you up for the challenge? There are many aspects of selling your home that you'll need to undertake as the primary seller. This includes preparing, marketing, and showing your property to other people.
Not to mention all the legal requirements, contracts, disclosures, and paperwork that could leave you overwhelmed. However, you can always hire a real estate attorney or transaction coordinator to help you stay on track.
The bottom line is that you should prepare a game plan that maps out every step in the process of selling your home.
2. Consider An iBuyer
This step examines one of the newer options for a homeowner to consider when selling FSBO - selling your house to an iBuyer.
What exactly is an iBuyer? iBuyers are large, well-funded companies that use technology to make sight-unseen cash offers on homes, generally within a day or two.
iBuyer companies such as Offerpad and Opendoor allow homeowners to submit information about their homes to receive an offer from cash buyers within 24 hours. All of this without listing the property, holding open houses, and best of all - no real estate commissions!
However, iBuyers charge an average service fee of 9%, so it comes at a heavy cost that's often more than a real estate agent's commission.
Once an offer is accepted, the iBuyer conducts an assessment to see if any repairs need to be completed. These repairs would either be completed by the homeowner themselves or a price reduction may be requested. FSBO sellers will likely get a lowball offer from these iBuyers. However, it's a solid last-resort option if the home is not otherwise selling.
All in all, selling FSBO could result in saving a lot of money as long as you dedicate enough time to making sure your listing is as professional as can be. Spending money on a real estate attorney can also help put your mind at ease and smooth the process.
3. Price Your Property Right
Determining the listing price for your property is an important step that has a big impact on the entire sales process.
Trying to determine the fair market value of your home for could be very tricky. Real estate agents specialize in this by providing a comparative market analysis (CMA) to compare information about similar houses have sold nearby. This process is also called "running the comps."
This is where you step in and do your homework. Online data aggregators such as PropStream, Zillow, and Redfin can help you conduct a market analysis, along with viewing tax records of recent sales in your area. Your goal is to determine a price that your property should sell for.
Price your FSBO listing too high, and you won't get any attention. Price your FSBO home too low, and you might end up leaving money on the table, though a bidding war could drive the price up.
Related: How To Find Real Estate Comps To Determine The House Value
4. Prepare To Show Your Home
Next up comes getting your house ready to be photographed and shown to potential buyers. This consists of clearing out excess items and completing cosmetic repairs to make your property look presentable to prospective buyers.
Professional services such as a general contractor, real estate photography, and home staging, are available to make your house look at its best. Though, hiring these vendors is completely optional since you can always do these on your own.
Besides, the main point in selling FSBO is saving money, right?
5. Get Serious About Your Listing
Here comes the fun part of advertising your FSBO listing! As a for sale by owner, you have options such as paid Facebook Ads, FSBO listing websites, bandit signs (for sale signs & open house signs) in your yard, placing newspaper ads, and Craigslist ads to advertise your property listing.
Here's a video tutorial on how to list your FSBO home on Facebook Marketplace for FREE:
*Real Estate Skills Tip: It's in the best interest of any seller (FSBO or not) to use the Multiple Listing Service (MLS). The MLS is a database of all the real estate transactions that have sold in your area. Listing property on the MLS is the secret marketing weapon of real estate agents.
Most sellers don't realize that they can advertise their property on the MLS without having a real estate license by using a Flat Fee MLS Listing Service. While this method will give your FSBO listing the most exposure, be prepared to put in the work and pay a real estate commission to a buyer's agent for bringing you a winning offer.
6. Be Flexible & Responsive To Buyers
This step requires a degree of professionalism, as this is where you must put the most time and attention into selling your FSBO property.
Whether it's promptly answering calls, quickly responding to emails, or providing specific answers to buyers' questions, FSBO sellers must maintain professionalism while marketing their property.
Home buyers could eventually lose interest in your house and move on to find another one if you don't answer their concerns quickly enough. Make sure to stay organized and attentive or your perfect buyer could slip through the cracks!
7. Negotiate The Price
You knew this step was coming. As a home seller, you must always expect the possibility of buyers submitting lowball offers and haggling over price.
However, if you have the support of a real estate attorney or an experienced business partner, they'll be able to help you throughout the negotiating process.
If you don't get your price, remember you can always negotiate the terms to work to your benefit. Consider seller financing, occupancy after the sale, or a lease option.
8. Close The Transaction
As previously mentioned, having a real estate attorney oversee everything in the selling process is essential.
The home sales paperwork can be a handful if you're unfamiliar with it. It might include mortgage documentation, title insurance, the settlement statement, as well as other legal requirements.
Experienced real estate attorneys are also consultants who can back you up and answer legal questions over the course of the FSBO home-selling process. Depending on your state, a real estate attorney, escrow or title company will close the transaction for you.
Read Also: Cash Buyers: How To Find Real Estate Buyers & Build Your List
Can You List A FSBO On MLS?
Yes, you absolutely can list an FSBO property on the MLS. However, since you'll be engaging with a real estate broker, it's no longer purely a for-sale-by-owner listing.
As mentioned earlier, MLS stands for multiple listing services and is the most effective marketing platform for buyers and sellers.
The MLS is so powerful because it's the primary channel real estate agents use to buy and sell houses for their clients. All the main real estate listing websites (Zillow, Redfin, etc.) pull property data directly from multiple listing services across the country.
The only catch is that you cannot list FSBO homes on the multiple listing service without a real estate license. As a seller, you'll need to have a licensed real estate broker list it on the MLS.
Typically, real estate brokers end up charging a commission of 5% to 6% for running the entire transaction. However, by using a flat-fee MLS broker, sellers can list their FSBO homes for a nominal fee instead of paying thousands of dollars in broker commissions.
However, when listing a FSBO home on the MLS, sellers must do everything from talking to potential buyers, to showings and negotiations. In a nutshell, flat-fee MLS services allow sellers to list their homes on the MLS for a flat fee, around a few hundred dollars. It's significantly less than what they'd be paying a real estate agent for their listing commission.
This video goes over the concept of a flat-fee MLS and how it works:
The Expense Of An MLS Listing
If you're considering bypassing the comprehensive services of a broker and merely want to list your property on a multiple listing service (MLS), the cost could range from approximately $100 to $500, varying with the level of service you choose.
Certain realtors provide an MLS listing alone for a flat fee, with the option to add on other services individually. These MLS listing services can be accessed online. Unless you have a prospective buyer waiting in the wings, an MLS listing is crucial to notify potential buyers and their agents about the availability of your property for sale.
It's important to understand that effective use of the MLS requires a certain level of skill and understanding. That's where Real Estate Skills comes into play!
We specialize in leveraging the MLS for finding and selling real estate properties. To further enhance your knowledge and competencies in this area, consider signing up for our FREE training course. This training could be the key to transforming your real estate transactions and helping you unlock the full potential of the MLS.
Read Also: How To Get MLS Access: The (Ultimate) Guide
How Much Do FSBO Homes Cost?
Whether you sell your home for sale by owner or with an agent, it's going to end up costing you money in the end.
Even if houses for sale by owner is the cheaper route, don't think it won't put a dent in your pocketbook. There are many costs associated with selling a house, only a few of which would normally be covered by the real estate agent's commission.
The costs to sell a for sale by owner homes may include:
Repairs
Home Staging
Home Inspection
MLS Listing Fees
Title Insurance Policy
Advertising The Property On Your Own
Marketing Materials (Open House Signs, Fliers, etc.)
Holding Costs (Mortgage, Taxes, Insurance)
Real Estate Attorney
Paying Off Back Taxes & Liens
Closing Costs
On the bright side, these costs aren't all mandatory. Though, some are highly recommended if you wish to sell your house quickly.
Getting items like inspection reports, repairs, and title work out of the way ahead of time makes it easier for buyers and could save you thousands of dollars in the long run.
Some of these costs can be eliminated by simply hiring a real estate agent. However, if you do it right, you'll end up saving thousands of dollars by knowing where to spend it and how to sell your for sale by owner home quickly.
Advantages Of FSBO Listings
While choosing to list as an FSBO can cut down on commissions, it doesn't eliminate them entirely. The seller is typically still responsible for the buyer's agent's commission. Also, to ensure a smooth transaction, many sellers hire a legal expert to manage the paperwork, which is an additional expense. There are also costs associated with listing and marketing the property.
For sellers operating on a limited budget, a flat-fee service provided by certain real estate agents might be an appealing option. This service usually includes only the MLS listing, with additional services offered for an extra fee on an as-needed basis.
Potential Challenges of FSBO Transactions
There can be certain risks associated with FSBO sales. For instance, some real estate agents who represent buyers might be hesitant to show FSBO listings or may even outright decline to show such properties. This hesitation could stem from past experiences with FSBO sellers who may have been reluctant to pay the agent's commission or may have been difficult to negotiate with, from the agent's perspective.
Embarking on an FSBO sale should only be considered if you are confident in your ability to manage tasks typically handled by a real estate agent. These tasks include setting a realistic listing price, marketing the property effectively, presenting the house in an appealing manner, and handling the required paperwork to finalize the deal.
Using For Sale By Owner Vs. Using A Realtor
Going the route of using FSBO vs Realtor in selling your property has some key differences. The biggest difference that makes FSBO real estate so attractive is the 3-6% saved in commission by forgoing a Realtor. When you use a Realtor, you gain the benefit of fiduciary representation from a licensed, experienced real estate professional. This means the agent has a duty to keep your best interest in mind.
Realtors typically have a strong opinion against FSBO homes, as they will fight to the death to justify their sales commissions. There's certainly a case to be made that the results an exceptional Realtor can provide will more than pay for the commission they earn. Unfortunately, many Realtors do a lousy job and put forth most of their efforts at the time of winning your business! Sellers won't know how the Realtor will perform until they're hired for the job and it's too late to back out of the listing agreement.
5 Key Differences Of FSBO Vs. Realtor Home Sales
Price: The National Association of Realtors (NAR) states that sellers generally earn more money when they sell their homes with real estate agents. This stems from a Realtor's potential to market, network, negotiate and sell your home for the highest price possible. While that may be true, it's at the expense of the seller paying 6% of the final sales price. In a for-sale by owner or FSBO situation, sellers wouldn't pay any listing agent commissions. So, ask yourself: How much is my time, effort, and energy worth? Can I sell my house for as much money as a real estate agent would be able to?
Marketing: Realtors feel strongly about their ability to generate interest and generate offers from potential home buyers. They do so by holding open houses, creating a custom real estate website, attending broker caravans, listing on the multiple listing service, direct mail marketing, and other techniques. Marketing your own home as a seller can be pretty tough if you don't know what you're doing. However, if you utilize the FSBO websites and resources detailed in this guide, the only thing holding you back is your time, effort, and hustle to get the job done.
Time: Real estate agents' full-time job is selling homes, holding open houses, and connecting buyers and sellers. Getting your home sold is second nature and much more efficient due to their refined systems and processes. Whereas with FSBO home sellers, the home selling process may be brand new and could take way more time. One out of five FSBO listings had to get renewed through MLS websites from not selling, according to the National Association of Realtors (NAR).
Negotiation: Home sales are complex transactions that are handled between a buyer and seller. Real estate agents go through the negotiation process for the seller, whereas FSBO sellers must undertake all negotiations by themselves. This includes negotiating with the buyer as well as their real estate attorneys, agents, and other team members.
Legal Help: Home sales are legal transactions with serious consequences. Experienced real estate agents are familiar with legal requirements throughout the real estate transaction. FSBO sellers, on the other hand, are unfamiliar with these. Therefore, they must be very careful with legal documents and disclosures in order to avoid being sued.
Read Also: Realtor vs. Real Estate Agent: Salaries, Differences, & Similarities
FSBO Frequently Asked Questions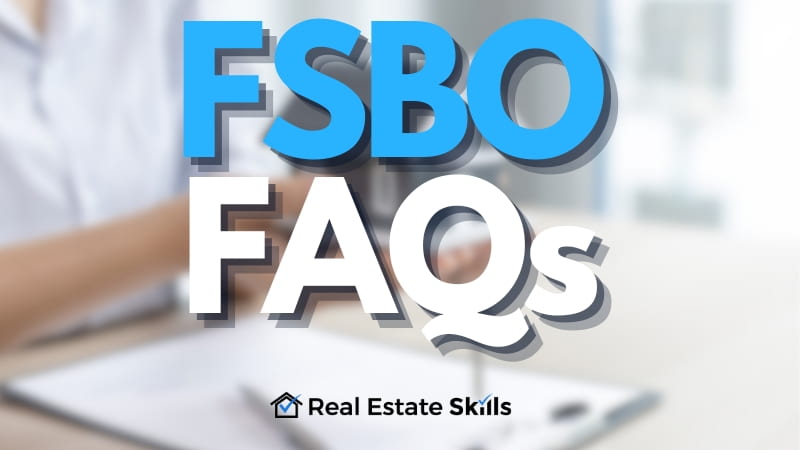 Whether you're contemplating selling your home independently or you're a buyer seeking to purchase a 'For Sale By Owner' property, you may have numerous questions about this unique facet of the real estate market. Our FAQ guide is designed to address common inquiries, clarify any confusion, and equip you with essential knowledge for a smooth FSBO transaction.
Read on as we delve into these key questions and provide detailed, clear-cut answers for your better understanding.
What Are FSBO Homes?
FSBO homes are mean houses that are sold by the homeowner without the use of a real estate agent or real estate broker.
Luckily, it isn't difficult for investors to find homes "for sale by owner". It's common for home buyers to use websites that feature FSBO listings or to find seller-held open houses in their neighborhood, for example. In any case, FSBO homes are not hard to come by, even though they only consist of a small fraction of the homes sold in the market.
What Is An FSBO Contract?
Also known as a purchase agreement, an FSBO contract outlines the conditions of the sale of a house. It's an agreement between a buyer and seller that details the price and terms of sale. It becomes legally binding once both parties sign and all the conditions are met.
The for sale by owner contract covers the rights and obligations of both the buyer and seller in order for the deal to move forward to completion.
An FSBO contract covers topics within the home selling process including earnest money deposits, home financing, contract contingencies, and the close of escrow date. When escrow closes home buyers may take possession of the property.
Drawing up this contract and using it as a roadmap to closing on the home is essential as the sale may fall apart if certain terms are not met.
The following 3-minute video goes over how to accept an offer as an FSBO seller:
How Do You Write An FSBO Contract?
We've discussed what an FSBO contract or purchase agreement is. Now comes the question: How do I write a FSBO Contract? Here are the basic steps in how to effectively write an FSBO contract:
1. State Basic Information In Your Contract
Name the parties to the contract
Give the contract a title
Mark the contract date
Describe the real estate
Detail any personal property included in the sale
Include a signature block
2. Set Forth The Payment Terms
State the full purchase price
Describe how the buyer will pay
Give details about any earnest money paid by the buyer
Describe how property taxes will be paid
3. Disclose Important Information To The Buyer
Describe any restrictions on the property
Provide all required disclosures
Describe any contingencies
Give information about the consequences of default
4. Advise Parties About Closing Procedures
Provide detailed closing information
Allocate closing costs
State the date of possession
What Is An FSBO Script?
An FSBO script is used to figure out if a home seller is willing to work with you, the buyer. FSBO scripts start off with an introduction, in which the home buyer asks about the seller's property for sale.
"Hello, this is Ryan, a cash buyer. I was calling about your house on 6139 Main Street. Did I catch you at a bad time? Great, can you tell me a bit about the property -- square footage, the number of bedrooms, bathrooms, and so on? Just letting you know -- I am not a real estate agent but an actual cash buyer looking to purchase my next investment property."
This then leads to basic, opening questions that end up turning into what are known as qualifying questions. These questions are meant to uncover motivation to make sure the seller is ready to make a deal:
Would you tell me why you're looking to sell your property?
If there was anything you could change about the property to make it nicer, what would it be?
How much are you looking to get for the property? What's the lowest you'd take?
Finally, if the seller is motivated, you should schedule an appointment with the home seller. Run the numbers and let them know you'll prepare an offer to present them at your meeting.
This is the ideal direction your FSBO script should lead into.
What Are Tips For FSBO Sellers?
In case you find yourself having trouble with selling FSBO, here are 8 tips to help you sell a house and seal the deal:
Make sure you're committed to the sale
Price the property correctly
Tidy up and stage your home
Advertise on all FSBO listing websites
Remember to use a "for sale" sign
Host multiple open houses
Promptly attend to all buyers
Engage with a real estate attorney
Here's a 2-minute video with tips and advice for FSBO sellers:
Can You Find For Sale By Owner Homes On Zillow?
Absolutely! Zillow is one of the most popular websites to find FSBO real estate listings. Here's a screenshot of the FSBO section on Zillow, from the home buyer's point of view:
Home shoppers can filter the properties displayed in their selected area by clicking on the "For Sale" drop-down menu and selecting the "By Owner" option. Click on any Zillow FSBO home listing and look for the owner's contact information.
What Are The Best FSBO Sites?
Aside from Zillow, real estate investors can utilize a number of for-sale-by-owner websites to source properties that meet their criteria. Whether they plan to live in the home, fix and flip, wholesale, or hold as a rental property. The following are FSBO listing websites that should be on your radar:
An honorable mention among the list of best FSBO sites is Craigslist, since many homeowners use this platform to advertise and sell a house.
What Is An Example Of A FSBO Listing?
A typical FSBO listing contains a listing description, property photos, a list of basic information, interior and exterior details, and features of the HOA community (if applicable). The following is an example of an FSBO listing. The website in the below FSBO listing, homecoin, provides sellers with flat-fee MLS listings.
Who Pays Closing Costs in FSBO?
Closing costs are a series of fees that a buyer and seller pay at the end of a real estate transaction. The amount paid at the close does not include real estate agent commissions.
Generally, closing costs range from about 1-6% of the house's sale price. Sellers typically pay 1-3% while home buyers pay anywhere from 2-3% of the price.
Buyer Closing Costs:
Loan-related fees
Credit report fees
Title search fee
Home inspection fee
Appraisal fee
Lender's title insurance
Survey fee, settlement fee and buyer's attorney fees (if applicable)
Seller Closing Costs:
Owner's title insurance policy fees
Any outstanding amounts owed on the property
Transfer taxes and recording fees
Mortgage payoff, prepayment penalty, seller's attorney fees (if applicable)
Final Thoughts On FSBO Real Estate
Navigating the realm of "For Sale By Owner" or FSBO in real estate can present its unique opportunities and challenges. However, with a thorough understanding and strategic approach, it can certainly be a rewarding venture. Whether you're an investor seeking to acquire a new asset or a homeowner endeavoring to sell independently, knowledge is your most valuable tool.
We hope this guide has provided you with valuable insights into the world of FSBO homes, and inspired you to take the next steps with confidence. Nevertheless, real estate can be a complex field, and there's always more to learn.
That's why we invite you to take advantage of our FREE real estate training. Learn from industry professionals and deepen your understanding of the market's many facets. This could be your chance to refine your skills, develop new strategies, and accelerate your journey toward real estate success. Sign up today and take your knowledge to the next level!
Stay connected with news and updates!
Join our mailing list to receive the latest news and updates from our team.
Don't worry, your information will not be shared.
Subscribe