Wholesale Real Estate Contract Template & PDF [FREE DOWNLOAD]
Wholesaling real estate remains a prominent avenue for new real estate investors as we head into 2024 for its ease, speed, and straightforwardness in reaping quick profits.
At the heart of this lucrative approach lies the indispensable tool: the wholesale real estate contract.
Whether you're an investor procuring deals from a wholesaler, or dealing in wholesaling contracts yourself, it's essential to understand what these contracts entail.
In this article, we will cover what a wholesale contract is in real estate, the types of contracts you'll need, answers to frequently asked questions, and (of course) our FREE downloadable templates so all the heavy lifting is done for you!
So what are you waiting for? Download our FREE wholesale contract PDF template now, and let's start your journey toward mastering the art of wholesaling real estate:
---
*Before we begin our guide, we invite you to view our video on How To Wholesale Real Estate Step by Step (IN 21 DAYS OR LESS)! Host and CEO of Real Estate Skills, Alex Martinez, provides a comprehensive, step-by-step guide for beginners to start wholesaling real estate!
---
Wholesale Real Estate Contract PDF [FREE DOWNLOAD]
If it's your first time dealing with wholesaling or you're too busy to make your own contract, don't worry! By learning the concepts provided throughout this article and with the guidance of a real estate attorney, you'll be well on your way to crafting your next profitable real estate wholesale deal.
Here's a Wholesale Real Estate Contract PDF Download for you to use! You'll receive the following FREE contracts provided by Real Estate Skills:
Real Estate Purchase & Sales Agreement PDF

Wholesale Real Estate Assignment Contract PDF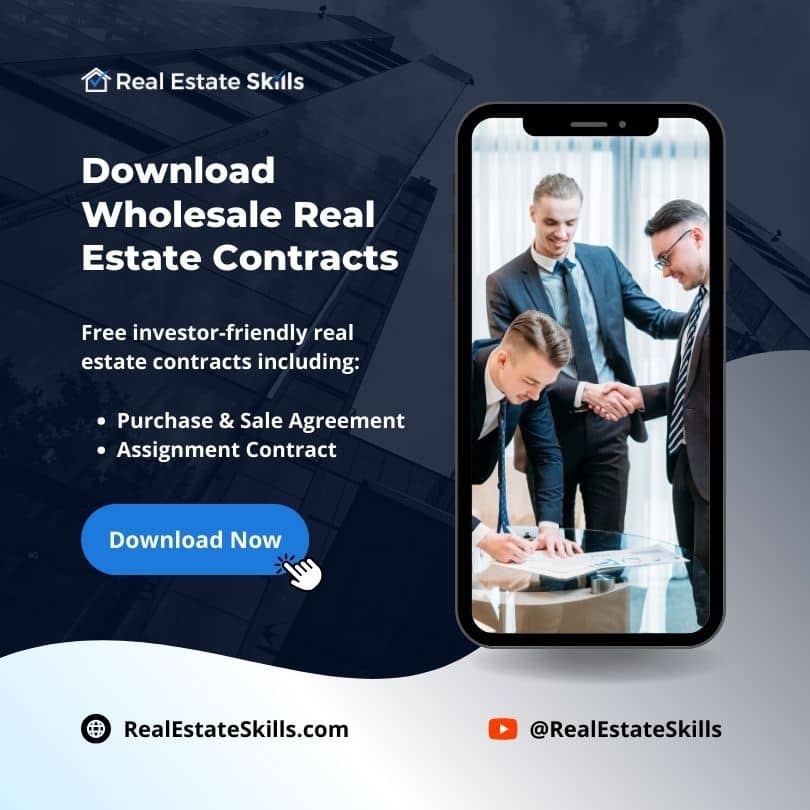 Read Also: The BEST Wholesaling Cold Calling Script [FREE PDF Download]
What Is A Wholesale Real Estate Contract?
A wholesale real estate contract is a legal agreement between a property wholesaler and a seller. As a wholesaler, you'll find a deal, secure rights like a real estate agent would, and assign this contract to an investor. You can also reverse this process, finding a buyer before you find a property. This method can save you time and make your deal more efficient.
This short-term strategy aims to turn profits within a month. It involves getting exclusive buying rights from a seller and then transferring that contract to another buyer at a higher price. Your profit is the difference between these two prices.
During the contract, you hold the ownership rights and can transfer the contract, but the seller still holds the title. When you transfer the contract, the final transaction happens directly between the end buyer and the seller.
Your job as a wholesaler is two-fold: build a list of potential buyers and constantly look for properties to contract. This list, often other real estate investors, is crucial for quick contract transfers. Targeting distressed properties is a common tactic as they often have motivated sellers, allowing you to contract the property at a lower market value and profit from the contract transfer.
Depending on the particular wholesaling strategy, there will be different contracts used in the agreements between the parties involved. Some of these strategies include:
Read Also: Wholesaling Real Estate For Beginners: How To Get Started In 8 Steps
3 Common Wholesale Contracts in Real Estate
The most common contracts used in wholesaling real estate include:
Real Estate Purchase & Sale Agreement

Lease Option Agreement

Wholesale Real Estate Assignment Contract
As soon as the appropriate contract is signed, the buyer is granted an equitable interest in the property. This interest provides certain rights to the buyer, such as the ability to purchase it.
These contracts are not unique to real estate wholesalers. Whether you're a wholesaler, motivated seller, or a real estate investor, you will certainly encounter these contracts as you go through the real estate investing process.
Now, let's define what each of these contracts are and how they are used in real estate wholesaling.
Read Also: 18 Best States To Wholesale Real Estate (2023 Edition)
---
*To learn more about the ins and outs of wholesale contracts, attend our FREE Training on real estate wholesaling and house flipping!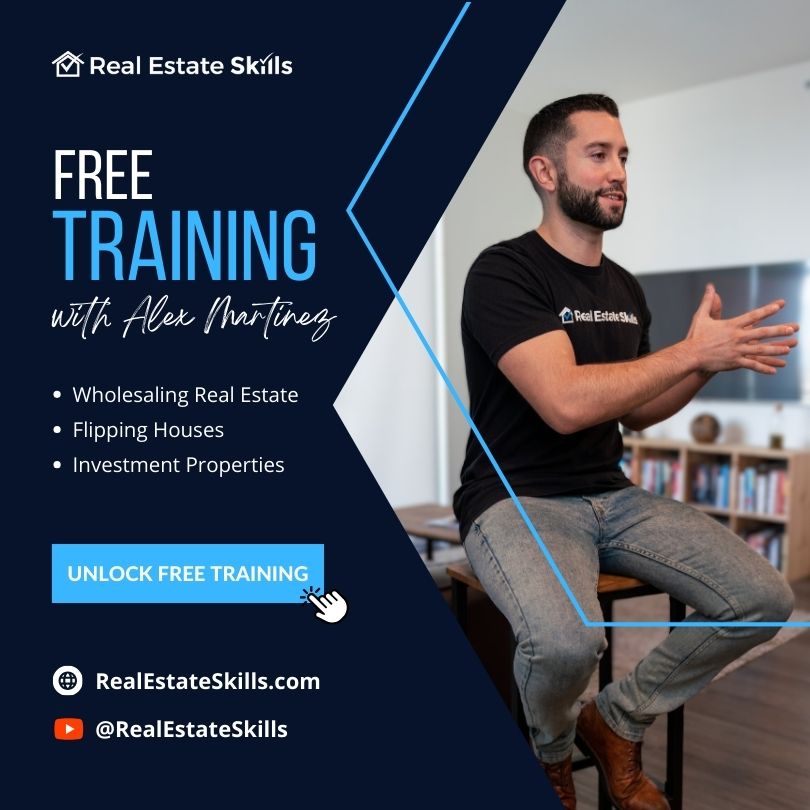 Read Also: How To Wholesale Real Estate With No Money
---
What Are Real Estate Purchase & Sale Agreement Contracts?
Also known as simply the "Purchase Agreement" or "Real Estate Sales Contract," a Real Estate Purchase and Sale Agreement contract solidifies your agreement and secures your right to purchase or sell a property to another party.
There are hundreds of different purchase agreements available for real estate investors to buy and sell real estate with, so consult your local real estate attorney to make sure you have a reliable and compliant contract for your state.
If you plan on assigning the contract, you may want to include an assignment clause in the purchase agreement to expressly allow an assignment to take place within the transaction.
When you're double closing or "wholetailing" an investment property, two separate purchase agreements will be used to complete the deal.
Read Also: The Best Wholesale Real Estate Course (With Step-by-Step Training)

What Is A Lease Option Agreement?
A lease option contract is a combination of three common real estate agreements:
A Purchase & Sale Agreement

A Rental Agreement

An Option Contract
In short, the rental or lease agreement allows a party to rent a property from the owner under a set of predetermined terms. These terms include the rental rate, duration of the tenancy, and security deposit amounts.
An Option Contract gives a buyer the right, but not the obligation, to put the property in escrow and close on it according to the terms of a referenced Purchase and Sale Agreement.
The option period is the window of time that the buyer has the right of exercising their option of engaging in the sales transaction. Once the option period expires, they may not be able to exercise this option.
An option fee is a non-refundable money paid to the property owner at the time of contract signing to give the buyer the right to exercise the option within a designated period of time.
What Is A Wholesale Real Estate Assignment Contract?
Investors use a wholesale real estate assignment contract to facilitate a property sale between an original owner and an end buyer. In this agreement, the investor gets the right to buy the property but doesn't actually purchase it. Instead, they sell their buying rights to another buyer. This distinction is critical; the wholesaler isn't selling the property, but their rights to purchase it.
However, the effectiveness of this strategy hinges on the contract itself. The language must clearly outline the expectations of both parties involved. It's crucial to consult a real estate attorney to ensure the contract doesn't have prohibitions against future assignments, which could cause issues later.
The Doctrine of Equitable Conversion plays a crucial role in this process. Once a real estate purchase agreement is signed, the buyer becomes the equitable owner, and the seller holds the legal title to the property. Therefore, when a wholesaler sells the contract, they're selling their equitable interest or rights within the contract terms to another buyer.
It is important to note that certain properties, like HUD homes, REOs, and listed properties, are not open to assignment contracts. REO properties, for instance, have a 90-day period before they can be resold.
Read Also: How To Find And Buy REO Properties: The Investor's Guide
How Does A Wholesale Real Estate Assignment Contract Work?
In essence, a wholesale real estate assignment contract allows you, as the investor, to match sellers with buyers. It's essential, though, to hire an attorney familiar with wholesaling transactions to ensure the contract's language suits your needs.
After signing the contract, you gain an equitable interest in the property. You control the property via the contract without holding the title. The next step is assigning your contractual rights to another investor using an Assignment of Real Estate Purchase and Sale Agreement. The new buyer will take on your responsibilities, including buying the property under the original contract's terms.
It's critical to ensure the new buyer understands the original contract's terms and conditions. A copy of the purchase and sale agreement should be attached to the assignment contract for transparency. The terms of your payment as a wholesaler will be included in this assignment agreement, typically a deposit at signing and the remainder after closing.
Advantages Of Wholesale Real Estate Assignment Contracts
Wholesale real estate assignment contracts come with a multitude of benefits that appeal to investors at every level. They offer a unique opportunity to turn a profit quickly, even for those with limited resources or experience. This method of investing offers significant pros, each contributing to the appeal of wholesaling real estate. Here are some of the key advantages:
Quick Profits

: One of the significant benefits of wholesale real estate contracts is the ability to turn a profit swiftly, often within 30 days or less. Experienced wholesalers can often close between 5 and 10 deals a month. Once you've mastered the art of finding motivated sellers and building a reliable buyers list, you can replicate this process and yield similar profits.

No Credit Check Requirement

: Wholesaling is an accessible strategy, even for those with poor or no credit history. Since wholesalers are merely assigning their contract rights to another buyer, they bypass the need for a credit check. The onus of credit checks and funding the property falls on the end buyer.

Fast-Paced Learning

: Wholesaling can be an excellent entry point for beginners into the real estate investing world. The process provides a steep learning curve, offering rapid insights into various aspects of the real estate market. It's an amalgamation of real estate transactions, equipping you with vital skills such as legal documentation, calculating After Repair Value (ARV), negotiating, and marketing that will serve you well throughout your investment career.

Lower Financial Risk

: Compared to other real estate investment strategies, wholesaling typically involves less financial risk. This is because wholesalers don't purchase the property but instead sell their rights to buy the property. Hence, they're not subjected to the financial burdens of owning and maintaining real estate.

Building a Network

: Wholesaling encourages investors to build and nurture a network of potential buyers, which can be an invaluable asset for future real estate endeavors. This list of contacts can also lead to partnerships and opportunities in other real estate sectors.

Understanding Local Market

: Wholesaling properties often leads to a thorough understanding of your local real estate market. As you study different properties and neighborhoods to find potential deals, you naturally acquire an in-depth knowledge of market trends and values, which is beneficial for any real estate investor.
If you're a beginner in the real estate industry or seeking to expand your portfolio, mastering the art of wholesaling can significantly propel your journey toward financial freedom. By honing your ability to analyze deals, flip real estate contracts, and adapt to market trends, you'll establish a solid foundation for your real estate career. But remember, success in wholesaling doesn't happen overnight - it's all about the right education, resources, and strategic efforts.
Challenges Of Wholesale Real Estate Assignment Contracts
To effectively navigate the path of wholesaling, it's important to be aware of potential challenges along the way. This knowledge allows you to develop a more strategic approach to overcome these hurdles, and ultimately achieve success. Here's a look at some of the challenges associated with wholesale real estate assignment contracts:
Income Fluctuations: Wholesaling real estate can provide lucrative profits within a relatively short time frame. However, the consistency of the income can vary, largely because finding distressed properties and matching them with the right buyers can take time. But remember, as a wholesaler, your primary role is to find the best deal for all parties involved, and the rewards can be well worth the effort and patience.
Creating a Strong Buyers List: A key to success in wholesaling is having a solid list of potential buyers. Building this network can be a gradual process, but it's an investment that can offer you considerable flexibility when you need to sell a property quickly. A good strategy is to establish connections with repeat buyers known for their reliability.
Discovering Distressed Properties: Finding distressed properties can indeed be a bit challenging, often requiring you to extend your search beyond your local market. While there isn't a one-size-fits-all method for this, remember that with each property you uncover, you're honing your research and negotiation skills. This might involve scanning newspapers, driving around neighborhoods to spot poorly maintained homes, or leveraging direct mail and social media marketing campaigns.
While these challenges might seem intimidating at first, they are part and parcel of the wholesaling journey. Keep in mind that every hurdle overcome is a step forward in your wholesaling education and experience.
Ready to take the next step? Join our comprehensive real estate wholesaling course to deepen your understanding and boost your success rate.
Read Also: How To Find Distressed Properties To Buy
Assignment Contract Vs. Double Close
Among wholesalers, two common strategies are Assignment Contracts and Double Closings. Knowing the ins and outs of both can help investors choose the best method for their situation.
Remember, an Assignment Contract happens when a wholesaler secures a deal with a seller and then assigns their contract rights to a buyer. This way, the wholesaler makes money without officially owning the property.
On the other hand, a Double Closing involves the wholesaler both buying the property from the seller and then selling it to a buyer. In this situation, the wholesaler briefly owns the property before selling it off. This process involves two separate transactions, each with its own costs and fees. The wholesaler appears on the title and must cover all costs associated with buying and selling properties.
No one strategy is better than the other—it all depends on the specifics of the deal and the investor's circumstances. Things to consider when choosing between assignment contracts and double closings include potential profit, the buyer's financing plans, and how quickly the buyer can access funds. By weighing these factors, investors can make the best choice for their situation.
Read Also: Double Closing: The Ultimate Guide
Do You Get Paid From A Wholesale Real Estate Contract?
One of the great benefits of being a wholesaler is the profit you can earn while putting in little money of your own.
The main way a wholesaler gets paid is from a wholesale fee. The wholesale fee, or assignment fee, is earned when the wholesaler sells an active purchase contract (or lease option contract) and transfers the contractual rights to the buyer/investor.
Another profit center for wholesalers occurs when the wholesaler buys the property, then quickly resells the property to another party at a higher price. This requires the wholesaler to actually close on the piece of real estate. The net profit from "buying low and selling high" is the wholesaler's profit. Since two real estate transactions occur in this wholesaling method, there may be added closing costs.
Typically, the amount and logistics of how a wholesaler will get paid are described in the wholesale assignment contract. It may also specify whether or not the wholesaler will be getting paid in escrow or outside of escrow.
What Is Escrow & Why Is It Important For Wholesale Contracts?
According to Rocket Mortgage, "Escrow is a legal arrangement in which a third party temporarily holds money or property until a particular condition has been met (such as the fulfillment of a purchase agreement). It's used in real estate transactions to protect both the buyer and the seller throughout the home-buying process. Throughout the term of the mortgage, an escrow account will hold funds for taxes and homeowner's insurance."
In short, escrow will hold your earnest money and will be applied appropriately throughout your home-buying process.
Nonetheless, if you are getting your wholesale assignment fee paid through escrow, you may receive a check from the title company themselves. The money that was put into that account may have included the price that would be used to pay the wholesale fee. On the flip side, being paid outside of escrow entails that the end buyer will pay the wholesaler directly.
---
*Wholesaling real estate can be a game-changer, especially for those starting with limited capital. Want to learn more about it? Don't miss our exclusive video on How To Get Into Real Estate With NO MONEY! We delve into the ins and outs of real estate investing strategies perfect for beginners!
---
Who Buys Wholesale Real Estate Contracts?
As we have discussed these contracts in terms of a seller, wholesaler, and buyer, who falls into the category of being a buyer? Who buys wholesale real estate contracts?
Rental Property Investors:

Rental property investors are a large portion of those who buy wholesale contracts. For example, landlords look for discounted properties that can be fixed up and rented out. These deals must meet their criteria of gaining adequate profit from leasing the home to tenants for passive rental income.

House Flippers:

Fix and flip investors purchase these contracts as they can flip the house, especially those in distressed and dilapidated conditions.

Property Developers:

Property developers purchase these contracts hoping to find land that is able to be developed. The property is then torn down or scraped, then used to build on. An assemblage of contiguous properties is also a possibility out of these contracts for property developers. This is when an investor owns a large area of properties which results in a larger site to develop a larger, more valuable structure, such as an apartment complex or business.
Additionally, wholesalers themselves participate and purchase these contracts. Depending on the property and profit they get off of it, they may choose to buy contracts to sell to other investors in their network or keep it as an income-producing rental property.
Read Also: The BEST Wholesaling Cold Calling Script [FREE PDF Download]
Who Is Needed To Complete A Wholesale Real Estate Contract?
Now that we have gone through the context regarding the contract, let's discuss who is needed to complete a wholesale real estate contract.
Well, the contract itself is not hard to establish. You can download one from a legal forms website, obtain one from a real estate agent, title company, real estate attorney, or even write up your own.
To fully complete a wholesale real estate contract, you will most importantly need a seller, wholesaler, buyer, and title company.
The

seller

is selling the property and is willing to put the property under contract

The

wholesaler

contracts with the seller and structures the deal as a middleman

The

buyer

is buying the contract and ultimately the property
A title company is needed to protect all parties of the contract. The title company's job is to reassure that the title of the real estate is legitimate and also issues title insurance.
How To Write A Wholesale Real Estate Contract
Wholesale real estate contracts all follow and require the same format, so you can either use one you can find online or make your own. Just remember to include all main parts of the contract so the legality of it doesn't become an issue.
Some other factors that are essential to ensuring you have a legally binding wholesale real estate contract include:
Competent Parties

- It is crucial to make sure that parties are legally competent to complete the contract. Certain issues include age, felons, literacy, identifiable parties, mental capacity, and legal authority. Different states may adopt different laws so it is important to understand what your specific state includes.

Mutual Assent

- Both parties must agree on the terms presented in the contract. For example, one party may make an offer and the other party will choose to accept that offer. This will allow both parties to make sure both ends are met.

Consideration

- Consideration in contracts is something of value that is provided by one party and exchanged for something of value from the other party. All contracts must be supported by consideration or the contract is considered void.

The Legality of Purpose

- This is the factor of the contract that is required for the contract to be legal. It is legal and enforceable if the contract complies with the law and public policy.
If these elements aren't present in the formation of your wholesale contract, then you may have an invalid contract on your hands. Don't spoil a great opportunity by missing these important concepts.
Writing your own contract, or participating in the entire wholesaling process, doesn't require you to be a licensed real estate agent. This is one of the great benefits of wholesaling, anyone can do it! If it is in your best interest to learn, just remember that ultimately everything is within your reach.
Wholesale Real Estate Contract Template
If you are new to real estate sales contracts, you'll need some guidance on what to look for to make sure you know what you're getting into. This section will cover the purchase agreement and provide you with key components to include if you ever create your own contract.
Here are some key elements of a wholesale contract:
Parties Involved

- Names of the seller(s) and buyer(s), along with their signatures

Legal Description

- Property description, street address, assessor parcel number (APN), and type of property

Purchase Price

- The agreed-upon amount of money that the buyer will pay for the property

Deposits

- This section will specify any earnest money deposit amounts the buyer will make to show commitment to the transaction

Closing Costs

- The buyer and seller must agree on who is to pay for closing costs, including settlement fees, title insurance, escrow fees, and transfer taxes

Financing

- Details of how the purchase price and earnest deposits will be funded, along with financing terms. This may act as a buyer contingency, in case financing cannot be secured

Property Condition Report

- Requires the seller to disclose any known defects about the property, including previous repairs and known deficiencies. Local laws regulate these disclosures and may require specific formats used, such as the

Transfer Disclosure Statement (TDS)

in California

Radon Gas & Lead-Based Paint

- Any federally required disclosures on radon gas or lead-based paint in the property.

Inspections

- Seller should allow buyers to hold inspections of the property to make sure their standards are met before purchasing, including a final walkthrough prior to closing

Occupancy, Possession, and Closing date

- The deadline for closing the contract, if the property will be delivered vacant. Closing on the seller's timeline will help your offer get accepted

Contingencies

- Any contingencies that are requested by either side, including a financing contingency, inspection contingency, marketable title contingency, and/or an assignment contingency
The contract will become binding once signed by both parties. Typically, any changes to the contract must be made in writing and signed by the parties involved.
Some wholesale deals may also require more than just this contract, such as an assignment addendum, depending on if the purchase agreement prohibits assignments.
Reassurance and clarification are important for all parties to be satisfied and successful in this process. Always seek legal counsel from a local real estate attorney when altering and writing up contracts.
Read Also: Wholesale Real Estate Mentor: The ULTIMATE Beginner's Guide
Can You Get Out Of A Wholesale Real Estate Contract?
A contract is a legally binding document so don't hold your breath if you think it's easy to get out of it. As you sign a contract, you agree with the terms and conditions that are listed within that document. You also take on any consequences that may occur with it if you breach the contract.
Wholesale real estate contracts contain contingency clauses that allow a party to terminate the agreement without repercussions when certain terms aren't met. This part of the contract clarifies any conditions that need to be met in order for the contract to be legally binding. Once the conditions are met, the contract then becomes binding.
A specific contingency to be aware of is the inspection contingency, also called the due diligence contingency. This states a specific time period for the buyer to have the home inspected. With this contingency, the buyer is able to cancel the contract or negotiate certain actions for the seller to take if appropriate for the home.
It is important to note that not all contracts will have an inspection contingency clause. New investors can lose money, even in a low-risk wholesale deal, without the right training and guidance. Having this contingency clause is something that may be overlooked so it is important to be aware of this.
Here's an example of a basic due diligence contingency in a contract:
"Closing will take place on or before: ____ at _____ or TBD, Subject to a 45-day period in which the buyer/seller shall be permitted to do necessary due diligence and to clear any title problems"
So, how do I get out of this contract? There are two options, one good and the other not so much.
The first option is the situation you would typically want. This is when you ask to cancel the contract within the contingency time period. This will typically permit the cancellation of the contract and your earnest money deposit will be refunded back to you.
However, as you have committed earnest money, the situation may not look so hopeful for you if you are outside the contingency period. The earnest money becomes non-refundable when the contingencies in the contract are removed or expire. This will result in the loss of your earnest money deposit if you cancel the contract.
Wholesale Contracts: FAQs & Common Misconceptions
Wholesaling brings with it a multitude of questions, particularly surrounding the pivotal tool of the trade: contracts. As essential as they are, these contracts often come shrouded in misunderstandings, especially for new investors. Real Estate Skills aims to provide you with concise answers to your most pressing questions.
What Is Wholesaling?
Wholesaling is a strategy where a middleman, or wholesaler, secures under-market-value properties and finds end buyers for those properties. Usually, these properties are distressed and purchased from motivated sellers, but they can also be fully renovated, move-in-ready homes.
A common method is an assignment of contract, where the wholesaler makes an agreement to buy a property and then assigns that contract to an end buyer before closing. This transfers the right to purchase to another party, who will then renovate the property and sell it for a profit. The wholesaler's profit comes from the difference between the price they set in their contract and the higher price paid by the end buyer.
This method is popular because it doesn't need any capital investment from the wholesaler, there are no closing costs, and payment can be quick.
Other variations of wholesaling include double closings and wholetail deals, which require the wholesaler to fund and close the property.
Is A Wholesale Contract Legal?
Wholesale real estate contracts are legal and are a common real estate practice.
Despite the legitimacy of the contracts and process, it is crucial that you are aware of the rules and regulations when it comes to the state the property is in. Similarly, it is widely important for both parties to communicate, agree and clarify all terms to avoid any conflicts or misconceptions regarding the contract.
Furthermore, according to Restatement Second of Contracts § 317, assignments are allowed in contracts unless it's precluded in the contract.
If there is no assignment clause or a clear prohibition of assignment, it is automatically allowed. However, watch out for clauses in purchase contracts that prohibit assignment. This can be true with forms that Realtors use during the wholesaling process.
What If You Can't Assign A Property To A Wholesale Contract?
If the wholesale real estate contract prohibits assignment, there are two options you can consider: a standard Contract Assignment Addendum or a double closing.
Contract Assignment Addendum:

A standard

Contract Assignment Addendum

amends the initial contract that prohibited assignment. Most

real estate brokers

or attorneys will have access to a similar form. In short, a Contract Assignment Addendum explains certain conditions between the seller, the assignor, and the assignee relating to the property at hand. When dealing with purchase contracts that are not assignable, an assignment contract is a strong option to consider.

Double Closing:

In a double closing, an investor buys a property and then resells it swiftly without making any repairs. This process involves two separate transactions. The first is between the investor and the seller, and the second is when the investor sells the property to a new buyer. This can be ideal for contracts that are unassignable to third parties, such as with some REO properties

or bank-owned homes.
Why Should You Wholesale Real Estate?
Wholesaling real estate might seem overwhelming, but it offers significant benefits for both new and seasoned investors:
It presents minimal risk as you're not directly exposed to market fluctuations or property liabilities, unlike traditional homeownership.

It allows you to capitalize on all leads, turning potential property listings that you might not have time for into profitable contracts.

Wholesaling requires little to no personal investment as profits are made from selling the contracts, not the properties themselves.

As a wholesaler, you're not responsible for property repairs; the condition of the property is a factor for the investor to consider.

The process isn't geographically bound; you can operate your wholesaling business virtually, making it a versatile strategy in competitive markets.

Wholesaling doesn't require a real estate license, providing an alternative entry point into the property market.
Final Thoughts On Wholesale Contracts
We've introduced you to the world of wholesale contracts and examined the wholesaling process in its entirety. It's clear to see how these contracts play a key role and what you need to be mindful of throughout the process.
Wholesaling provides both wealth creation and educational benefits for anyone interested in the real estate business. The method you choose - whether it's wholesaling, house flipping, or passive real estate investment - is entirely up to you.
Remember, your drive and determination will yield benefits far beyond financial gain. The rewards will be clear and tangible.
Legal contracts are a critical aspect of wholesaling, and they demand your serious attention. Read every contract thoroughly - knowledge is power when it comes to negotiating outstanding wholesale deals.
But don't stop here. Keep learning and expanding your real estate horizons. We invite you to join our FREE training program where we go deeper into the intricacies of wholesaling. It's an opportunity you won't want to miss, so register today and take the first step toward your successful real estate journey!
Stay connected with news and updates!
Join our mailing list to receive the latest news and updates from our team.
Don't worry, your information will not be shared.
Subscribe