What Is Reverse Wholesaling? A Beginner's Guide (2023)
Real estate is an innovative industry where a lot of money is made in all sorts of investment strategies. Whether you're selling homes as a real estate agent, house flipping, or generating cash flow from a buy-and-hold rental property, the opportunities are abundant.
One of our mottos here at Real Estate Skills is Work Smarter, Not Harder. In this article, we're going to reveal what we believe is one of the best opportunities in real estate today to do just that. We're talking about reverse wholesaling.
Reverse wholesaling is very similar to traditional real estate wholesaling, but with several key benefits that we'll cover including:
Having a more reliable exit strategy
Creating meaningful relationships with cash buyers
Aligning yourself with private and hard money lenders
Interestingly, the real estate wholesaling business provides attractive opportunities for new investors because it requires little to no money to close a deal. As quoted from Investopedia, "The goal in real estate wholesaling is to sell the home to an interested party before the contract with the original homeowner closes."
Since there's no monetary investment or ownership required, wholesaling is the perfect niche to get your feet wet in the real estate business without the risk of losing money.
Read on as we explore questions like:
What Is Wholesaling?
Wholesaling is a real estate strategy where a property is put under contract by a real estate investor (aka "the wholesaler") for a great price, then is assigned to an end buyer for a fee (aka "the wholesale fee").
The end buyer who closes on the property is typically a house flipper, landlord, developer, or cash buyer looking for a property at below-market value to fix and flip or lease out as a rental property. In short, wholesalers earn a profit by finding amazing deals for other investors.
Wholesaling is an excellent way to ease into the real estate industry as it requires little to none of your own money to get started. New investors also benefit from learning the trade of property acquisitions, which is arguably the highest value skill set in the real estate investment business.
Real estate wholesalers are able to make quick cash by earning wholesale fees on the front end of the deal (2-3 weeks to close a deal), while house flippers may take several months to rehab and flip a house before they see a profit.
Wholesaling houses is like a form of house flipping that requires no rehab, no general contractors, no ownership of investment property, no real estate license (in most states), and no property management.
Traditionally, wholesaling real estate step by step is completed in the following order:
Find a distressed property from a motivated seller.
Put the property under contract for a great price.
Find cash buyers to buy the property.
Assign the contract to the cash buyer or double close on the property.
Collect your wholesale fee.
What Is Reverse Wholesaling?
Reverse wholesaling is when the wholesaler finds the buyer first, then proceeds to find the property.
By completing these steps in reverse, the end buyer specifies exactly what they're looking for in an investment property before the wholesaler spends time, effort, and energy looking for deals they assume will meet their buyers' purchasing criteria. Finding a cash buyer is half the battle in completing a successful wholesale deal. It can be just as challenging as finding a great real estate deal from a motivated seller.
By forming genuine relationships with cash buyers first, you not only gain extreme focus with your marketing efforts to find distressed properties, but you can also cultivate a meaningful relationship with these serious investors. Building a cash buyers list can take a lot of time if you don't use proven strategies, and even then, not every buyer will be interested in any random property you have under contract.
Further, amateur wholesalers often make the mistake of building a huge cash buyers list without ever taking the time to vet them individually and understand their purchasing criteria. By reverse wholesaling, you know exactly which properties to pursue as you know what the buyer's preferences are from the beginning, significantly increasing your chances of a successful wholesale transaction.
Finally, the relationships formed with cash buyers prior to bringing them an opportunity can be fruitful in other ways. Many of these investors are private money lenders and will be willing to partner up on your projects if you decide to cherry-pick the exceptional deals to fix and flip for a larger profit.
Can Beginners Reverse Wholesale Real Estate?
Reverse wholesaling is a remarkable starting point for novices in real estate investing and wholesaling, mainly because it allows you to collaborate with an experienced cash buyer.
Aligning yourself with the right buyer—someone who possesses diligence, integrity, expertise, and honesty—can effectively serve as the springboard for your burgeoning investment career.
Moreover, the risk associated with traditional wholesaling—locking a deal and struggling to find a buyer—is notably lessened. New wholesalers often encounter this problem due to inexperience in assessing renovation costs or conducting comparable market analyses. However, reverse wholesaling mitigates this issue, as you're closely working with a seasoned cash buyer.
To help you further understand, below are the general benefits and risks of reverse wholesaling.
Benefits Of Reverse Wholesaling
Collaboration with an Experienced Investor: In reverse wholesaling, you'll need to work alongside an experienced investor. This represents the greatest advantage since it allows you to learn the nuances of the industry from someone seasoned in the field.
Dodging Common Hurdles: Wholesaling in real estate is fraught with numerous risks and stumbling blocks. Working with someone well-versed in the terrain means you can steer clear of many of these challenges.
Enriched Learning Experience: You'll gain a wealth of knowledge about wholesaling and real estate investment in a relatively safe environment. While the cash buyer benefits from a good deal, you benefit from invaluable experience.
Risks Of Reverse Wholesaling
Lower Assignment Fee: Given that you're essentially stepping into the role of a learner and working directly (and openly) with a cash buyer, you may have to settle for a reduced assignment fee, which is the payment you receive as the wholesaler.
Dependence on Buyer Integrity: The benefits of reverse wholesaling are significant but hinge on your collaboration with a trustworthy cash buyer. The crucial factor in this process is locating a diligent, honest cash buyer with a history of successful real estate investments.
Not a Long-Term Strategy: While reverse wholesaling can be an excellent stepping stone for your initial deals, it may not serve as a sustainable strategy in the long run. As your business expands and becomes capable of handling more transactions, you'll need to widen your network to include more buyers.
Read Also: How To Find Cash Buyers For Wholesaling Real Estate (2023)
How Does Reverse Wholesaling Compare To Other Strategies?
We've covered generally how reverse wholesaling works, but how does it compare to the other types of wholesaling? Well for some context, let's discuss other types of wholesaling first.
Wholesaling Real Estate: As previously discussed, wholesaling entails a wholesaler putting a property under contract from a seller, then finding an end buyer to assign the contract to. The difference between the wholesale contract price and the final price to the end buyer is called a wholesale fee. That's how wholesalers earn a profit by finding profitable deals. Traditional wholesalers find the deal before finding an end buyer.
Co-wholesaling: Co-wholesaling is when two investors work on a wholesale deal together. One wholesaler brings the deal and the other brings a buyer. Co-wholesalers often agree to split their profits 50/50. This is beneficial for each side of the deal in terms of the connections and networking you will have access to. You either gain access to the other wholesaler's buyers list or you get access to their deal flow. Who knows? Maybe you'll find a partner to take part in other real estate deals with.
Virtual Wholesaling: This is real estate wholesaling done remotely. If you love to work from home or just want to have location freedom, know that you can wholesale virtually. Virtual wholesaling allows you to work the traditional wholesaling process, without the hassle of being tied to one particular location. This saves you time, energy, and money, in addition to allowing you to operate in markets with better opportunities.
The truth is that reverse wholesaling can be completed in conjunction with all of the methods above.
For example, to do a reverse co-wholesale, you'll simply find a wholesaling partner that has pre-existing relationships with reputable buyers. In this case, you'd bring the deal and they would bring the buyer. Then, you'd split the fee.
Virtual reverse wholesaling is completely feasible, as well. In today's virtual economy consider using virtual hangouts, digital Real Estate Investor Association (REIA) meetup groups, and Facebook groups to network with cash buyers before locking up wholesale deals.
While all of these variations of wholesaling entail the traditional steps that wholesaling requires, it is up to your own preferences and comfortability to decide which perspective you want to take on wholesaling from.
All of these types of wholesaling do not require a license (in most states) or even a college degree. Of course, these will enhance your credibility and experiences, however, it is not necessary. You are totally capable of learning how to wholesale real estate without a license or degree, but with the right, specialized education.
Why Should You Reverse Wholesale?
Now that you have an idea of what the variations of wholesaling are like, why should you reverse wholesale? Well, let's focus on why reverse wholesaling might be for you!
If you have a list of buyers ahead of time, reverse wholesaling will be an easier process for you than traditional wholesaling. With a predetermined buyers list, you won't have to scramble to find a buyer while you have a hot deal under contract.
Not only will you save time not having to find a buyer, but you will also know what to look for in properties. Having vetted buyers from the beginning will allow you to focus on evaluating deals based on their specific investment criteria and preferences.
If contracting a property before having a buyer is concerning to you, reverse wholesaling may be the way to go. This will relieve some stress that may come from finding a buyer and assigning the contract for that certain property, as well as closing a deal faster than if you were to go the traditional route.
No worrying about quick closing timelines if you plan it out properly! With reverse wholesaling, you are relieved knowing that your deal has a high chance of closing and that you are operating in an efficient way that ultimately decreases risk.
Overall, it may be a smarter choice to be reassured that you have secured a vetted buyer.
How To Reverse Wholesale In 5 Steps
Reverse wholesaling focuses on buyers first and properties second. Let's delve into the detailed, five-step process to successfully undertake a reverse wholesale deal. From building an extensive network to closing the deal, we've got you covered!
Network & Build a Buyer List
Find Qualified Buyers
Find The Property
Connect The Buyer & Seller
Close The Deal!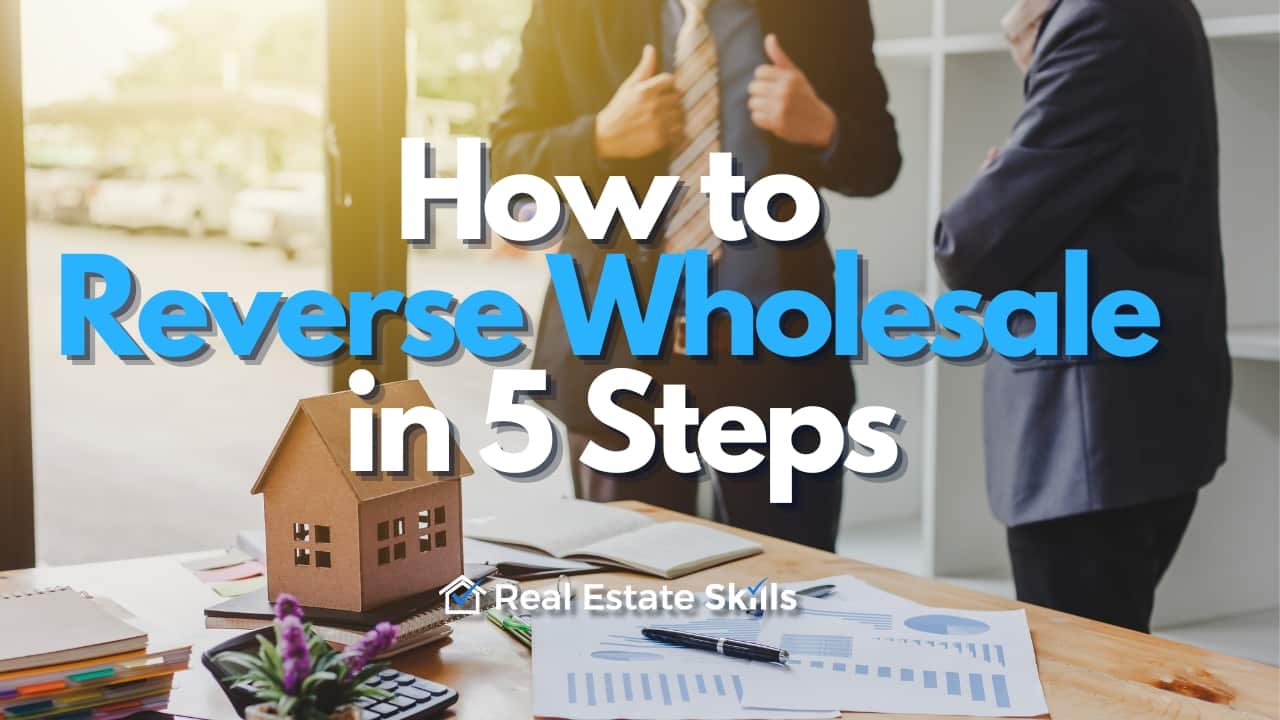 1. Network & Build a Buyer List
Networking is a great way to meet cash buyers, Realtors, rehabbers, and others in the real estate investing business. We are fortunate enough to have many great resources today that allow us to network with others virtually, such as Meetup.com.
Beyond networking, there are also various ways that will allow you to build a buyers list, including using Google search, Craigslist posts, talking to private lenders, and even calling on Airbnb listings!
2. Find Qualified Buyers
As you reflect on your newly established network, choose several buyers that you would like to do business with. Communicate with them regularly, build rapport, and let them know you plan on be bringing them wholesale deals.
Be sure to vet these buyers and ask qualifying questions such as:
What types of properties do you buy?
How many houses are you able to buy every month?
What kind of return on investment (ROI) are you looking for?
What's your business model? Are you house flipping or buy and hold?
3. Find The Property
Now that you have an idea of what your buyers are looking for, it is time to find a property to put under contract. Along with the minimum profit requirements and physical property features, they are sure to mention, be sure to take into consideration factors such as their target locations and the price ranges they can afford.
How to find great deals for reverse wholesaling? Try the following:
4. Connect The Buyer & Seller
Contract the property from the seller at a great price. Not sure what to offer? Use this formula to determine your offer price:
Maximum Allowable Offer = (ARV x 70%) - Rehab Cost - Your Desired Wholesale Fee
In other words, multiply the after repair value (ARV) by 70%, then subtract the cost of repairs and subtract your target wholesale fee (aim for at least a $10,000 fee!).
Once you have the property under contract, you have some options:
Assign the contract to your cash buyer via a wholesale assignment contract

Double close on the deal
A contract assignment does not cost any money, is quicker, and prevents the wholesaler from closing on the house. Double closing simply means the wholesaler closes on the property, only to immediately resell it - usually within the same day!
Double closing (aka "simultaneous closing") a wholesale deal may involve transactional funding and may cost a 1-3% fee paid to the private lender. This is helpful if your initial contract is not assignable or you want to better conceal your wholesale fee.
5. Close The Deal!
After assigning the contract or deciding to double close, all you have left to do is close the deal! As the wholesaler you should be paid a handsome fee from the deal, so make sure to negotiate that upfront when you have found a buyer.
It is also crucial that you are able to communicate with other real estate investors just in case the deal doesn't go through. Keep your cash buyers list handy, in case your initial investor backs out of the deal.
Reverse Wholesaling: Frequently Asked Questions
As you explore the dynamic landscape of reverse wholesaling, it's normal to have a handful of questions. To help demystify this unique strategy further, we've compiled a section dedicated to Reverse Wholesaling: Frequently Asked Questions.
This portion aims to answer some of the most common queries we've encountered about reverse wholesaling, serving as a quick and handy guide as you venture into this intriguing segment of real estate investment.
Who Is Needed To Reverse Wholesale?
The process of wholesaling may be reversed but the people needed in the process remain the same! A cash buyer, a wholesaler, and a motivated seller; that's all you need! Although, you may prioritize the buyer more in reverse wholesaling since that is who will determine the rest of the process.
Factors such as their budget and specific preferences will determine what property is put under contract, and eventually how much profit you make as a wholesaler. Your job as a wholesaler is to be the middleman between the buyer and the seller and to handle the deal overall.
Lastly, the seller of the property is needed to be able to put the property under contract. Their ultimate goal is to sell the property, although there may be specific contingencies regarding the property that are important to note in the contract. As the wholesaler, it is crucial to negotiate between both parties as best as possible.
In addition to the key principals of the transaction, you may choose to utilize the help of a Realtor, title company, real estate attorney, real estate broker, and home inspector.
Who Would Be Interested In Being A Buyer?
You might be thinking, I put a property under contract, who would be interested in being a buyer? Here are a few types of real estate investors who would be interested in being a buyer:
First-Time Homebuyers & Investors:

Right off the bat, individuals or families that may be on the house hunt for a fixer-upper would be a good fit for being a buyer. Investors looking for their first property are also good candidates.

Rental Property Investors: These investors may be interested in looking for properties that are worthy to be rented out, thus bringing passive income and cash flow. Landlords are often looking to expand their rental property portfolios and are willing to pay a wholesaler big money to find them great deals. These investors might buy properties that are turnkey or they might use the BRRRR method.
House Flippers: These investors are focused on flipping houses that are usually in dilapidated conditions to make them livable, then reselling them to gain profit. Fix and flippers are always on the hunt for their next deal and great deals are the lifeblood of their business. The majority of wholesalers have great success wholesaling to house flippers, and where it's recommended newer investors start with.
Real Estate Developers:

Developers specialize in building new construction from the ground up. These investors are interested in properties for their land value. So, if you bring them a dilapidated house under contract, they would likely want to tear it down and build a new house or apartment building. Pay special attention to residential properties that have

commercial zoning

or higher-density zoning than is currently built.
Nonetheless, anyone looking for a good deal on real estate may be interested in becoming your buyer. As mentioned earlier, networking provides many opportunities to connect with potential buyers in your market. The most successful wholesalers never stop building their network of active homebuyers and investors.
Is Reverse Wholesaling Legal?
Like much of the real estate market, you must be aware of the laws and contracts that you are getting into beforehand. Reverse wholesaling is legal when done with proper etiquette and careful consideration.
It is important to be aware of any dates or contingencies involved in the contracts beforehand to avoid any legal responsibility for the house as the wholesaler. It is also helpful to make sure that you are upfront about the property expenses with the buyer to avoid any complications later in the process.
Just as crucial is where the property is located. Different states may have their own laws regarding the process so be aware of what you should and should not be doing before you proceed with the deal.
In the following video, attorneys discuss the legality of wholesaling and tips to make sure you're doing things right. These concepts apply to reverse wholesaling.
What If I Can't Find A Buyer?
In today's job market, networking is easily one of the most important things you can do to gain insight into what you may want to do next and what your peers are doing. This can also be applied to how you are able to find a cash buyer. As your network grows, the chances of you connecting with a potential buyer increase.
Using resources such as LinkedIn, Facebook, Instagram, Twitter, and other social media sites will open up various communities you can join and eventually lead you to your next potential buyer.
Many local forums or groups are able to connect you to people in your target real estate market. Comment on those posts, add value and create genuine relationships. Or, make one of your own, you never know who may see it!
Another strategy to find cash buyers for your deals is to Google search "Sell My House [Your City]" or "Fast Cash Offer [Your Location]" then filter through the results.
Also, look at the Craigslist real estate classifieds in your area. There are often advertisements promoting some variation of the message "We Buy Houses." Call these people out on their message and unload your wholesale property!
If you are unable to find a buyer, then the worst case you may have to back out of the contract. As long as your purchase agreement includes contingencies and you're within your due diligence period, then you will be able to walk away without any consequence.
However, if you have removed all of your contingencies then you may be at risk of losing your earnest money deposit if there was any included as part of your deal.
Don't give up quite yet! Realize that active real estate investors are abundant in every market and they are looking for great deals. If you keep looking, you're bound to find the perfect buyer as long as you have a great deal on your hands.
Where Can I Learn More About Reverse Wholesaling?
Did this article catch your attention? Wondering if you can learn more about reverse wholesaling? The answer is yes! There are amazing resources you have access to right now!
Here at Real Estate Skills, we work with thousands of investors around the country that want to learn how to wholesale and start their own businesses.
Our team has operated multiple 6 and 7-figure real estate businesses virtually for years and has completed 100s of real estate deals. Through the blog and our popular real estate courses, we strive to cut through the noise, give back to the community, and provide actionable real estate education.
Books are also a great way to get information about real estate wholesaling and reverse wholesaling. Sites such as Amazon and Audible have great wholesaling books and general real estate books! It never hurts to gain knowledge in all aspects of real estate.
As we have discussed the importance of networking, finding a mentor through your network is also a great way to gain insight into the real estate wholesaling business. This will provide you with proper guidance on where to start your path to becoming a successful real estate investor!
According to NPR.org, The right mentoring relationship can be a powerful tool for professional growth — it can lead to a new job, a promotion or even a better work-life balance.
Along with these given resources and guidance, with the complexity of the internet nowadays, a little research will be sure to give you various resources to get you started on reverse wholesaling!
Final Thoughts On Reverse Wholesaling
As you mull over whether reverse wholesaling is the right path for you, it's crucial to weigh all factors and analyze the potential rewards and challenges.
The real estate wholesaling realm offers abundant opportunities for quick earnings and a foot in the door of the property investment arena. Specifically, reverse wholesaling can fast-track your journey to becoming a successful deal-maker when the right strategies are employed.
Suppose you believe in your networking abilities and possess the drive to scout out discounted properties. In that case, reverse wholesaling can transform into a lucrative venture for you!
Always keep in mind that even the most successful real estate moguls started without in-depth knowledge of the industry. With the right education and guidance from experienced mentors, you can learn from others' experiences, accelerate your learning process, and tread a tested path to success.
Ready to dive deeper and acquire the knowledge to kickstart your journey in real estate wholesaling? Check out our FREE course on wholesaling real estate to take the next step toward your dream career.
Stay connected with news and updates!
Join our mailing list to receive the latest news and updates from our team.
Don't worry, your information will not be shared.
Subscribe