How To Wholesale Real Estate In Virginia: Step-By-Step (2024)
The Commonwealth of Virginia is in the mid-Atlantic section of the eastern United States, and northern Virginia is recognized to be part of the greater Washington D.C. area. If you are seriously interested in learning how to wholesale real estate in Virginia, know that this state offers a diverse real estate landscape. Virginia has something for everyone – from the Chesapeake Bay to Virginia Beach (its largest city) and the Blue Ridge Mountains.
More than 8.6 million people reside in the Old Dominion State, with about a third living within the greater Baltimore-Washington metro vicinity.
Like most markets, real estate across Virginia has experienced unprecedented levels of demand combined with an uncharacteristically low supply of homes for sale. The result is that median home prices in Virginia have been pushed upward by 6.6% year-over-year (as of Nov 2023).
Despite the ups and downs of a typical market, real estate wholesalers can typically find potential investments to turn a profit – they must have an understanding of where to look and how to do it. That being said, let's dive into the lucrative strategy of wholesaling real estate. After reading our guide and downloading our resources, you will have the confidence to start investing in Virginia:
---
*Before we begin our guide on wholesaling real estate in Virginia, we invite you to view our video on How To Wholesale Real Estate Step by Step (IN 21 DAYS OR LESS)! Host and CEO of Real Estate Skills, Alex Martinez, provides a comprehensive, step-by-step guide for beginners to start wholesaling real estate!
---
What Is Wholesaling Real Estate?
Wholesale real estate is a specific type of real estate investment strategy that has become a preferred technique because it offers a short investment timeline – usually less than 30 days from contract to profit.
When a wholesaler is ready to begin, they search for wholesale properties that are typically being sold by motivated homeowners – many facing financial difficulties that could be helped or solved by a quick sale. These homeowners facing financial hardship are most likely to be willing to make a deal with a wholesaler because their situations leave them with little time and few options to sell the property.
When a wholesale deal has been struck, the wholesaler and the seller execute a real estate contract, a legally enforceable document that delineates the details of the purchase agreement, like the price, the closing date, and any other agreed-upon provisions.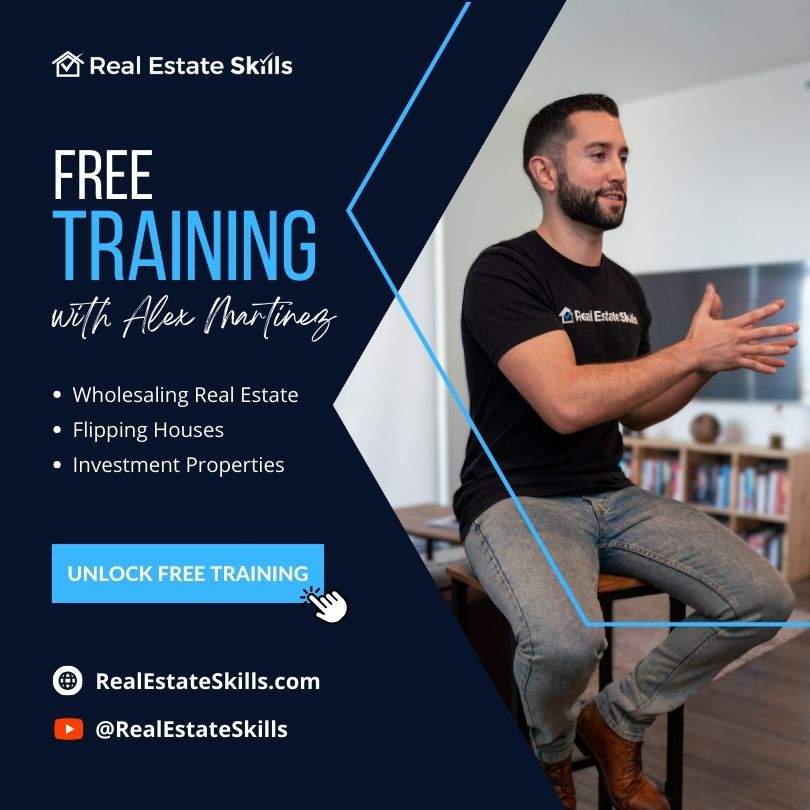 Wholesalers are primarily tasked with finding another investor (usually a fix and flipping professional) who understands the market and the property's potential. This alternate buyer will be willing to pay more than the wholesaler's contracted price.
The difference between the two prices is the wholesaler's profit. Wholesaling real estate in Virginia begins with the following basic steps.
How To Wholesale Real Estate In Virginia (9 Steps)
To be an effective wholesaler, a real estate investment professional must simultaneously accomplish two primary tasks:
Find potential investment properties to get under contract
Build a wholesale buyers list filled with ready, willing, and able real estate investors.
Here's our simple step-by-step process for wholesaling real estate in Virginia:
Partner With A Wholesale Mentor

Learn Virginia Real Estate Wholesaling Laws & Contracts

Understand The Virginia Real Estate Market & Lingo

Build A Cash Buyers List

Find Motivated Sellers & Distressed Properties

Put Distressed Properties Under Contract

Assign The Contract To A Cash Buyer

Close Deal And Collect Assignment Fee

Double Close When Necessary
Read Also: Wholesaling Real Estate: Step-by-Step PDFs [FREE DOWNLOAD]
1. Partner With A Wholesale Mentor
If you are a new investor - new to real estate or real estate wholesaling specifically, finding a reliable real estate wholesale mentor can offer a great starting point. And it is never too early to understand the great benefit of understanding a painful or costly lesson made by someone else.
Investing in a real estate wholesaling course can provide the necessary foundation and mentorship to shortcut success in this business.
2. Learn Virginia Real Estate Wholesaling Laws & Contracts
Arming yourself with research is key to establishing a successful wholesale investment operation in Virginia. While a Virginia real estate license is not required to wholesale, most wholesalers have a solid understanding of Virginia's real estate and licensing law before they begin – if only to avoid overstepping boundaries and committing a violation.
Virginia administers its real estate, brokerage, and license law based on the Code of Virginia Law Title 54.1, Chapter 21 – Real Estate Brokers, Salespersons, and Rental Location Agents. Virginia law
The Virginia Department of Professional and Occupational Regulation (DPOR), headquartered in Richmond, is the state agency responsible for updating and enforcing real estate license law. The DPOR issues salesperson and broker licenses which have a two-year expiration.
*A Virginia Real Estate Broker is defined in the Virginia Law Library as follows:
*The broker responsible for managing the brokerage is the supervising broker:
*A real estate salesperson, according to Virginia law, includes:
*There are various exemptions to the state's license law. Section 54.1-2103 notes:
*Although not unique to Virginia, it is noted that real estate licensees in Virginia can prepare a contract that is a part of a real estate transaction.
Source: Virginia's Legislative Information System
Virginia Real Estate License Reciprocity
Anyone who holds a valid real estate broker or real estate salesperson license from another jurisdiction may apply for a Virginia real estate license by complying with certain requirements as stated in this administrative code 18VAC135-20-60.
3. Understand The Virginia Real Estate Market & Lingo
One of the interesting things about real estate is how diverse markets can be even when located near one another. As you begin to wholesale real estate in Virginia, be certain you have an in-depth perspective on how your market operates.
The Virginia REALTORS Association is the commonwealth's largest professional trade organization, with more than 35,000 members. They offer a wealth of information to licensees and the public. The state of Virginia is divided into these local real estate associations:
Virginia Is Not An Attorney-Close State
Real estate closings in the Commonwealth of Virginia can occur with a non-attorney settlement company. Virginia's Real Estate Settlement Agents Act (RESA § 55.1-1000 thru § 55.1-1016) notes that several types of professionals (lawyers, settlement agents, etc.) are authorized to close a transaction. Note that these professionals authorized to close real estate transactions are required to become registered RESA agents,
If you are a new wholesaler, it may be beneficial to consult with a Virginia-licensed real estate attorney.
4. Build A Cash Buyers List
As noted above, a wholesaler's buyers list is their directory of potential end buyers and an essential part of a wholesaler's business so it is important to have multiple cash buyers available to contact and make sure you have a rock-solid list. Note that most wholesalers' buyers are typically other real estate professionals – also looking to turn a profit on a wise investment property choice.
Without a robust list of potential buyers/investors, a wholesaler's objective – to quickly reassign their equitable interest using an Assignment of Contract, would become significantly more challenging.
---
*Want to learn the proven strategies for finding cash buyers? View our video below where Alex Martinez covers How To Find Cash Buyers For Wholesale Deals! [FREE & ONLINE]!
---
5. Find Motivated Sellers & Distressed Properties
The digital marketplace – plus a few old proven search techniques, offers wholesalers many options when searching for potential investment properties. Consider accessing a lender's foreclosure or REO list. Many wholesalers find investments as expired or off-market MLS listings or properties advertised on Zillow, Redfin, and dedicated real estate wholesaling podcasts, among others.
As noted above, most wholesalers find investments that include distressed properties or properties in disrepair - or motivated sellers interested in selling quickly.
6. Put Distressed Properties Under Contract
Wholesaling is all about finding properties that meet their established investment criteria. The process is ongoing as wholesaling is best accomplished when a wholesaler can manage several real estate deals simultaneously – each at a different stage in the wholesale process.
Before executing a legally enforceable contract to purchase a property, wholesalers must take the time to research the basics regarding the property, its current price, and its potential future price – given predictable updates.
Wholesaler's Investment Criteria Guidelines
Real estate investors generally use two primary investment metrics in determining a property's potential as a wholesale investment:
The 70% Rule: The 70% rule states that a Virginia wholesaler should pay no more than 70% of the After Repair Value (ARV). The ARV is the property's expected market value – after the completion of updates and renovations.
The Maximum Allowable Offer (MAO): The MAO formula considers the out-of-pocket costs and repair expenses to create a turnkey property. If there are repairs required, the MAO will always be less than the projected after-repair-value.
Here's an example that will clarify these investment concepts:
A wholesaler is offered a property for $300,000 that, when updated, will have a value of $500,000. The wholesaler estimates that the property needs about $40,000 in updates and renovations to create an ARV of $500,000.
The highest or maximum offer a fix and flipper would pay for this particular property would be $310,000 – calculated as follows - $500,000 * 70% = $350,000 – MINUS $40,000 (the cost to repair the property) = $310,000 – or the Maximum Allowable Offer to the wholesaler.
If the wholesaler can execute a contract for $300,000, there would be a quick and simple $10,000 profit when assigning the wholesaler's equitable rights to another end buyer.
[$310,000 - $300,000 = $10,000]
7. Assign The Contract To Cash Buyer
Most wholesalers prefer to assign their equitable rights to the new buyer before the first contract even closes. This is the preferred closing or existing strategy as it minimizes closing costs and time because the real estate wholesaler never takes title to the property.
The real estate wholesaler's right to purchase the property (aka, their equitable interest granted by the Doctrine of Equitable Conversion) is the ONLY legal and marketable asset a wholesaler can sell/market without obtaining a Virginia real estate license.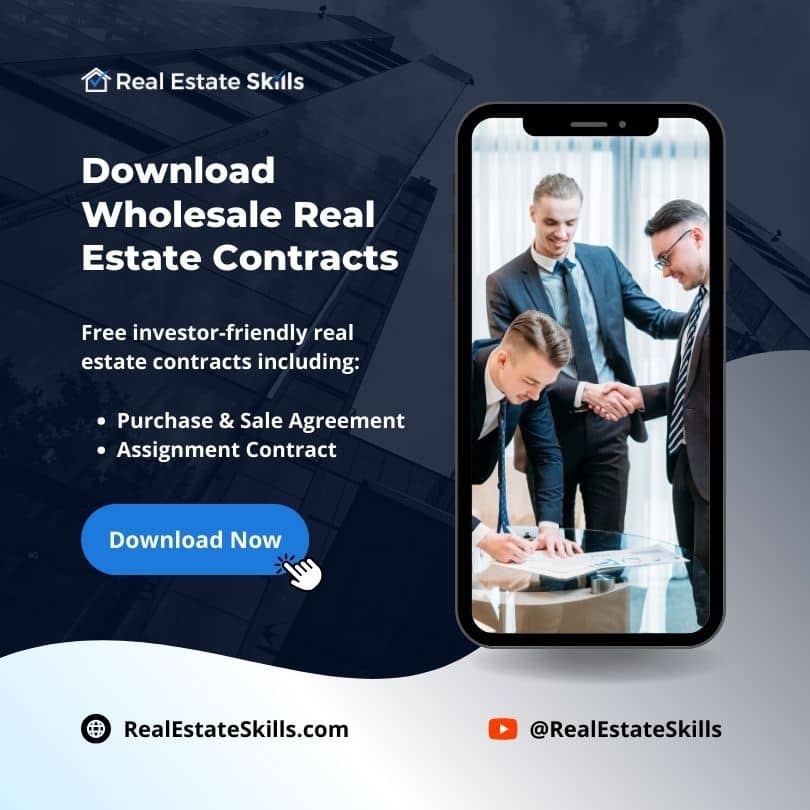 A Virginia wholesaler's equitable rights can be transferred using a legal document known as an assignment of contract. It facilitates the transfer of the right to purchase a property from the wholesaler to a new buyer.
The Assignment of Contract stipulates that an alternative buyer now has the right to purchase the home from the seller at the stated price in the assignment.
Read Also: Wholesale Real Estate Contracts: Download FREE PDF Templates
8. Close Deal And Collect Assignment Fee
The assignment document offers a new buyer the legal right to purchase the subject property. However, this new buyer closes with the original seller. The difference between the price in the original and assigned contract is the wholesaler's gross profit which is called an assignment fee.
9. Double Close When Necessary
If a wholesaler in Virginia finds that the deal cannot close using an assignment of contract, they can, alternatively, use the Double Closing exit strategy.
In a double closing, during the first closing, the wholesaler acts as the buyer – completing the first transaction according to the original contract's terms. During the subsequent closing, the wholesaler is the seller, selling the property to another buyer.
Some wholesalers prefer the Double Close exit strategy because their profit or capital gain does not need to be disclosed (to the seller or secondary buyer). Plus, there would undoubtedly be no need to obtain a real estate license in Virginia because the wholesaler is selling a property they own.
Of course, a double closing requires enough capital to buy the property (even if it is only for a few minutes) – although hard money lenders are willing to help if the wholesaler does not have personal funds to cover the temporary investment.
Read Also: How To Start Wholesaling Real Estate For Beginners In 7 Steps
Is Wholesaling Real Estate Legal In Virginia?
Yes. Wholesaling real estate in Virginia is legal, but wholesalers must understand where the legal lines fall to avoid violating license or real estate laws.
As a reminder, real estate license laws can be found in the state's legislative code - Virginia administers its real estate and license law based on the Code of Virginia Law Title 54.1, Chapter 21 – Real Estate Brokers, Salespersons, and Rental Location Agents.
How Much Do Real Estate Wholesalers Make In Virginia?
One of the benefits of working as a professional real estate wholesaler is that a wholesaler's salary or earnings potential is unlimited.
While wholesaling and working as a real estate agent (or real estate broker) is clearly not the same job, both occupations are real estate and sales related. The following offers the latest median annual salary data for Virginia real estate brokers and real estate agents (41-9021 & 41-9022):
| | |
| --- | --- |
| Number of Professionals in Virginia | Median Annual Wage |
| Real Estate Brokers – 1,580 | $75,330 |
| Real Estate Agents - 8,030 | $69,190 |
Wholesale Real Estate Contract Virginia: What To Expect?
Real estate contracts are the legal instruments that detail a real estate transaction's purchase terms. The information included in a Virginia contract will vary but generally include
The property's address and legal description.
A small earnest money deposit is offered to the seller in good faith.
Personal items that are included or excluded from the transaction.
The purchase price and other relevant financial details, to name a few.
A well-written wholesale real estate contract is one of the most direct ones to protect yourself from potential legal problems. Virginia real estate wholesalers should seek legal advice when encountering situations that are either unfamiliar or beyond their capacity.
In addition to a solid purchase agreement, most wholesalers utilize an assignment contract to effectively transfer their rights to purchase real estate to the end buyer.
Do You Need A License To Wholesale Real Estate In Virginia?
No, if you stay within the legal limits of Virginia real estate and license law, you can wholesale real estate in Virginia without a state-issued license.
But remember that wholesalers have one asset to sell – their right to purchase (i.e., equitable interest) a property at agreed-upon terms to another buyer – for a different price. A wholesaler cannot sell real property (unless they are the rightful owner) without a real estate license in Virginia.
Generating profit wholesaling properties in Virginia is best accomplished by following these sound wholesale real estate business principles. First and foremost, a wholesaler must ONLY market or sell their equitable right to buy the subject property.
A wholesaler's actions and intent should be transparent and disclosed to all.
A wholesaler must operate with integrity.
A wholesaler should proactively manage the sellers' or homeowners' expectations.
Most importantly, wholesale CANNOT sell real estate unless they hold a valid Virginia license, they are the current seller/owner or any one of the other legal exceptions denoted in Virginia license law.
Is Wholesaling In Virginia Easy?
Wholesaling is a nuanced real estate investment strategy that offers an entrance into the market with limited capital and a short timeline for collecting a profit.
However, its recent meteoric rise in popularity has driven more and more potential investors to the wholesale real estate arena, so it often pays to learn how to wholesale by enlisting the help of experienced professionals. A newer wholesaler may consider finding an experienced mentor and enrolling in the world-class Pro Wholesaler VIP Program.
With a step-by-step process and expert guidance, new wholesalers have a chance to clear up any misconceptions about the real estate wholesaling business as they ready themselves to learn how to start wholesaling real estate in Virginia. This will ultimately save new wholesalers time and allow them to make more money in the long run.
Final Thoughts On Wholesaling In Virginia
Wholesalers find purchase opportunities that allow them to enter the market with little to no capital.
However, the reality is that real estate wholesalers act like traditional middlemen operating in a capitalistic economy. But, instead of selling or marketing widgets, wholesalers market and sell their right to buy a property to another buyer – who is often another real estate professional who intends to renovate or update the property to sell to a retail buyer.
When compared to a typical flipper strategy, wholesaling is considered less risky because of the reduced potential for unexpected delays often caused by construction or permitting issues.
All investors must approach the wholesaling sector of the real estate business with prudence, transparency, and due diligence to ensure they do not violate existing Virginia law. Staying within Virginia law, wholesalers will find various lucrative wholesaling opportunities.
Check out our brand new free training on how we help investors all across the country wholesale and flip houses from the MLS using only a laptop and a cell phone.
Stay connected with news and updates!
Join our mailing list to receive the latest news and updates from our team.
Don't worry, your information will not be shared.
Subscribe