How To Wholesale Real Estate With A Realtor (2024)
In this guide, you'll learn how to wholesale with a Realtor and make your deals a win-win for all involved while scaling your wholesale business.
Wholesaling is recognized as an excellent short-term real estate investing strategy. With little upfront capital required, it is particularly popular with new investors.
Historically, real estate agents and wholesalers have not always seen eye to eye. Some Realtors believe that wholesaling real estate is in opposition to their obligation to serve the best interests of their clients.
Helping Realtors understand your approach to wholesaling can help alleviate potential concerns, paving the way for agent representation.
As long as compensation is understood upfront and you work with a Realtor in a way that benefits all parties, engaging the services of an agent can help you grow your wholesaling business faster, improving your close rate.
Now, let's dive into how you can effectively wholesale real estate with a Realtor:
---
*Before we begin our guide on wholesaling real estate with a Realtor, we invite you to view our video on How To Wholesale Real Estate Step by Step (IN 21 DAYS OR LESS)! Host and CEO of Real Estate Skills, Alex Martinez, provides a comprehensive, step-by-step guide for beginners to start wholesaling real estate!
---
What Is Wholesaling?
Increasingly, a growing number of homeowners are looking for an easier method to sell their properties, one that doesn't involve readying it for the market and making potentially costly repairs. Wholesaled homes are often distressed properties, with many close to foreclosure, though there are other reasons homeowners may want a quick sale.
Financial constraints, divorce, and death are some of the reasons property owners may agree to wholesale their homes, even if it means not getting the absolute top dollar. The wholesaler offers a solution to the homeowner's problem, whatever it may be.
In wholesale real estate, the homeowner enters into a purchase contract with the wholesaler. The contract differs from the typical offer to purchase, however, in that the sales contract gives the wholesaler the ability to assign the contract to a third party. That third party becomes the ultimate buyer of the property.
By doing so, the wholesaler avoids closing and taking possession of the home. Wholesaling is considered an excellent way to get a start in real estate investing, and one of the best short-term investment strategies, because it does not require upfront cash other than an earnest money deposit.
In addition to enabling the wholesaler to assign rights to the purchase to a third party, the original contract allows the wholesaler to keep whatever profit then turn, usually in the form of an agreed-upon assignment fee with the investor.
What's The Difference Between A Real Estate Agent & A Realtor?
Although the terms are often used interchangeably, not all real estate agents are Realtors. However, all Realtors are real estate agents.
A real estate agent is a term reserved for those state-licensed to assist people in buying, selling, or renting all types of residential housing. To become real estate agents, candidates for a license must meet their state's education requirements and pass a state exam.
Once they have met all these requirements, the candidate is considered a licensed real estate agent. They must then join a brokerage before they can practice real estate and must have a minimum number of years of experience before becoming a real estate broker.
To be able to use the title Realtor, a real estate agent must become a member of the National Association of Realtors (NAR). In doing so, the agent agrees to adhere to the standards of the association and its code of ethics. It means the agent is held to a higher standard than non-Realtors in their dealings with clients, customers, other real estate agents, and the public.
In addition to a high degree of integrity and ethics, Realtors bring additional value to the wholesale process because NAR membership includes access to real estate market data and other services, such as transaction management, that can be beneficial.
Read Also: Realtor vs. Real Estate Agent: Salaries, Differences, & Similarities
How To Wholesale With A Realtor (5 Steps)
Representation by a Realtor can be a useful step to take, although it's typically best to wait until you have a few deals under your belt rather than involving an agent on your first deal.
That gives you the opportunity to tweak your process and get a better idea of how a real estate professional could enhance your operation and your income. It also offers the opportunity for you to build a track record in wholesaling.
That said, many of our students find success wholesaling with Realtors even on their first several deals. Here are five steps to wholesaling with a Realtor:
Build A Cash Buyer List
Identify Distressed & Off-Market Properties
Enter Into The Purchase Agreement
Find A Buyer & Assign The Contract
Close & Get Paid
1. Build A Cash Buyer List
Just as with any real estate wholesaling process, you're going to want to build a list of cash buyers before finding a property. There are online real estate investor groups you can join through social media if you don't already have a strong network. You can also join a leads group, an increasingly popular way to network with professionals from a number of sectors.
This is the first step to consider agent representation. By adding a Realtor to your team, you can gain access to their network of cash buyers, in addition to benefiting from their real estate market expertise.
You can find prospective Realtors at networking events and similar gatherings, as well as on social media groups. Talk with several agents to learn which ones work with investors. Once you find an agent you think might be a good fit, discuss when and how they will be compensated. No one wants to work for free. You can then tell them about your track record in wholesaling. As mentioned previously, the relationships between real estate agents and wholesalers have not always been positive, but there's no reason they can't be.
With your Realtor partner, identify a pool of potential buyers. This is a step you can turn over to your Realtor partner or at least share the duties. Be sure you go beyond just introducing yourself to these investors. Let them know you are a wholesaler and learn their specific investment model. For example, you might note if they are a flipper or prefer to purchase rental properties.
Also, check out this quick video that talks about how you can find cash buyers for free!
Read Also: [FREE SCRIPT] How To Talk To Cash Buyers & Find Their Buying Criteria

2. Identify Distressed & Off-Market Properties
Once you feel confident about your pool of investors, you can begin identifying potential wholesale properties. Although the majority of properties you target will likely be off-market, it doesn't hurt to have your Realtor do some research on MLS listings to see if there might be a particularly motivated seller and a property you are likely to be able to purchase at the below market value.
With MLS properties, you may face a great deal of competition, so it may take consistent effort to get a property under contract at a price that still allows you to turn a profit.
Your Realtor can also look for expired listings of distressed properties. These are often a better source than active listings as the property owners are usually more motivated.
In addition to the MLS, you will want to look for distressed properties through other sources, such as for sale by owner sites, social media, direct mail campaigns, community sites like Craigslist and even driving through neighborhoods in your targeted local market.
Read Also: How To Find Distressed Properties To Buy: The (Ultimate) Guide
3. Enter Into The Purchase Agreement
Before making an offer on a property, you will need to do your due diligence to ensure you know the home's maximum allowable offer or MAO. This calculation tells you what you can expect an investor to offer when you go to assign the contract. Knowing that figure will ensure you go under contract at a purchase price that still allows you to make a profit as well as compensate your Realtor.
The MAO is calculated by starting with the expected after-repair value or ARV, then subtracting fixed costs, closing costs, rehab costs, and desired profit. Your Realtor can do a comparable market analysis on the subject property to help get a better understanding of how much an investor will likely pay for the property.
With your Realtor's help, you can determine your offer, being careful not to go in too high, which could result in problems finding a cash buyer.
Read Also: [DOWNLOAD] Purchase & Sale Agreement: Real Estate Contract
4. Find A Buyer & Assign The Contract
Once the homeowner has entered into a wholesale real estate contract with you, it's time to market it to potential end buyers from among your pool of investors.
If the cash buyer assigned the contract intends to flip the property, you can negotiate your agreement to include a stipulation that your Realtor gets the listing after rehab.
Your Realtor can also be compensated from your fee, either in addition to what you are paid or as a portion of your fee. In doing so, your Realtor is essentially earning a commission on the sale of the contracted property.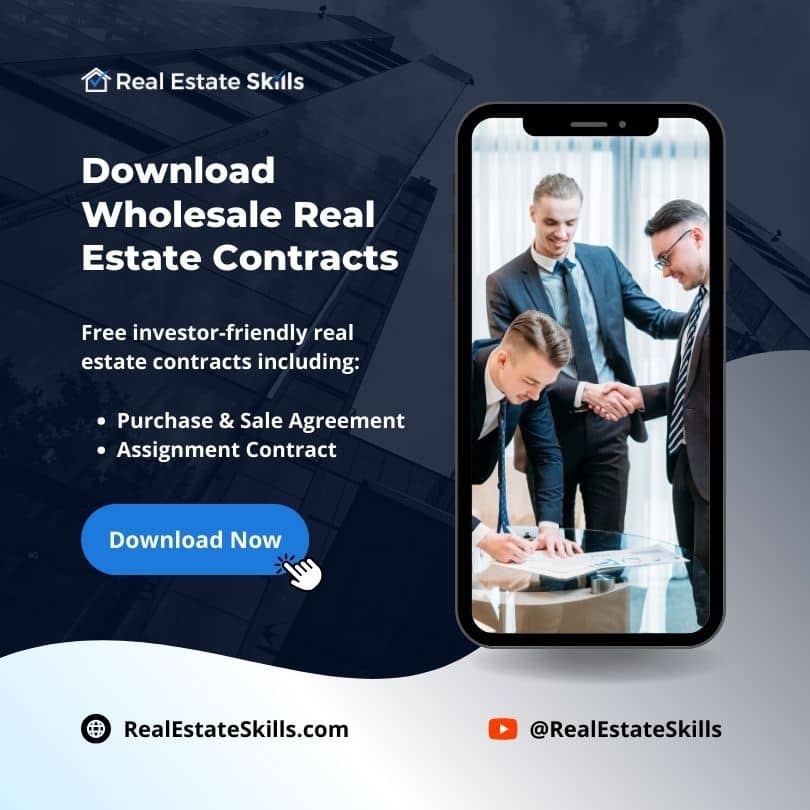 5. Close & Get Paid
Once you have successfully assigned the contract, the deal closes. Fees and commissions are paid.
At times, you may come across a transaction that requires you to double close. This refers to the need for two transactions to take place simultaneously. As a wholesaler, you will purchase the distressed property at a discount from the homeowner.
You will then immediately sell the home to the investor. There are two common ways a wholesaler can avoid putting in cash to cover the full purchase price in these scenarios. In one, the title company receives the funds from the end buyer and immediately applies them to the original purchase.
A second common method for financing a double close to avoid having to put cash into the deal is building a relationship with a hard money lender or transactional lender.
This provides you with a short-term loan to close the original purchase and then immediately close with the investor as the end buyer. The proceeds from the second transaction can be used to repay the hard money loan.
How To Find Real Estate Agents To Work With When Wholesaling
The easiest way to find real estate agents to partner with on wholesaling houses is to participate in local real estate industry events. Often, the local MLS or Association of Realtors will sponsor these networking get-togethers, while also inviting professionals from allied industries. In addition to in-person networking opportunities, you can explore real estate social media groups.
Another way to find potential investor-friendly real estate agents is to go on a home-buying site like Zillow.
Search for distressed properties that have sold in neighborhoods you want to target and contact the selling agents. If they have produced buyers for properties similar to those you target, they should be able to do the same when you are seeking a buyer for the assignment of a contracted property.
Wholesaling With Real Estate Agents: Pros & Cons
As with most ventures, partnering with a real estate agent in your wholesaling real estate business has both benefits and drawbacks. Understanding where the advantages lie can help you determine what is right for your wholesaling operation.
Pros
Risk management. This is a benefit often overlooked, but the fact remains that having an agent represent you in your transactions can help to mitigate liabilities. Obviously, you should do everything according to the laws of your state. But ours is a lawsuit-happy society. An agent with E&O insurance can help to protect your assets.
Quality of life. While you may make a little less per deal, especially when it comes to MLS properties, you also get the strength of an entire real estate brokerage to support your business. You should be able to crank up your volume of wholesale real estate deals and see your net income improve by working harder, not smarter. That leaves more free time to enjoy your wealth.
Cost savings. This may not seem like an advantage since a Realtor will earn commissions for the work they do for you, but those fees won't always impact what you earn.
Assuming your business will benefit from some additional help, paying a Realtor is probably more cost-effective than hiring a team of assistants. In addition, a Realtor brings more expertise to the business than simply having a real estate license.
Cons
Ownership of investor relationships. If you rely on your Realtor to build and maintain relationships with cash buyers, you could be back to square one if the representation ends.
Additional cost. Each transaction differs, but there will be times when you need to compensate your Realtor from your own earnings. This is something to consider when you are determining what you should pay for a property.
Building trust. Obviously, trust is a positive thing, but developing it does present a challenge and takes time away from operating your business. The relationship between wholesalers and real estate agents has not always been a positive one.
It is likely to take some work to identify the right Realtor for representation and convince them they can grow their business by partnering on wholesale deals with you.
Read Also: The Pros & Cons Of Wholesaling Real Estate: An Investor's Guide
How To Wholesale A House Listed With A Real Estate Agent
In addition to working with a Realtor as a business partner, there may be times you end up working with a real estate agent because you want to get an MLS property under contract. While some investors believe that the majority of distressed properties you find will be off-market properties, there will also be times when you come across listed properties where the numbers work.
Explain to the listing agent how wholesaling works, if necessary. Do not present yourself as a cash buyer who intends to close on the property and take possession if you are not capable of closing the deal. It is important to be completely transparent and ensure the agent understands the legality of the transaction.
Otherwise, word will quickly spread through local real estate networks that you aren't to be trusted and you'll have difficulty getting your offers accepted. Be upfront in stating you do not intend to take possession of the property but build confidence that you are able to deliver a cash buyer from among your pool of investors to close the deal.
Do You Need A Realtor To Wholesale?
While there are ways that a Realtor can be advantageous to a real estate wholesale operation, you do not need to engage with a Realtor in order to wholesale houses. You also do not need to be a licensed real estate agent to engage in wholesaling.
Partnering with a Realtor is most often done to provide market expertise when calculating property values, assisting in developing and expanding the list of potential cash buyers, and searching the MLS for potential properties.
Agents Working With Wholesalers: What To Expect
If you are a real estate agent new to wholesaling, you may be wondering about your role in the process. You can add value in a number of ways, but you should ensure upfront that you will be compensated for your time through commissions earned when deals close.
Your expertise in transactions and contracts is just one role you might play in representing a wholesaler. Another task is to expand the list of potential cash buyers for assigning contracts. If you have an existing network of investors, you've already worked with, you may be asked to combine these valuable contacts with the wholesaler's cash buyer contacts to form a reliable list of potential end buyers for assigning contracts.
You can also play a role in identifying potential properties, both from the MLS as well as off-market homes. Another task you may be involved in when representing a wholesaler is running comparative market analyses on potential properties to assist in determining a maximum purchase price.
How Can An Agent Benefit From A Wholesale Deal?
As a real estate agent, wholesaling offers you an additional revenue stream for your real estate business.
Just as with traditional real estate, the amount you can earn from wholesaling as an agent can vary greatly, depending on market values in your area and how many deals you close each month.
In addition to the monetary benefits of wholesaling, you can also benefit from networking with investors. Some of the investors you work with will be involved in flipping houses and you may pick up some additional listings by building on the relationships you develop through wholesaling.
Final Thoughts On How To Wholesale With A Realtor
Wholesaling offers one of the best ways for beginners to get started in real estate investing, thanks to the small amount of capital needed to get started. Once you have your wholesaling business established, you may find you need to expand your team so you can do a greater volume of deals.
Asking a Realtor to represent you has a number of benefits. You can gain that Realtor's industry expertise as well as access to their professional network, including investors.
They also bring access to active, expired, and withdrawn listings from the local MLS and can provide you with comparable market analyses of potential properties. Although you will need to ensure the agent is compensated for each transaction, you should realize a greater volume of business and improve your close rate.
For more information about how we help real estate agents and wholesalers all across the country find and flip deals from the MLS, check out our brand new free training today!
Stay connected with news and updates!
Join our mailing list to receive the latest news and updates from our team.
Don't worry, your information will not be shared.
Subscribe