Skip Genie Review: Pricing, Competitors, and More!
Skip Genie was designed with real estate investors in mind. Skip Genie markets itself as an alternative to more traditional search methods for finding potential properties for investing. If you only need it to find accurate contact information for property owners, Skip Genie appears to get the job done.
It also offers coaching and customer service but is not designed to offer a lot of additional features when it comes to contacting targeted property owners, managing contacts, and closing the deal.
In this Skip Genie review, we'll look at some of the pros and cons of the Skip Genie software, take a closer look at its major features, and even see how it stacks up against its closest competitors.
What Is Skip Genie?
Skip Genie is a skip tracing software that helps real estate investors and users identify properties.
Skip Genie also offers coaching sessions designed to teach its users how to identify the most promising properties for investing. It then provides them with the tools they need to gain accurate contact information necessary for moving the deal forward.
Skip Genie offers users a monthly subscription that includes 100 searches per month, with an added fee for any additional searches.
Read on to learn more about Skip Genie's features and how it stacks up against its competitors so you can decide if this software is a good fit for your business. If you think it may be, contact Skip Genie for a demo.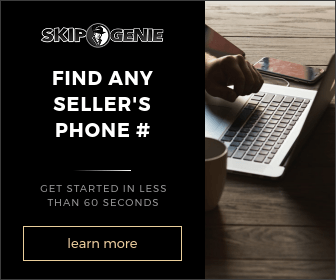 Skip Genie Software Features And Benefits
Skip Genie's features are designed to help investors identify potential deals and gather accurate data that enables them to move forward by reaching out to homeowners to find motivated sellers. Here's a closer look at the features that Skip Genie can offer your business:
Skip Tracing
Skip Genie's Tracer function is designed to offer access to data that will help you gather critical contact information, such as cell phone numbers, to identify homeowners most likely to sell. The Skip Genie data is built on proprietary algorithms applied to a broad variety of sources, in a process Skip Genie states helps it to provide accurate data.
Each report on an individual contains associated property addresses, phone numbers, and any other entities that are related to the subject individual. If you run a property report, you can search for a property address to pull up all associated people, their contact information, and their other properties.
Skip Genie offers cross-referencing that helps to ensure accurate information. It relies on the breadth, accuracy, and recency of its data.
Bulk Search
Monthly subscribers automatically have access to Skip Genie's bulk skip trace service. To access this feature, you simply download Skip Genie's bulk submit template. Then, input your leads and upload the list back onto the site. Results are available in less than 48 hours.
Education
Skip Genie uses weekly coaching as its primary means of educating its subscribers. In addition to the live weekly webinar, subscribers can rely on past webinar clips which are available via the website.
Clips cover topics such as closing deals, getting rid of squatters, and negotiating with homeowners, as well as reviews from current subscribers on how they use Skip Genie to engage with property owners and their results.
In addition, Skip Genie provides a wealth of information through its blog. To support their efforts, subscribers can also request Skip Genie's call scripts by contacting customer support.
The Tracer
The Tracer is at the heart of the Skip Genie platform. This is where you input either a name or property address to find the data you need to identify homeowners and move to the next step in finding deals.
Cross Referencing
Skip Genie offers built-in cross-referencing. Subscribers simply click on an associated address or individual and run another report in real-time for just one additional credit.
Data Management
Developed specifically for investors, Skip Genie provides only basic data, such as owner's name, mailing address, phone number, email address, and even information on relatives in some instances. Skip Genie is not designed to serve as a customer relationship management platform but instead is primarily limited to being used as a skip tracing tool.
Coaching
Skip Genie appears dedicated to ensuring that its subscribers master the use of its platform and how it can be used in real estate investing. It holds a live weekly webinar every Wednesday, beginning at 7 pm CST. In addition, it provides access to past webinars which have been archived on the site.
Users can also input questions on the coaching page of the platform, offering name, email, and an explanation of why it is being involved. The coaching is conducted by Larry Higgins, Skip Genie's co-founder. An email with call information is sent to subscribers each week.
How Does It Compare Against Competitors?
Skip Genie markets itself as a useful tool for real estate skip tracing, but how does it compare to its competitors? Let's take a look:
Skip Genie vs REISkip
REISkip promises to use data from all the large data companies, claiming that other software companies gather data only from a single big company. However, because skip tracing software companies are seldom going to declare where they get their data, this claim is difficult to substantiate.
One clear difference between Skip Genie and REISkip is in the pricing. REISkip's pricing is based on a per-record cost of 15 cents per match found, which means it does not charge for searches that have no matches. However, unlike Skip Genie, REISkip does not have subscription pricing that includes free searches.
Skip Genie vs BellesLink
BellesLink offers a number of features, in addition to a skip tracing feature. These include a business phone system, a contact dialer for cold calling campaigns, two-way text messaging, bulk text messaging, task reminders, and contact management, including the ability to tag contacts.
BellesLink pricing is much more complex than Skip Genie pricing. BellesLink offers both "pay as you go" pricing as well as two subscription-based pricing that includes a varied list of services, including texting and a business phone system.
Skip Genie vs Spokeo
Spokeo does not market itself as a real estate investment tool, but rather as a people search tool that uses public records and social media, such as LinkedIn, to gather information. Its target audience is people trying to identify the source of nuisance calls or texts, connect with lost friends and learn about online sellers.
It also appears to target those vetting potential boyfriends or girlfriends. Spokeo's accuracy is questionable. In fact, the company admits on its own website that it understands that some of the information in its search results includes old and inaccurate public records information. Spokeo does not list its pricing on its website, which makes it far less transparent than most skip tracing software platforms.
Instead, it instructs users to generate a search in order to see the "pricing that is available" for them. Spokeo does not appear to be a useful tool for real estate investors when compared to other options out there, including Skip Genie.
Skip Genie vs BatchSkipTracing
BatchSkipTracing claims to be the go-to skip tracing platform for investors, real estate agents, and wholesalers to use in identifying motivated sellers. The company states that it aggregates over 10.5 billion data points to help ensure the accuracy of the reports it provides to real estate professionals.
Skip Genie does not disclose the number of data points it uses and does not provide any concrete information to support its claims of accuracy, other than posting positive customer reviews on its website. Rather than subscription-based pricing allowing a set number of searches, BatchSkipTracing charges 20 cents per result.
Skip Genie Software FAQ
Real estate software can be a critical tool for investors. But with so many options out there, it can be difficult to determine the best skip tracing tool for your business. The following questions and answers may help you make an informed decision regarding Skip Genie.
How Much Does Skip Genie Cost?
The cost of Skip Genie is $58 per month. Subscribers can conduct 100 searches under the plan. Additional searches may be conducted at an added cost of 17 cents per search.
How Good Is Skip Genie's Data?
Skip Genie claims that it has set the standard for REI skip tracing. It has now released version 5.0, which it says will raise the bar further. The company claims that if you can't find what you need using its software, you are also unlikely to find any other software that works. The company also has reviews posted on its site that attest to the accuracy of the results.
How Do You Use Skip Genie?
Skip Genie subscribers are encouraged to identify potential properties through one of three ways: building a list through review of public records, making note of any return mail from direct mail campaigns, and simply driving around and looking for distressed properties.
Skip Genie then helps you to find critical contact information through its Tracer feature. You have the option of entering addresses or names individually or uploading a bulk list.
Once you have gotten the contact information needed for engagement, Skip Genie's coaching feature will provide you with tips and best practices for closing deals.
How Do I Cancel My Skip Genie Subscription?
Skip Genie makes it easy for users to cancel their subscriptions. Subscribers need only to log into their account, click on "subscription" and then confirm that they wish to cancel. Skip Genie does not offer refunds.
How Can I Reach Out To Skip Genie Customer Service?
Based in Houston, Skip Genie customer service can be reached by phone at 713-999-6266 or via email at [email protected].
Is Skip Genie Worth It?
If you are a real estate investor looking for contact information on properties you've been able to identify as potential sales, Skip Genie gets the job done and can provide positive customer success stories attesting to the consistent accuracy of the data it provides.
However, if you want more out of real estate investment software, be prepared to spend more than the $58 per month subscription price offered by Skip Genie for the first 100 free searches per month.
In summary, Skip Genie does what it claims to do, nothing more and nothing less. If you need a skip tracing company that also offers additional features like a robust platform or the ability to implement a direct mail campaign directly from the skip trace platform, you may be better off paying a premium for more robust REI skip tracing software.
If you're interested in tapping into an endless stream of real estate opportunities without having to skip trace, pay for marketing, or convince sellers that they need to sell, check out our brand new free training on how to scale your REI business using the MLS!
Stay connected with news and updates!
Join our mailing list to receive the latest news and updates from our team.
Don't worry, your information will not be shared.
Subscribe