Mojo Dialer Review (2023): Cost, Features, & FAQs
In the dynamic world of real estate, power dialers such as Mojo Dialer have emerged as game-changers, streamlining the process of cold calling and prospecting. Established in 2001, Mojo Selling Solutions is a pioneering platform known for its high efficiency and a multitude of features, from property prospecting for FSBO/Expired leads to real estate-specific CRM integrations.
Our Mojo Dialer Review for 2023 will serve as your comprehensive guide, exploring its cost, features, and frequently asked questions. Whether you're a seasoned real estate professional or a newcomer in the industry, understanding the capabilities of real estate dialers like Mojo is crucial in boosting productivity and accelerating success in your ventures.
What Is Mojo Dialer?
Mojo Dialer is an outbound calling platform engineered specifically for real estate professionals, including agents, investors, wholesalers, and sales teams. This advanced system not only allows users to make quick, efficient marketing calls but also serves as an on-demand lead generation and management platform.
With Mojo Dialer, you can not only reach out to potential leads effectively but also nurture them throughout their buying journey. With its unique dialing system, top-notch lead generation services, and competitive pricing, Mojo has established itself as a leading power dialer in the industry, boasting a substantial user base.
---
Thinking about investing in real estate? Join Alex Martinez at his FREE training to learn how to get started with house flipping and wholesaling!
---
How Does Mojo Dialer Work?
Understanding the mechanics of Mojo Dialer can simplify your communication processes and streamline your operations. Mojo Dialer operates on a copper-wire infrastructure, reminiscent of traditional phone companies, which ensures excellent call quality and minimizes delays or quality issues that plague other dialers relying on internet connections.
To leverage the power of the Mojo Dialer, you initiate an outbound call from a reliable phone into the Mojo platform. Once connected, the system begins auto-dialing numbers from your pre-set list. The beauty of this system is that you hear the lead immediately once they answer because you are on an open line throughout the session.
With the Power Dialer interface accessible on the Mojo website, you retain control over the progress through your list. The interface communicates with the dialer servers to determine the next phone numbers to dial. You can glide through your prospecting sessions seamlessly as you won't hear the incessant ringing. Calls that hit busy signals, are disconnected or not answered, are automatically rolled over to the next number on the list. Plus, with Mojo Dialer, encountering an answering machine is no longer a hindrance - you can drop pre-recorded messages, saving you significant time and enhancing your efficiency.
Mojo Dialer Features & Benefits
Mojo Dialer is not just another tool in the box; it offers a range of comprehensive features designed to enhance the real estate prospecting process. In this section, we uncover the unique features and benefits that make Mojo Dialer stand out.
From a user-friendly interface and exceptional call prospecting capabilities to advanced search functionalities for dependable cold calling data, comprehensive CRM features, and straightforward email marketing, Mojo Dialer equips real estate professionals with the tools they need for efficient and effective communication and marketing strategies.
User-Friendly Interface
This line power dialer has an incredibly user-friendly interface on both the web and mobile. On opening the website, you're greeted with a well-detailed homepage with buttons for home, media, pricing, blog, FAQ, about us, log in and sign-up pages laid out across the top.
The sign-up process for Mojo Selling Solutions is pretty straightforward. Afterward, you're redirected to the Mojo Dashboard, where all features and options such as the auto-dialer with triple line dialer are well laid out.
Superb Call Prospecting Features
The Mojo Dialer packs an assortment of incredibly amazing call prospecting features. The Mojo Auto Dialer automatically completes up to 300 outbound calls in an hour on the multi-line dialer and up to 85 on the single-line option. This power dialer saves you time and lets you focus on other essential aspects of the call, such as your conversation with the lead, instead of manually browsing through a list.
It has multiple easy-to-call modes, and even better, a triple-line dialer that lets you make three outbound calls simultaneously. The triple-line dialer instantly connects to lines that go through so users don't have to sit through all the phone ringing.
It automatically disconnects busy or offline numbers, saving real estate professionals even more time for their real estate marketing. The best part? Mojo Dialer users are guaranteed high-quality call experiences since the platform uses copper-based hosted dialers to ensure utmost clarity.
When you only want to focus on a specific lead, the Mojo Power Dialer uses the optional dialing filter to modify your dialing session to remain only with lists of phone numbers of prospects who fit the category. Suppose you come across a property with potential profitability but can't reach the owner via their primary number; this platform has Call Hammer, a feature you can use to contact the lead via every available number linked to them.
If you do manage to find them, but they're offline, utilize the auto dialer's pre-recorded voicemail functionality to leave them a message. The Mojo Power Dialer also comes with digital call recording capabilities meaning you can keep track of lead conversations and use recordings to improve your real estate prospecting call scripts.
The best part? All data obtained from the US comes with a complimentary do not call scrubbing.
Advanced Search Feature For Quality Cold Calling Data
Whether you're a wholesaling Realtor targeting for sale by owner leads (FSBO) or manager of a sales team looking to market to off-market leads, Mojo Dialer advanced search functionality will blow your mind away. This sales dialer features an advanced neighborhood geo search functionality with street search and radius plotting features to allow users to quickly find the information they might need on a prospect even with minimal details.
It browses multiple public lists and filters the data to remove ads, so users only end up with high-quality and reliable lead information. Users can further refine their results using the countless filters available, including absentee owner lists, FSBO, and multi-family to vacant properties. And to simplify things, even more, Mojo Dialer lets users create instant calling and mailing lists for just listed or sold from the data obtained in the search results.
This Mojo Selling Solutions platform lets you obtain up-to-date foreclosure data on properties within your proximity which comes in handy if foreclosure properties are part of your target portfolio.
With Mojo Dialer's advanced search feature offering quality and reliable cold calling data, your prospecting efforts are significantly enhanced, whether you're a wholesaling Realtor focusing on FSBO leads or a sales team manager marketing to off-market leads. It provides an intuitive approach to locating and refining prospects, turning the vast sea of leads into a navigable pond.
However, having quality leads is only the first step. The next is knowing how to approach them, and that's where your cold-calling script comes in.
Ready to take your prospecting game to the next level? Download our free wholesale cold calling script today, perfectly tailored to maximize the potential of every call!
Read Also: The BEST Wholesaling Cold Calling Script [FREE PDF Download]
Powerful CRM Features
A quality Customer Relationship Management tool (CRM) is a must-have feature for any reliable real estate prospecting tool, and the Mojo Dialer happens to have one of the most efficient. It's designed to streamline lead generation and management and packs many features that let agents, salespeople, and other professionals seamlessly nurture leads through the sales pipeline.
It not only records calls but also offers easily customizable Q&A sheets for users to collect valuable call details such as duration and outcome of the call to ensure you maximize each call.
And to make follow-up easy, users can automate pre-schedule tasks such as follow-up calls, emails, or texts through the Mojo Activity Planner, so no lead is lost through the cracks. For lead management automation, the Mojo Dialer lets you organize contacts into groups or lists based on
Their source - e.g., from the Multiple Listing Service (MLS)
Type - For instance, expired property leads or for sale by owner leads
Status - i.e., Lead position in the sales pipeline
Custom rules - Any custom filter you think fits best.
The Mojo Dialer calendar lets users set appointments with leads, schedule follow-up calls, and do other necessary follow-up tasks. What's more, the platform even has a cloud notification system to keep users on top of their to-do list by alerting them of any impending tasks. This dramatically improves productivity by making even tedious prospecting tasks appear manageable.
Users can also use the line power dialer CRM function to import phone numbers and other data from apps like Boomtown, Follow Up Boss, Wise Agent, and over 500 other supported partners via Zapier.
If you're just getting started and have no contacts to upload, maximize the dialer's lead capture form to generate new leads. There are hot sheets to easily save phone numbers and other contact details, notes, or even print.
Straightforward Email Marketing
Email marketing with Mojo Dialer is pretty straightforward, thanks to the countless professional email templates available on the platform. These email templates come in handy during drip email campaigns, as all a user needs to do is make simple edits and hit the send button.
Even better, the Mojo Dialer lets you track important analytics such as open and click-through rates, so it's easy to assess the success of your marketing campaigns. There's even an auto-send email button for those successful lead calls.
Mojo On The Go
As a people-based industry, a career in real estate means you'll be moving around a lot. To cater to realtors, salespeople, and other individuals like you, the Mojo Dialer comes with Mojo on the Go, a mobile app for Android and IoS.
Users can review, manage and add new lead phone numbers and even schedule and manage appointments, tasks, and follow-ups on the go. If a new prospect whose number you're yet to save calls in, the Mojo on the Go app features an exclusive mojo ID function that lets you identify who's calling so you can better prepare for the conversation.
Read Also: 18 Best Apps For Real Estate Wholesalers (2023 Edition)

How Much Does Mojo Dialer Cost?
Mojo Sells offers two monthly recurring subscriptions; the single-line dialer and the triple-line dialer. The former is geared towards single users or anyone looking to introduce prospecting to their operations and costs $99 per license. It includes 85 calls an hour with first hello technology, pre-recorded answering machine functionality, multiple caller ID broadcast, and runs on a copper-based dialer.
The Triple line dialer goes for $149 and targets sales teams, realtors, or investors with diverse prospecting needs. It includes all functions available on the single package, with two more copper-based dialers, super-fast live call answer detection features, and supports up to 300 calls in an hour.
Additional functions such as the neighborhood search are charged separately on the Mojo Lead Store. The neighborhood geo search function goes for an extra $49 per month; for rent by owner, data costs $25, while FSBO data goes for $25 a month.
How Does It Compare Against Competitors?
Assessing the performance and utility of Mojo Dialer isn't complete without comparing it against its competitors in the real estate dialer landscape. In the evolving digital age, multiple dialing solutions have emerged, each touting unique features and benefits.
Here, we provide an in-depth comparison between Mojo Dialer and its key competitors, focusing on their functionalities, pricing, and user experiences to help you make an informed decision on the best dialer for your real estate business.
Mojo Dialer vs REDX
REDX is a prospecting software geared towards real estate investors, while Mojo Sells fits REI players, salespeople, and sales teams in different industries. Both platforms offer a triple-line dialer and multiple lead categories you can use.
However, while both are efficient prospecting tools, Mojo Dialer software stands out for its copper-wire dialer infrastructure and slightly affordable pricing for products like neighborhood search. It also comes with a lead management CRM for easy data organization.
Mojo Dialer vs Call Tools
CallTools is a cloud-based dialer software that offers call prospecting automation, making dialing through entire lists of potential sellers and buyers a breeze. The platform offers impressive features such as call suppression, limiting calls based on emails sent, texts sent or received, and dial attempts, among other filters.
They also offer better support than Mojo Sells. Even so, the Mojo Power Dialer still stacks better thanks to easy calling modes, copper-based dialer systems, hello on ring technology optional filtering, and Call Hammer. Add in advanced search filters, countless integrations, and excellent CRM features, and it'll be worth considering.
Mojo Dialer vs CallRail
CallRail is a call-tracking software with advanced features such as offline call tracking and dynamic number insertion. It also boasts an AI-powered caller analytics functionality making it more appealing than the former.
However, we'd still recommend Mojo since you can not only automatically dial contacts but also generate leads from multiple categories, including fore rent by owner, FSBO, and many others. With CallRail, on the other hand, you can only create leads from inbound and outbound marketing calls.
Mojo Dialer vs Phoneburner
Mojo Dialer and Phoneburner feature relatively similar features. Like Mojo Dialer, users can also drop pre-recorded voicemails to leads via Phoneburner. The platform also offers no connection delay calls, so your line doesn't go silent when prospects hit the receive button.
It also has a customizable dialing solution, and users can send instant emails based on call outcomes. In a nutshell, both platforms are pretty similar, so it all comes down to your budget and preferences.
Mojo Dialer FAQs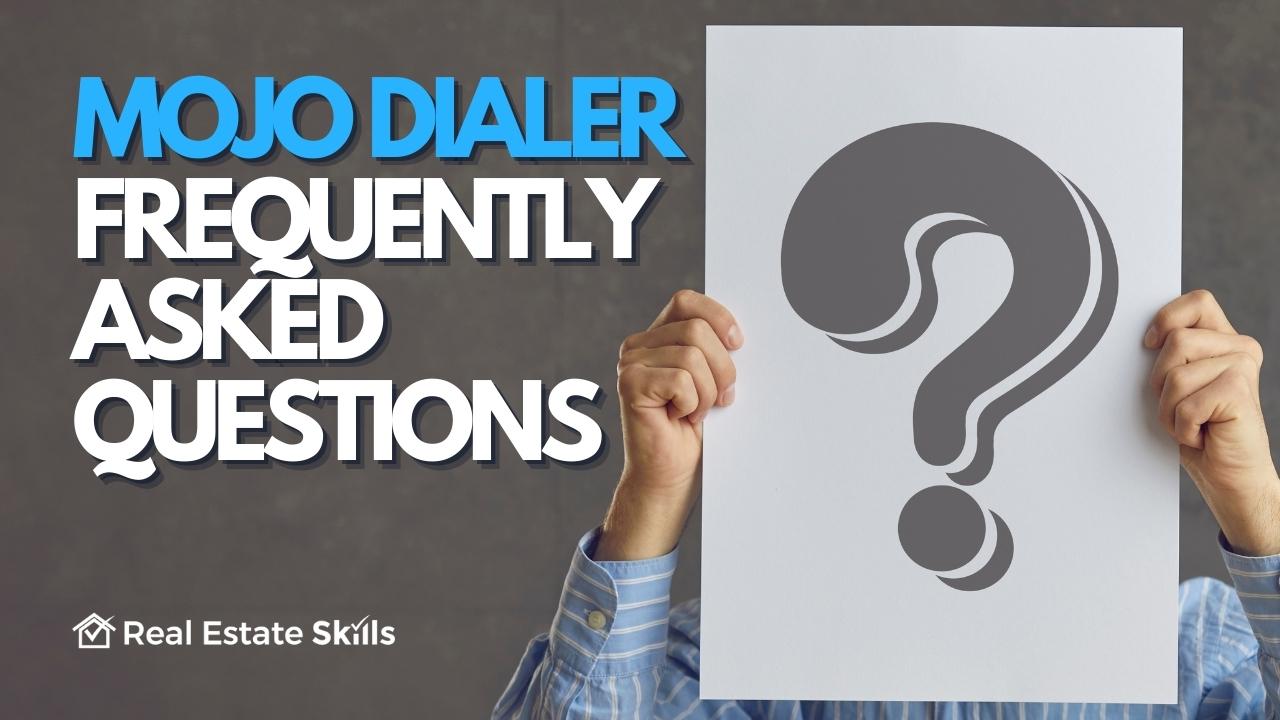 In this section, we aim to address the most common inquiries and clarify uncertainties regarding Mojo Dialer. Whether you're contemplating using this platform or you're an existing user seeking more insights, these Frequently Asked Questions (FAQs) about Mojo Dialer cover a broad range of topics.
Let's get into these questions and shed some light on what Mojo Dialer can offer your real estate business.
What Set-Up Do You Need To Run Mojo Dialer?
For an optimal Mojo Dialer experience, there are a few system requirements you need to keep in mind.
Firstly, you need a computer running on any version of Windows from XP to 10, or a Mac with OS 10.05 or higher, and at least 2GB of RAM. To ensure smooth functioning, it's best to use updated versions of Google Chrome, Firefox, or Safari as your browser. Note that Mojo Dialer does not support Internet Explorer.
Next, you will need a stable, high-speed internet connection, either WIFI or cable, to access the Mojo website. Finally, a dependable third-party phone source is necessary to connect to the dialing system. This can be a landline phone, a mobile phone, or even a VoIP line. However, please be aware that Mojo cannot guarantee call quality when using a VoIP service.
How Do I Cancel My Mojo Dialer Subscription?
Mojo Dialer offers recurring monthly subscriptions with no contracts meaning users can cancel at any time. To cancel your mojo dialer subscription, log into your account, go to account, select cancel account on the page you'll be redirected to, and confirm to cancel your account. Your account will then be put in "reactivation ready" for 30 days if you change your mind and need to restore it quickly.
After 30 days, the account transitions to hibernation, meaning reactivation will take longer. Mojo Selling Solution keeps data backups on canceled accounts for only a year, meaning if you cancel for that long, you'll need to sign up for an entirely new account again.
If you're unsure of what you want, there's an option to downgrade your subscription to hosted lead management for only $10.
How Can I Contact Mojo Dialer Support?
Visit the Mojo Dialer Support Portal to contact their customer care team. The portal features links to different support requirements, such as the Getting Started page, which features a video detailing basic navigation, account settings, how to set up caller ID, and other functionality available on the platform.
If looking to contact support directly, hit the "submit a ticket" button on the portal to reach the help desk. Those contacting Mojo Dialer after hours will need to fill out a contact form, and their Mojo support team will get back on the next business day.
Is Mojo Dialer Only For Realtors?
Despite the fact that real estate agents and investors make up roughly 95% of Mojo Dialer's customer base, this powerful tool isn't limited to only those in the real estate sector. Indeed, Mojo Dialer offers several services tailored to real estate, but the core functionality of the Mojo Power Dialer and Lead Management system proves invaluable across a wide range of industries.
Any industry that relies heavily on phone-based prospecting or frequent contact with an established client base can greatly benefit from what Mojo has to offer. This includes sectors such as mortgage services, insurance, home improvement, political marketing, debt collection, charity organizations, and many more. So, whether you're in real estate or not, Mojo Dialer could be a potent tool in your professional arsenal.
Final Thoughts: Is Mojo Dialer the Right Tool for You?
After a thorough Mojo Dialer Review, we can confidently say that Mojo Dialer is a highly favored tool among real estate professionals - agents, investors, and sales teams. Its copper-wire-based auto dialer ensures superior call quality, and the added 'hello on ring' technology significantly enhances the professionalism of every call.
The Mojo Power Dialer comes packed with user-friendly modes and innovative features like the optional filtering and Call Hammer, which boosts the efficiency of outbound calling.
Apart from the dialer, Mojo provides an intuitive platform equipped with a feature-rich CRM. This allows users to automate follow-ups, schedule lead appointments, formulate calling lists, and even craft custom workflows.
Furthermore, Mojo Dialer's compatibility with over 500 apps, including well-known real estate lead generation platforms like Top Producer, Wise Agents, Boomtown, and Follow Up Boss, is noteworthy.
The flip side? Its subscription plans might not suit everyone's needs. While there's flexibility to cancel at any time, Mojo Dialer offers just two monthly plans, and additional features like the neighborhood search feature come with extra charges.
Despite the costs, the value provided by Mojo Dialer can be a worthwhile investment for many. After all, quality often comes with a price tag.
Remember, with tools like Mojo Dialer, you might need to make a vast number of cold calls before you can make an offer or seal a deal.
If you're intrigued by a strategy that reduces cold calling and increases offer submission, we encourage you to explore our FREE training on how our unique MLS Offer System can help investors maximize their profits in less time. See you there!
Stay connected with news and updates!
Join our mailing list to receive the latest news and updates from our team.
Don't worry, your information will not be shared.
Subscribe