10 Best Books On Flipping Houses (2023 & 2024)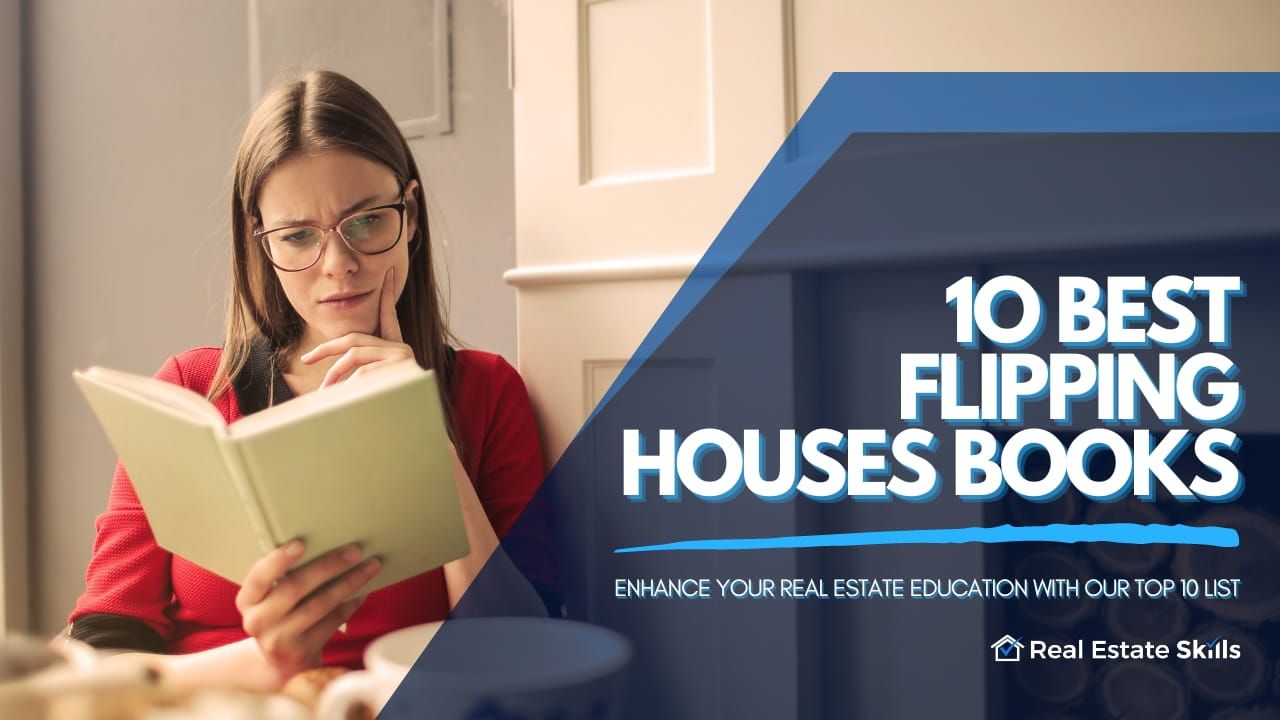 Knowledge is the basis for success in the real estate industry, and investors are no exception to the rule. The most accomplished investors understand the value of ongoing education, perpetually seeking new insights and strategies to refine their craft. And what better way to gain an advantage over the competition than through the best books on flipping houses?
In this article, we'll take you on a curated tour of the top 10 flipping houses books for 2023 and 2024, ensuring you don't need to scour bookstores or websites for the finest resources that teach the most important fundamentals. Whether you are new to the flipping industry or a seasoned veteran, these books will provide you with invaluable insights, tactics, and inspiration to enhance your real estate investing prowess:
Flipping Houses Quickstart Guide (2022)
The "Flipping Houses Quickstart Guide" by Elisa Zheng Covington stands out as one of the best books for novice real estate flippers looking to dive into house flipping. In this comprehensive guide, Covington simplifies the complex process of finding, financing, and successfully flipping properties for profit.
Readers gain a unique perspective on strategic property selection, understanding housing-market trends, and optimizing value during renovations. This book's approachable style sets it apart from many others, making it an excellent choice for "newbies" seeking a straightforward, step-by-step roadmap to house-flipping success.
With Elisa Zheng Covington's guidance, aspiring investors can turn their real estate ambitions into lucrative realities, all with the help of one of the best flipping houses books on the market.
Real Estate Investing QuickStart Guide (2020)
The "Real Estate Investing QuickStart Guide" by Symon He is a popular choice among house-flipping books for novice real estate investors. This detailed guide offers a simplified yet highly informative approach to understanding the intricate world of real estate investing and house flipping.
Readers can expect to gain valuable insights into securing financing, navigating the complexities of real estate transactions, and building a robust investment portfolio. Symon He's book is particularly appreciated for its clarity and step-by-step guidance, making it an ideal choice for beginners who have little foundation to build on. With this resource in hand, aspiring investors can gain the confidence to navigate the dynamic world of house flipping, making it one of the best real estate investing books of the last few years.
Buy, Rehab, Rent, Refinance, Repeat (2019)
Readers of "Buy, Rehab, Rent, Refinance, Repeat" by David M Greene often find immense value in its focus on the BRRRR strategy, a renowned method among real estate investors. What sets this book apart is its ability to simplify this complex strategy, making it accessible and understandable for investors eager to learn how to invest in real estate and generate cash flow and passive income. This is the book on rental property investing you have been looking for.
The book's title encapsulates the BRRRR strategy's essence: Buy, Rehab, Rent, Refinance, Repeat. This iterative approach allows investors to recycle their capital and grow their real estate portfolios.
Most appreciate Greene's straightforward, no-nonsense style, which offers practical guidance and real-world examples, making it one of the best books on flipping houses and an invaluable resource for investors looking to build wealth through real estate.
Flip Your Future (2018)
"Flip Your Future" by Ryan Pineda is a motivating and practical guide to help readers achieve their dreams of financial independence through house flipping. This book stands out because it teaches the mechanics of flipping houses and inspires readers to focus on what's possible and how to make it happen.
Pineda shares his journey from a regular job to becoming a successful real estate investor, demonstrating that the prospect of financial freedom is possible through dedication and strategic house flipping. He provides actionable insights, from finding the right deals to securing financing, and encourages readers to take action.
This book is often considered one of the best house investing books because of its motivational tone and practical advice. It is a valuable resource for those aspiring to make a lucrative living in their first year flipping real estate.
The Book On Negotiating Real Estate (2017)
"The Book on Negotiating Real Estate" is a collaborative work by J Scott, Mark Ferguson, and Carol Scott that breaks down the art of negotiation into a science that can be learned and mastered by real estate investors. This book is widely regarded as one of the best resources for honing negotiation skills in the industry.
The writers offer actionable strategies for getting the best deals when buying and selling investment properties, emphasizing that improved negotiation abilities can significantly enhance an investor's success rate. The book offers practical insights, real-world examples, and actionable techniques to help readers confidently navigate the complexities of real estate negotiations.
By adhering to the principles outlined in this book, investors can gain a competitive edge and maximize their profits in the real estate market.
The Flipping Blueprint (2017)
"The Flipping Blueprint" by Luke Weber is aptly named as it aims to be a comprehensive guide and blueprint for individuals looking to build a successful career in real estate investment, particularly in house flipping. This book breaks down every critical aspect new investors need to know, providing a step-by-step plan to start their journey on the right foot.
Weber covers essential topics, from property selection and financing to renovation strategies and selling for profit. By offering insights, real-life examples, and actionable advice, the book equips readers with the knowledge and confidence to navigate the complex real estate investing world.
For those seeking a practical roadmap to a rewarding real estate career, "The Flipping Blueprint" is an invaluable resource among the best books on flipping houses.
Long-Distance Real Estate Investing (2017)
"Long-Distance Real Estate Investing" by David Greene takes a unique approach among real estate investment books by focusing on investing in out-of-state properties. This book is a must-read for investors who prefer to avoid being tied to their local market or those seeking opportunities beyond their geographical boundaries.
Greene's comprehensive guide provides practical insights into selecting, managing, and profiting from rental properties far from one's residence. Greene also opens doors to broader opportunities by emphasizing long-distance real estate investing. Readers can learn to leverage the power of technology, local teams, and expert strategies to make informed decisions, mitigate risks, and build a diverse real estate portfolio.
Whether you're a seasoned house flipper looking to expand your reach or a newcomer seeking flexible investment options, this book stands out among the best books on flipping houses.
Read Also: Virtual Real Estate Investing: The (Ultimate) Guide
Dream Home (2016)
"Dream Home" by Jonathan Scott and Drew Scott, the Property Brothers of HGTV fame, offers a captivating insider's view of flipping houses. What sets this book apart is its rich visual content, featuring high-quality photos that vividly illustrate their outline process. This visual component provides readers with an in-depth look at the tricks of the trade that often go unseen on television.
In "Dream Home," the Scott brothers share extensive knowledge, from finding the right property to executing stunning renovations and maximizing profits. With their guidance, readers gain valuable insights into house flipping with expert tips and real-world examples.
Whether you're a fan of their TV show or a budding investor seeking practical advice, this book offers an engaging and informative journey into the art of flipping houses. It's a valuable addition to the best books on flipping houses, providing a comprehensive roadmap to success in real estate investing.
Read Also: Top 13 Best House Flipping Shows
The Book On Flipping Houses (2013)
"The Book on Flipping Houses" by J. Scott provides a motivating and comprehensive guide for aspiring real estate investors. Scott's emphasis on breaking free from the "rat race" drives the book, inspiring readers to consider flipping homes to achieve financial freedom. It quickly becomes apparent that Scott wrote the book on estimating rehab costs with a scope of work and turning margins into profits.
This book's hands-on approach makes it one of the best in house-flipping literature. It doesn't just motivate; it also educates. Flipper J Scott walks readers through the process, from finding suitable properties like foreclosures to rehabbing and successfully reselling them.
The book is teeming with practical advice, strategies, and real-life case studies that shed light on the intricacies of the house-flipping business. It serves as a motivational spark and a step-by-step manual for those looking to enter the world of real estate investing, making it a must-read among the best books on flipping houses.
The Millionaire Real Estate Investor (2005)
"The Millionaire Real Estate Investor" by Gary Keller, Dave Jenks, and Jay Papasan is a timeless classic that provides valuable insights into building wealth through real estate and personal finance. Despite its publication nearly two decades ago, the book's principles remain relevant and applicable for real estate investors today.
Its unique approach distinguishes this book from the best real estate investing books. It distills the wisdom of successful millionaires, offering readers diverse perspectives and strategies to achieve financial success in the real estate market. The book emphasizes the importance of sound financial planning, intelligent investment decisions, and long-term wealth-building strategies, all essential for aspiring real estate investors.
It's a must-read for those looking to embark on a journey toward financial independence through real estate.
Is House Flipping Still Profitable?
Yes, house flipping remains profitable, as indicated by the latest ATTOM Data Solutions Home Flipping Report. In the first quarter of this year, in fact, the gross profit from typical house-flipping transactions saw a significant increase, with investors reaping a median gain of $56,000.
Furthermore, the data shows that the total profit of standard flips across the nation experienced a healthy 4.7 percent uptick, rising from $53,500 in the previous quarter. These numbers underscore the potential for substantial profits remains intact despite market fluctuations and economic shifts.
Attend our FREE training at Real Estate Skills. Gain insider knowledge, expert strategies, and essential skills to make the most of every real estate opportunity that comes your way.
Final Thoughts On The 10 Best Books For Flipping Houses
Books remain a timeless cornerstone of real estate education, offering every real estate business a wealth of knowledge and insights. The curated selection of flipping houses books highlighted above has been carefully vetted and is brimming with invaluable information. By delving into the best real estate investing books, investors unlock the keys to their full potential, equipping themselves with the wisdom and strategies necessary to thrive in the competitive world of house flipping.
Ready to take your real estate investing journey to the next level? While books provide an excellent foundation, a more tailored experience may be what takes your investing career to the next level. Look no further for those seeking hands-on, real-world insights from experienced real estate investors. Contact Real Estate Skills today, and let our seasoned professionals guide you through the intricacies of the real estate market. Don't just read about it; experience it with Real Estate Skills by your side. Your path to real estate prosperity starts here.
Stay connected with news and updates!
Join our mailing list to receive the latest news and updates from our team.
Don't worry, your information will not be shared.
Subscribe