kvCORE Review (2022 Edition)
It's essential for any Realtor or real estate investor looking to excel to generate and maintain a healthy lead pipeline. To succeed, they should strive for a continuous stream of motivated sellers and buyers even when the market is dry.
But generating leads is just one piece of the puzzle. Maintaining them is where much of the work lies. That's why every real estate agent or brokerage needs a customer relationship management platform.
Commonly known as CRM, these platforms feature tools such as lead capture forms and IDX websites that automate and simplify lead management. kvCORE is one such platform. Learn more in our comprehensive kvCORE review
To start, take a quick look at this kvCORE video introduction below!
What Is kvCORE?
kvCORE is a powerful all-in-one cloud-based customer relationship management platform (CRM) from Inside Real Estate, an independently-owned technology company renowned for its innovative tech real estate solutions. Inside Real Estate has over 170 employees and is one of the fastest-growing tech companies in the real estate realm.
kvCORE CRM software has features like IDX real estate websites, leads routing, and a marketing autopilot tool. These make lead management a tad seamless for brokerages, top real estate agents, and investors in the real estate business.
It's one of the most popular real estate CRM systems and currently has over 190,000 users nationally, including many eXp Realty agents since it's included in their membership fees.
The platform boasts an incredibly scalable and flexible infrastructure and includes solutions to fit whole real estate enterprises, brokerages, teams, and even individual agents. Find out what it has to offer in this kvCORE review.
---
Read Also: What Is A Real Estate Broker? The Ultimate Guide
---
kvCORE Software Features & Benefits
Here are some of the features kvCORE CRM software brings to the table:
CRM
kvCORE boasts a functional, AI-powered CRM system with a string of lead automation features. It fuels productivity by enabling users to create and organize workflows and set reminders. It even displays when and which properties potential leads are reviewing, allowing real estate agents to plan smart text and drip campaigns.
The main dashboard even includes an activity stream tab where realtors can quickly review what website visitors are looking for, how many times they reviewed a particular property and those they marked as favorites. These insights come in handy when creating smart campaigns since one already knows what potential leads want and the best strategy to use while reaching out.
As a CRM system offered by one of the best tech real estate companies in the industry, it also features an impressive set of scalable automation tools such as:
Bulk Email, Text & Video Campaigns
Mass text or email campaigns are an excellent way to convert leads into sales. They're more affordable than standard, stand-alone email campaigns. They're also an opportunity for realtors, brokerages, and other individuals in the real estate business to build awareness about their brands.
kvCORE CRM software makes it even easier for REI professionals to maximize these perks thanks to its comprehensive bulk email, text, and even video CRM feature. It's pretty straightforward to use too.
kvCORE's AI-Driven automation follow-up is one of the platform's most impressive features. It features behavioral responses to enhance the success of lead nurturing campaigns. Every time a lead interacts with an agent's website, for instance, when searching for properties on an IDX website, AI communicates with them on the user's behalf and can even set up appointments.
Users can customize AI responses to fit their brokerage culture or based on their standard interactions with leads. The user also gets real-time notifications of lead interactions with campaigns whenever something interesting happens. As a result, no lead is ever lost through the cracks, regardless of whether they want to sell, buy, or just check out your website for future purposes.
The kvCORE built-in mobile dialer is designed to ensure agents and users in the real estate business never miss calls from leads. The dialer syncs a smart number with a personal or business phone and automatically redirects lead calls to the user or assigned agent.
Users can access the built-in dialer through the kvCORE mobile app or desktop. It includes features such as the call countdown, which automatically selects and dials the next number on a dialing list, eliminating the need to manually input every number of the leads you want to call. It also has post-call notes should the user need to record specific information about a lead they've just contacted.
If team members need to find out more information about a lead or call them for follow-up, kvCORE's built-in dialer features a function known as the post-call task to create a follow-up task for that contact, so they don't forget.
Other dialer features include default text message, default email, custom lists, dialing summary, standard lists, date, and the number of leads called.
Lead Generation Landing Pages
kvCORE has a set of tools under the lead engine page designed to streamline marketing and lead generation. The landing page builder generator is one such feature. kvCORE subscribers can customize the prebuilt templates to create landing pages for their target audiences. To increase online visibility and drive conversion, one can make unlimited location landing pages, individual listing pages, blogs, or even SEO pages.
kvCORE has squeeze pages for lead capture. Thanks to this feature, potential leads can generate automated valuations of properties they might be interested in, and in exchange, they have to fill in their contact information.
This is often a win-win, as the lead gets a ballpark figure on properties they might be interested in, while the user obtains lead information they can follow up on later. It's even more beneficial to the realtor since it facilitates reverse prospecting.
Lead Nurture Campaigns
While lead generation is no small feat, nurturing leads until you attain a conversion is even more challenging. kvCORE's smart campaigns make the endeavor easier. They include a set of email and text templates, pre-recorded voicemails, and even scripted calls, allowing campaign managers multiple ways to reach out to leads.
Templates are customizable, meaning users can tailor them to suit an REI enterprise's lead generation approach or the exact lead profile they're targeting. As a result, no more time is wasted creating marketing campaigns manually from scratch.
kvCORE's smart campaigns have two main sections; the kvCORE Library and My Campaigns. The kvCORE Library features pre-built campaigns designed and tested by Inside Real Estate. You can add these to your library for easier future access.
My Campaigns section is where all your campaigns, whether customized from kvCORE platform templates or created from scratch, are found. You can even copy and edit them for future reference.
Lead Routing
Proper lead routing is critical for any brokerage with three or more agents. kvCORE allows call-leading routing to agents based on priority. If an assigned agent takes time to respond or is unavailable, the call is automatically rerouted to another agent.
This ensures potential leads and clients always get a response when they call, improving brokerage image and reputation while driving better customer experiences.
IDX Real Estate Websites
Although kvCORE has many excellent features, we found its IDX real estate websites most impressive. They are easy to set up and feature amazing lead capture capabilities.
Typically, IDX costs up to $50 per website, but with kvCORE, it's free and integrated into every website users create. And they can make an IDX website for all team members, each with a customizable interface and access credentials.
kvCORE's IDX websites also have built-in SEO components to improve a user's organic ranking. Users can generate as many local, custom content, blogs, and squeeze pages as possible. This is relatively cost-effective as setting up a website, optimizing it for SEO, and incorporating IDX are traditionally pretty expensive.
The best part? kvCORE IDX, real estate websites, boasts real-time integration with over 600 MLS in the US and Canada. What's more, MLS listings are not just displayed; they're also updated in real-time on the agent's websites. This means website visitors always have access to the most recent listings without necessarily having to sign up to the actual MLS and can quickly contact you about particular properties.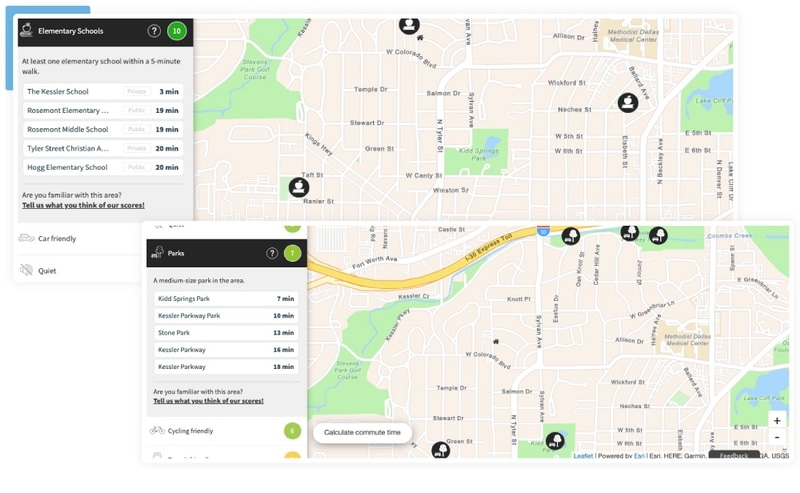 kvCORE IDX websites also track visitor listing search information such as the location and the type of houses they reviewed. The resulting data enables campaign managers, agents, and brokerages to create personalized marketing campaigns or reach out to leads more effectively.
These websites also have features that will significantly improve the website visitors' experience. They can search for properties using basic filters like address, zip code, and schools and refine their results using filters like; the number of bedrooms and bathrooms, price, year built, or even acreage. Every search reveals important property information such as interior and exterior details, amenities available, and even nearby schools or public institutions near the home.
Hovering their cursor over a property reveals similar properties they might want in the area. Website visitors also get vital neighborhood stats such as average price per square foot, average listing days, and area tax information. They can even request a showing or set up email alerts for similar listings.
Marketing
Other than SEO-ready, IDX websites, kvCORE has a bunch of features that make marketing an enterprise seamless like:
With kvCORE, users can create unlimited blog pages to drive organic search traffic.
This tool lets real estate professionals promote their listings on social media platforms like Facebook and LinkedIn.
kvCORE users can create and segment their leads based on hashtags making it easy to send bulk marketing messages to specific groups of people.
For instance, you can set up hashtags based on zip codes to quickly contact the relevant leads whenever there's a related marketing task.
With kvCORE's print a flyer feature, real estate marketing teams can generate both soft and hardcopy flyers for properties they want to market. Website visitors can maximize this feature as well.
Through this function, websites visitors can effortlessly review an agent's or brokerage's listings in different areas. They can also check for affordable properties, the market's health, and the number of available new listings.
This information drives fast conclusions and saves the agents the trouble of having to share listings of areas they serve every time.
kvCORE's marketing autopilot is an innovative follow-up feature that automatically sends out marketing emails and texts based on a website visitor's activity. For instance, if a prospect revisits your website after a few days (users can set customizable triggers for repeat lead visitations), marketing autopilot automatically sends our email and text follow-up.
This goes a long way in improving the client's experience and increasing conversion opportunities.
kvCORE has a marketplace with every add-on an individual agent or small REI business may need to improve website appearance, lead generation, and campaign automation.
The CORE Property boost, for instance, automatically creates lead generation objectives for Facebook, conversely boosting the realtor's active listings to prospects who live within 15 miles of the property. It also tracks and collects the prospect's contact information, so it's easy for agents to reach out.
If unimpressed with the IDX website templates,kvCORE users can purchase premium website addons and designs from the kvCORE marketplace.
Accountability
kvCORE analytics tool allows users to analyze real-time employee performance data. Brokerage owners and other real estate investors can use it to create and track the real-time progress of custom task lists for each agent in their team.
When they log into the kvCORE CRM, the system monitors and tracks the calls, emails, and texts sent to leads and the responses received. This promotes productivity, collaboration, and, most importantly, accountability among teams.
Analytics
To determine the success of marketing campaigns, one must regularly track and analyze stats. kvCORE makes this easy through its visual business analytics tool. It displays everything about your business ecosystem, from people you know (sphere), prospects, new and active leads to closed deals. kvCORE business analytics tool also generates analytical campaign reports.
As a result, it's easier for users to track the conversion, return on investment (ROI), and, most importantly, the effectiveness of each campaign.
This integrates with tools like Brokersumo and Dotloop for users to effortlessly update their transaction pipeline. Users can also use it to create custom reports such as listing inventory, upcoming closing, or pending real estate deals.
---
Read Also: 8 Best Real Estate Wholesaling Tools (2022 Edition)
---
How Does It Compare Against Competitors?
While kvCORE is a powerful platform, it gets stiff competition from platforms like BoomTown and Real Geeks. See how it fares against them below:
kvCORE vs BoomTown
BoomTown is one of the best CRMs in the real estate industry. Like kvCORE, it offers IDX websites, smart CRM functions, great integrations, and even has a mobile app.
But while it's awesome, kvCORE has various nitty-gritty that makes it stand out, such as marketing autopilot, auto-craigslist posting, squeeze pages, and even done-for-you-advertising.
BoomTown's subscription plans start at $1000 while kvCORE's basic, single-user package goes for $299.
kvCORE vs Real Geeks
Real Geeks is best known for high-quality, mobile responsive websites. It has lower monthly subscription costs and a feature stack nearly identical to kvCORE.
But while there's no arguing about Real Geek's functionality, most of its premium features come at an additional cost of about $25, meaning it might not be as cost-effective.
kvCORE has a higher monthly fee, but you get everything in one package and a few features not in Real Geeks, such as done-for-your-advertising.
kvCORE vs Kunversion Plus
Kunversion Plus is another Inside Real Estate platform. It's a powerful lead acquisition program for teams and agents. Like kvCORE, Kunversion has a website builder, lead generation features, a customer relationship manager, listing, and team management tools.
It's a pretty functional lead generation software, but if looking for a more comprehensive feature stack, kvCORE is the way to go.
kvCORE vs KW Command
KW Command is a cloud-based platform for real estate. It includes a series of lead nurturing and management tools such as MLS integration, landing page builder, multiple lead management pipelines, and automated email campaigns.
kvCORE performs better, as it has not just lead management but also features that improve the customer experience like request showings.
Does kvCORE Provide Leads?
Some investors look for a tool that can quickly get them leads on the table. So it is a wise question to ask if a real estate investing tool can provide you with the leads you need and looking for.
Unfortunately, as popular a real estate investing tool as kvCORE is, it does not provide leads instantly when you sign up for their subscription. Although kvCORE doesn't provide leads, it does offer its users multiple ways to generate them.
How Do You Generate Leads With kvCORE?
With the vast features available on kvCORE for their users generating leads is definitely no problem at all. Creating landing and marketing pages using kvCORE is one way to generate leads.
You can also use kvCORE's smart campaigns to generate and nurture leads through the sales pipeline. kvCORE's IDX websites also naturally drive lead generation through real-time MLS listing integrations and a behavioral response system for lead capture.
So utilizing kvCORE's features to their fullest can definitely get you the leads you need on the table, along with using its top-notch CRM system and lead automation you will definitely have no issues in managing your leads as they flow in from your lead generation landing pages or marketing strategies that you would put in place.
kvCORE Website Examples
kvCORE lets users create as many web pages as they need. They feature user-friendly interfaces and are designed to maximize lead generation thanks to forced visitor registration.
Designs vary to fit different users and purposes and include but aren't limited to agentcentric, luxe agent, and sellercentric. Here are a few of the website templates available on kvCORE to give you an idea of what to expect:
kvCORE Software FAQ
How Much Is kvCORE A Month?
The kvCORE platform doesn't display any pricing information on its website, but user reviews on real estate forums show the platform offers plans that suit everyone from a single agent to entire brokerages. The more the number of users, the higher the cost.
A basic single-user subscription starts at $299 a month. A monthly plan for two users starts at $499, while a plan for three to fifty users will have you parting with $1199 a month. For 51-100 users, subscribers pay $1800.
How To Set Up kvCore?
Despite its robust set of automation tools, kvCORE boasts one of the most user-friendly website interfaces in the market.
How you set it up depends on the exact functions you'll need, but once you sign up, the dashboard is the first thing you'll see. It displays your activity stream: the calls, tasks, and activities stream tab.
It's also where you'll find kvCORE's announcement and upcoming training and webinars. The kvCORE platform also features an incredibly comprehensive support center page where users can find all the info they need on setting it up, such as how to use Zapier & kvCORE, how to integrate Zillow and how to import leads, among others.
What Is The Cancellation Policy For kvCORE?
Users can terminate their kvCORE account ownership contracts within the initial subscription or upon renewal. In case of cancellation during an ongoing subscription, the user must pay any unpaid fees covering the remaining period of their plan.
Also, if cancellation is due to an unresolved 60-day uncured material breach, the user must offer a written notice of their termination.
Is There A kvCORE App?
Yes, kvCORE has an app for both iPhone and Android users which is available in their respective stores to download. Like the kvCORE platform, the mobile app boasts quite an intuitive interface.
It houses all messages between you and your leads in the inbox, while all lead information is stored in the contact section. You can view leads by status or custom filters on the app.
How To Find kvCORE Login?
Simply going to the kvCORE website will bring you straight to the login page. If you already have kvCORE your next steps would just be logging in using your email and password and that should get you started with the platform.
How Do You Recover Or Change Password In kvCORE?
Although kvCORE has a robust security system, recovering logins is pretty straightforward. Click "forgot password" on your login page for an email reset link. Ensure you reset within half an hour, or you need to repeat the steps.
If you need to change a password manually, click "change password" on the top right of your agent or main page to create your new password.
What Is The kvCORE contact number?
The kvCORE contact number is (800) 656-1646
Is kvCORE Worth It?
kvCORE has one of the most robust feature stacks for real estate experts. The platform has tools that streamline lead management and the customer's experience. For instance, those visiting your websites can quickly see all areas you cover, view similar properties to what they're searching for, print flyers, and even schedule a showing.
For actual users, kvCORE has even more to offer. The Smart Campaigns feature lets them find and nurture leads through the sales pipeline, while the IDX websites allow users to view real-time listings right from your website.
These websites are also AI-driven to collect website visitor information, leaving real estate experts with valuable lead data they can maximize for marketing. kvCORE also lets you create unlimited squeeze pages, service location pages, and any other web pages you may need to drive lead generation. Lead management is also a breeze, thanks to its excellent CRM features.
Marketing shouldn't be hard either because kvCORE has features such as print a flyer and integrating with social media platforms so users can easily promote their businesses. It, however, has a bit of a learning curve, and new users might want to maximize the online training, blog, and free resources offered on how to use. One thing to keep in mind though is that this software is not a magic pill that gets you to close all your deals consistently. You will need the property training and mindset to be able to gain success in the industry.
So we do recommend that the most important tool to have would be utilizing the MLS. If you are looking for the best return on investment of your time and money check out our brand new free training on how to wholesale, flip, and acquire deals from the MLS without spending a dollar in marketing. See you there!
Stay connected with news and updates!
Join our mailing list to receive the latest news and updates from our team.
Don't worry, your information will not be shared.
Subscribe